2012 NFL Mock Draft: Evaluating DraftTek's Latest 7-Round Mock Draft for Tampa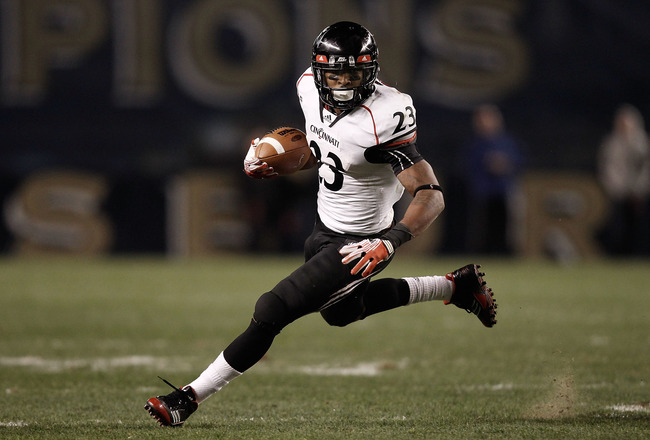 Jared Wickerham/Getty Images
It seems like April 26th gets closer and closer each day.
During the first few moments of free agency, the Tampa Bay Buccaneers wrote massive checks left and right, signing heavyweights Carl Nicks, Vincent Jackson and Eric Wright to improve a young but struggling roster who disappointed an entire fanbase last year.
The veterans will be extremely appreciated, but young and worthy prospects always make great additions to any team.
The trouble is finding them.
Here we look at what draft website DraftTek predicts will happen in the 2012 NFL draft, concerning Tampa Bay.
I don't make the picks; I just evaluate them.
Round 1, Pick No. 5 Overall: CB Morris Claiborne, LSU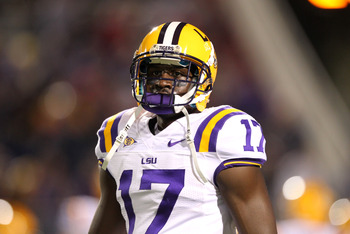 Joe Murphy/Getty Images
No complaints here.
The LSU product has the reputation as one of the best pure coverage cornerbacks in years. With the fearsome Honey Badger, Morris Claiborne formed one of the nation's toughest secondaries in years. It is too unfortunate that the Louisiana State University offense couldn't put any points on the board at the BCS National Championship. If they had, Morris Claiborne could have been a household name.
But maybe this is better for the Bucs, who need a corner. According to Drafttek:
ProFootballFocus rated Ronde Barber #108 of 109 of the regularly playing CBs in the NFL. The Bucs just paid Eric Wright $37.5M, with $15M guaranteed. Last year Wright was rated #104 of 109. So it's reasonable to assume that Cornerback remains a high priority for GM Mark Dominick. They want Barber back for his leadership, but don't be surprised to see a move to Safety for Ronde. Claiborne should step right in as the #1 corner.
In case Cleveland selects Claiborne at No. 5, Luke Kuechly, the Boston College inside linebacker would prove a great choice. He fills a need, racks up tackles like a machine and has the intangibles and work ethic to realize his full potential.
Round 2, Pick No. 36 Overall: OLB Bobby Wagner, Utah State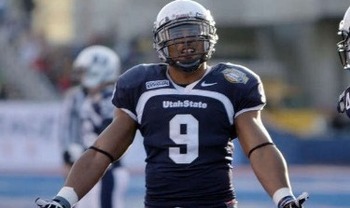 This is where it gets real.
As of March 19th, Tampa Bay has yet to sign a free agent linebacker.
That's not good.
While many will disagree with me on this, I say that linebacker is the team's biggest need. The incompetence of Geno Hayes led to his benching, while Quincy Black strived to underperform. Mason Foster, a rookie, was the only one who would be given a chance to start at LB on any other team. Even he has major issues though, mostly with lack of experience reading the offense.
Bobby Wager would be great as a Buc, but there are players at the same position who may be just as good. Lavonte David, Andre Branch, and dare I say, Vontaze Burfict are all still on the board.
However, the individual talents of the linebackers are not half as important as the fact that the franchise needs a linebacker.
Round 3, Pick No. 69 Overall: RB Isaiah Pead, Cincinnati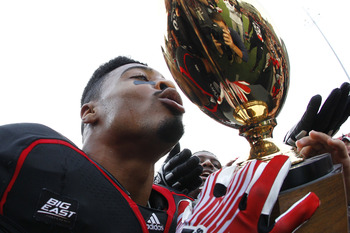 Tyler Barrick/Getty Images
I myself would grab the best player available in Joe Adams.
But, after the Bucs signed WR Vincent Jackson, it seems very unlikely that they will draft any wide receivers. The team is already over saturated with No. 2 WRs and slot men, so even though Joe Adams would provide an instant upgrade over Mike Williams, he won't be selected at 69.
Isaiah Pead made a name for himself after returning two punts for 98 yards and picking up another 31 in eight rushes. His elusiveness will make him a dependable third down back in the NFL, but Pead does not have enough bulk to be an every-down performer.
Round 5, Pick No. 132 Overall: ILB James-Michael Johnson, FSU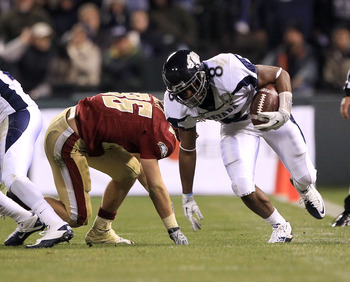 Ezra Shaw/Getty Images
Interesting.
Though DraftTek predicts that Tampa will have already drafted a linebacker, the site sees the Bucs doing so again three rounds later.
By no means could strengthening the team's weakest position in terms of depth and talent hurt anything. Draftek views James-Michael Johnson as a steal this late in the draft, and the linebacker corps needs all the help it can get.
I'd rather draft an inside linebacker in the second or third rounds, then move Mason Foster to the outside. There would still be a hole at the other OLB slot, but that can be addressed either in free agency or in the draft.
Round 6, Pick No. 163 Overall: RT Matt Reynolds, BYU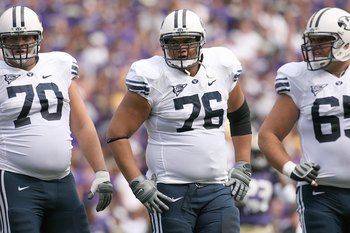 Otto Greule Jr/Getty Images
It's either him or Levy Adcock.
With Jeremy Trueblood currently set to start at right tackle in 2012, the Buccaneers must upgrade. He plays like a man half his size, and if the team wants to keep Josh Freeman alive, Trueblood cannot start next season.
Matt Reynolds and Adcock are nearly identical in terms of size and pretty much even in terms of playing ability. Combined with LT Donald Penn, LG Davin Joseph, C Jeremy Zuttah and the newly signed RG Carl Nicks, Tampa Bay would host one of the most formidable offensive lines in the entire NFL.
That's a good thing.
Round 7, Pick No. 195 Overall: FS Aaron Henry, Wisconsin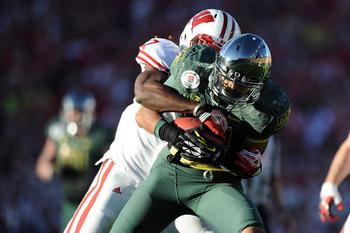 Harry How/Getty Images
Fills a need with a talented young man.
With Sean Jones currently in free agency, it is essential that Mark Dominik adds another safety to the roster. Even with Sean Jones, the safety position was still weak at best.
However, signing a veteran would make much more sense, as the most experienced safety currently on the roster, Tanard Jackson, only played 10 games in 2011, collecting just 35 tackles.
After hiring QB Dan Orlovsky to be the backup in 2012, it seems apparent that previous No.2 Josh Johnson will not be re-signed. Perhaps the Bucs could draft a seventh round quarterback to serve as roster filler and a possible long-term backup.
Keep Reading

Tampa Bay Buccaneers: Like this team?