Cincinnati Reds: 2012 Reds Mid-Spring Training Report
March 20, 2012

Kevork Djansezian/Getty Images
We're just a few short weeks away from Opening Day of the 2012 MLB season. If you're anything like me, you're so excited you can barely stand it. I scour the internet for box scores and reports from spring training, hoping to get a better idea as to how good the team really can be.
So far, I'm pretty happy with what I've seen from the Reds. Let's take a look at the offense, pitching and major stories through the mid-way point of Reds' spring training.
Offense:
In spring training, I like to see how players are working at-bats and how their pitch recognition looks. For the most part though, statistical analysis is the only thing to work off of unless you're physically at camp, since most Reds spring training games aren't televised.
Jay Bruce, Scott Rolen, Drew Stubbs and Zack Cozart are playing very well in Arizona. I mention these four first, because they're shoe-ins for the opening day lineup. Rolen and Cozart are playing especially well.
Cozart's got the third-most at-bats (29) amongst Reds players and he's done well in those at-bats. So far, Cozart is batting .414/.533/.655 with three doubles, two triples and five RBI. Cozart's production and progress following last season's injury has been one of the more pleasant stories to come out of Reds' camp.
Rolen, in 22 at-bats, is batting .364/.440/.636 with one home run, two doubles and five RBI. Stubbs, in 21 at-bats is batting .286/.423/.524 with one HR, six RBI and six runs scored. In 23 at-bats, Jay Bruce is batting .391/.481/.609 with one HR, seven RBI and six runs scored.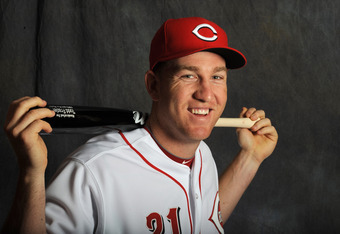 Rich Pilling/Getty Images
Big Offensive Stories:
Two big stories in Reds camp though, come from less established players: Todd Frazier and Donald Lutz.
In an earlier article I talked about Lutz and the type of player he has been and could become, but even I didn't expect him to perform as well as he has so far this spring. In 23 at-bats, Lutz is batting .304/.304/.609 with two HR, eight RBI and three runs scored.
The biggest story offensively in Reds camp thus far is Todd Frazier. Tied for second in at-bats (30) Frazier is batting .267/.333/.767 with four HR, nine RBI and nine runs scored. While Chris Heisey and Ryan Ludwick have struggled, Frazier's been tearing it up.
Frazier is making a very strong case for a spot on the opening day roster. The outlook isn't good, as my opening day roster predictions include Mesoraco, Hanigan, Votto, Phillips, Cozart, Rolen, Ludwick, Stubbs, Bruce, Valdez, Cairo and Francisco.
It's unlikely that the Reds will cut Miguel Cairo as he's been with the team for a few years and he's a solid veteran presence, and Francisco's out of options.
Fortunately though for Frazier, the Reds have shown that they aren't opposed to cutting players who were brought in the winter previous (i.e. Aaron Miles), so don't rule out a Valdez cut.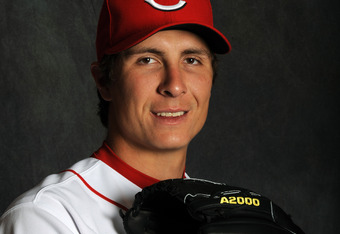 Rich Pilling/Getty Images
Pitching:
As far as pitching goes, the Reds' camp has been marred with stories of injury.
Ryan Madson, Nick Masset and Bill Bray have been barred from full participation in spring training due to an elbow injury (Madson), shoulder injury (Masset) and groin injury (Bray). Luckily for the Reds, their lefty specialist, set-up man and closer shouldn't be kept out of game action much longer.
As far as those who are actually pitching in games, this is what's happening in Arizona.
I'll give you the bad news first: Homer Bailey has made four starts, pitched 11.1 innings and is getting absolutely rocked. In those 11 innings, Bailey has allowed 14 hits, nine earned runs, three home runs and six walks.
I'll stick to my claim that this is going to be Bailey's breakout year, but his performance so far probably makes everybody a little nervous.
Now for the good news: newly acquired Mat Latos has looked pretty sharp in his first three starts of the spring. In those three starts, Latos has pitched nine innings, allowed two runs, one home run, six strikeouts and just one walk. Latos will be heavily relied upon this season and if the Reds are to succeed he will need to produce similar outings in the regular season.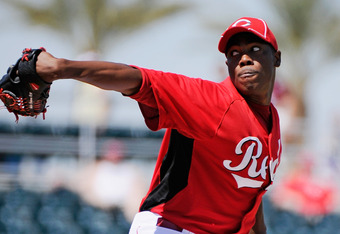 Kevork Djansezian/Getty Images
More good news, just because I like you guys: Aroldis Chapman has looked very comfortable and if he produces another strong outing or two, he could be a serious possibility in the opening day rotation.
In his three games, Chapman has made two starts.In those three outings, he's pitched seven impressive innings, posting a 2.57 ERA, allowing just two earned runs, one home run, one walk and seven strikeouts.
I predicted that Chapman would begin the year in AAA, but it'll be hard to keep him out of the opening day rotation if he keeps performing at his current level.
Big Pitching Stories:
I pretty much covered this between the reports on Bailey and Chapman, but aside from the minor injuries to Madson, Masset and Bray, the big pitching story in Reds' camp is the battle for the fifth slot in the starting rotation.
Chapman probably knows at this point that if he doesn't make the rotation out of camp, he will start the year in Louisville. However, with Bailey under-performing and Chapman outperforming him, it could happen that Chapman makes the opening day rotation and Bailey is dealt away.
So there you have it. These are the big stories to come out of Reds' spring training just past the mid-way point.
Spring training stats should generally be taken with a grain of salt, but it is nice to know who's making the best of their opportunities. If nothing else, spring training fuels speculation, and speculation in sports is always fun.