Each NBA Team's Best Dunker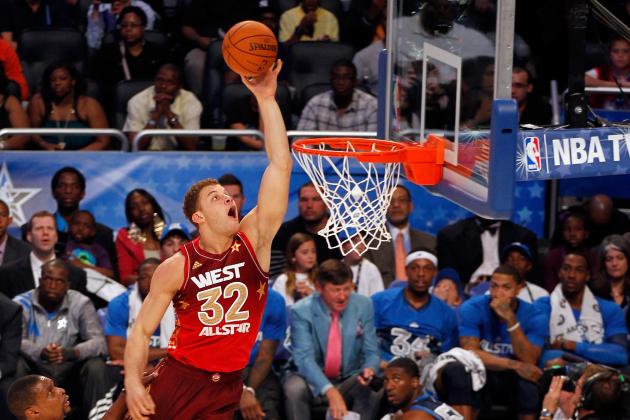 Mike Ehrmann/Getty Images

Have you been wondering who the best dunker is on each team in the NBA?
Well, here you go.
I've listed them by the alphabetical order of their team, from 76ers to Wizards.
Each team has at least one good dunker, whether they consistently produce highlight-reel dunks, or if they have one dunk that has made them famous.
If there's one guy who would've gotten it several years ago, I'll let you know.
On each slide I have put in some video evidence.
By the way, sometimes under the video you will find the end of the writing, which often comes with a YouTube link.
Begin Slideshow

»
It's an absolute travesty that Andre Iguodala didn't win this contest.
Maggette isn't in his prime anymore, but this one over Solomon Jones—a legitimate seven-footer—was just last season.
Listed at around 5'10" or 5'11", Brandon Jennings is one of the NBA's shortest dunking elite. If you ever want to see something cool, just look up one of his Hoopmixtapes.
Ronnie Brewer had a really nice dunk over Josh McRoberts once, but this one is obvious.
Alonzo Gee takes this one, but it wouldn't be right of me to show you not this Kyrie Irving poster.
Who said Rondo can't dunk? Just wait until the last one.
Duh.
But wait.
Meet Travis Leslie perform one of the greatest dunks I've ever seen. Extra points for doing it on DeMarcus Cousins.
Rudy Gay combines a long, lean 6'8" frame with crazy athleticism and tenacity. He was born to dunk.
He's not an unbelievable game dunker, but if you ever get to see footage of Smith winning the 2005 NBA Dunk Contest at the age of 19, watch it.
This one goes to LeBron, who recently dunked over John Lucas III (literally). But out of respect for D-Wade, watch him posterize Varejao.
Two of these were on Jeff Green. Do they have a history?
Did he deserve to win the Dunk Contest? Maybe, maybe not. But that was the dunk of the night.
Tyreke wins do to lack of competition. It was either this or a demoralizer over Gary Neal.
The things this guy does in the air are incredible.
This is a current thing, not about the past. These dunks might have saved his teams from an embarrassing elimination from last year's playoffs.
The obvious choice. It's amazing what he does at 6'11", 270 lbs.
In fact, he gets two videos.
Ok, so I'm breaking my own rule. But Vinsanity is still the best dunker on the Mavericks.
Ladies and gentlemen, he's back.
I'm still upset that he didn't win last year's Dunk Contest.
I also give credit to Corey Brewer for one play. It happened to be one of the most brutal facials in the history of basketball. I usually don't sympathize for Lakers, but poor Derek Fisher.
Did Jeremy Evans deserve to win the Dunk Contest? Maybe, maybe not.
Not surprisingly, the Pistons don't have any really nice dunkers. But this was pretty good for a 6'3" guy on the 6'11" Chris Bosh.
He might not of taken his early exit from the 2011 Dunk Contest well, but maybe he shouldn't have had to.
I guess some white guys can jump.
There are really no other plausible options.
Not sure where he's been all season, but he sure was fun to watch on the Lakers.
Didn't do much in the Dunk Contest, but he's still a good dunker.
Not surprisingly, the Trail Blazers don't have any amazing dunkers. This one was pretty nice though.
One of the very best dunkers of all time. He also blocked Shaq once.
With JaVale McGee gone, John Wall now has all the spotlight. Some call him John Wall. I call him the 2013 Sprite Slam Dunk Contest champion.