Orlando Magic vs Chicago Bulls: Live Scores, Highlights and Analysis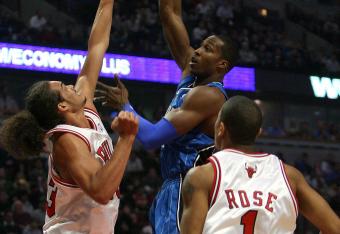 Tonight, Dwight Howard squares off against the Chicago Bulls, who are missing Derrick Rose.
Jonathan Daniel/Getty Images
It's the Chicago Bulls and Orlando Magic, but it's not Dwight Howard and Derrick Rose. Rose is out nursing a pulled groin, but it's still a matchup of two of the league's best teams.
Bulls-Magic starts at 8 p.m. EST. Check back for starting lineups and up-to-the-minute analysis.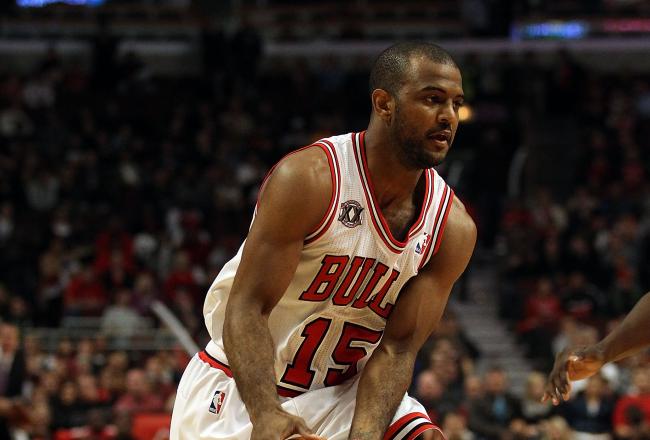 Bulls 85 Magic 59 FINAL
The Bulls had a subpar third quarter but have otherwise played an all around great game. Not known for their offense and lacking their best scorer the Bulls pieced together a decent offensive night on the backs of Carlos Boozer and John Lucas.
Defensively this game was an exhibition by Chicago.They forced almost 20 turnovers, held Orlando to under 10 assists and most importantly the defense was consistent from opening tip to the final buzzer.
It was an all-time low for points allowed for the Chicago Bulls. The Magic never scored 20 points in a quarter and were held to 11 points in the fourth quarter.
This was impressive on so many levels. A road game, against a very good team and without their best player. The Bulls didn't just eek out a victory they dominated on the defensive side of the ball and when they allowed 15 point halftime lead to be cut to eight the Bulls responded by pushing the lead and not letting up until it was extended to 26 which was the final margin of victory
Boozer was the best player on the floor tonight with 24 points, 13 rebounds, 4 steals and 2 assists. John Lucas is worthy of mention after coming off the bench to chip in with 20 points on 8 of 13 from the field.
For Orlando this was a discouraging game. Yes the Bulls looked great defensively but Orlando acted as if they didn't want to be out there. They came out for the start of the game and the second half playing well but the instant the Bulls applied pressure the Magic would wilt and any semblance of a rally was easily negated.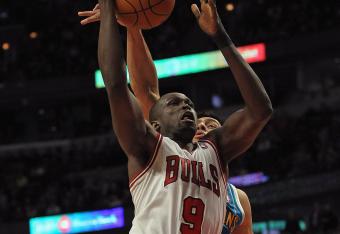 Bulls 66 Magic 52: 8:07 left in 4th Quarter.
It's not just that Orlando is playing sloppy offense and missing shots.
The Bulls are playing fantastic defense. That's what they're known for and tonight they're showing everyone why. The Bulls play smart, they don't over-commit. The players are in the passing lanes without gambling on steals. They don't even go for blocked shots preferring instead to set themselves up for defensive rebounds.
Orlando hasn't helped themselves but this game has been a nice showcase as to why the Bulls are a legit contender.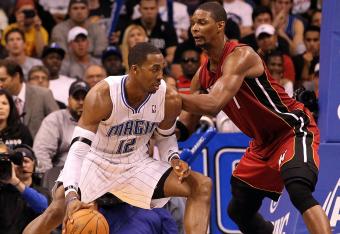 Bulls 60 Magic 48: Start of 4th Quarter.
An ugly quarter all around but that favors the Bulls who began the second half with a 15 point lead. In spite of an early outburst by the Magic to start the second half it was for the most part a poorly played quarter on both sides.
The Bulls were still able to count on offense from Carlos Boozer. That's good because they were't able to get much production from anyone else. Boozer scored eight of the Bulls 12 third quarter points.
The Magic only outscored the Bulls by three points. The team did pick up it's intensity in defense but they're still struggling mightily from three-point range. The Magic are three of sixteen from beyond the arc.
Bulls 57 Magic 43: 2:48 left in 3rd Quarter.
The Magic had the lead down to eight. That's when Carlos Boozer squared up and hit another jumper. It effectively took the wind out of the Magic's sails.
The Magic followed by taking some ill-advised rushed shots and they continue to be stymied from beyond the three point arc.
Luol Deng had a nice offensive rebound and put-back. The Bulls are back in business and the Magic appear to be reverting back the sloppy form that put them in a hole back in the first half.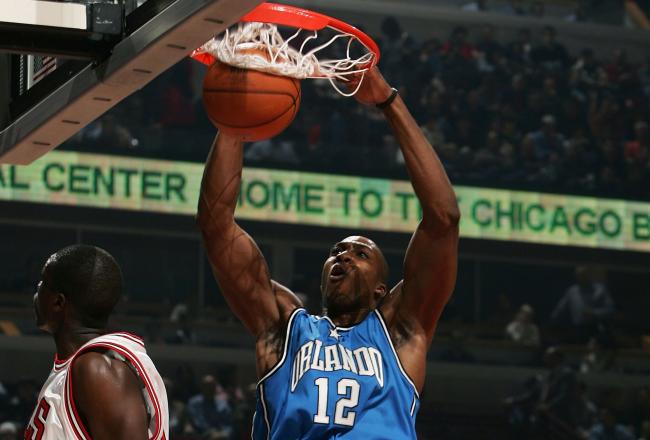 Bulls 51 Magic 41: 7:37 left in the 3rd Quarter.
The Bulls came out sloppy while the Magic as expected seem in sync. Boozer's face up jump shots of the first half were replaced with a more difficult fade-away shot.
Turkoglu scrapped for an easy basket. Dwight Howard was able to get a dunk.
The Bulls have to find a way to ebb the momentum that Orlando has claimed in the early part of the second half.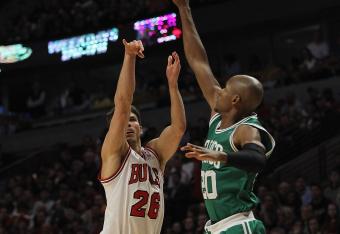 At The Half: Bulls 48 Magic 33.
Orlando doesn't need to do much more than play hard on defense, take care of the ball and hit a few shots. The shots will probably eventually begin to fall but if they're not willing to take care of the ball or get back on defense then it won't matter.
Coach Van Gundy must be frustrated knowing that he's got a chance to get a win against a good team in front of the home crowd and his team seems disinterested. Adding insult to injury is the absence of Derrick Rose which has yet to be taken advantage of by Orlando.
In the second half look for Orlando to come out focused and with a purpose, the test will be if they can maintain that intensity. The Magic looked crisp early in the first quarter but once the Bulls started to assert themselves the Magic wilted quickly.
Chicago will continue to play aggressive defense and to feed Carlos Boozer on offense.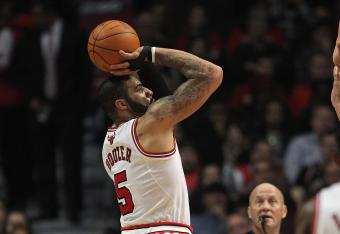 Bulls 48 Magic 33: Halftime
If you live and die by the three and you don't hit shots that will make for a rough half. If you also turn the ball over and then compound the problem by not getting back on defense then there will be far greater problems.
The Magic were only three of eleven from downtown in the first half. They got Howard the ball but he can only do so much. Howard leads the Magic with eight points and four rebounds.
Chicago on the other hand took advantage of 11 Magic turnovers and got easy baskets when the Magic didn't get back on defense. That led to a 50 percent field goal percentage. When the Bulls were forced to play half court they turned to Carlos Boozer with great results.
Boozer was eight of ten from the field and leads all scorers with 16 points. Boozer has a game high five rebounds as well.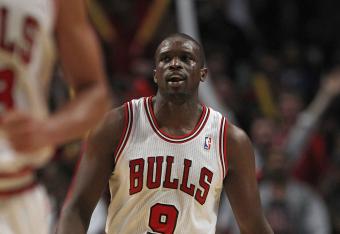 Bulls 40 Magic 31: 2:58 left in 2nd Quarter.
The Magic entered the game with a deserved reputation for taking three pointers. In the first half the three point shot has been a weapon but it's been used more effectively by the Chicago Bulls than the Orlando Magic.
Chicago is four for ten from downtown while Orlando is only three of ten. Orlando also has nine turnovers as compared to the Bulls who are playing without their starting point guard but have only seven.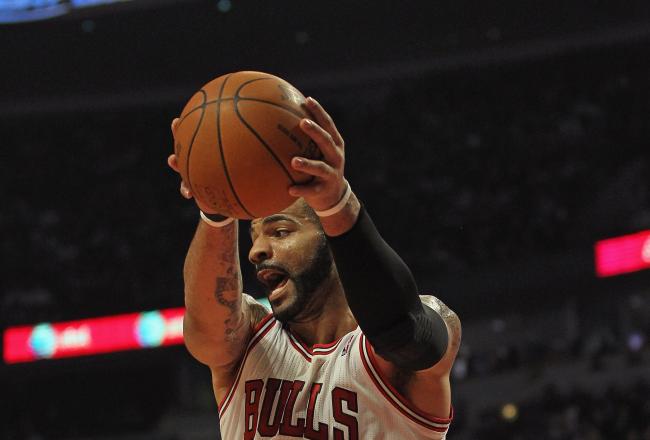 Bulls 35 Magic 22: 6:32 left in 2nd Quarter.
In spite of being an object of much consternation in Chicago, Carlos Boozer has stepped up in a big way in Derrick Rose's absence tonight. Boozer is four of five from the field and has been the only Bull to create his own offense within the three point line.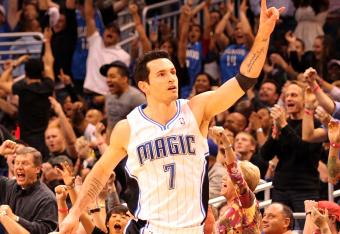 Bulls 28 Magic 19: 8:30 left in 2nd Quarter
The Magic were ice cold for a stretch but Ryan Anderson put a halt to that when he nailed his second three point shot of the night.
Both teams have gone to their respective benches. The Magic inserted J.J Redick, Quentin Richardson, Chris Duhon and Glen Davis.
Chicago countered with Lucas, Taj Gibson, Kyle Korver and Omer Asik.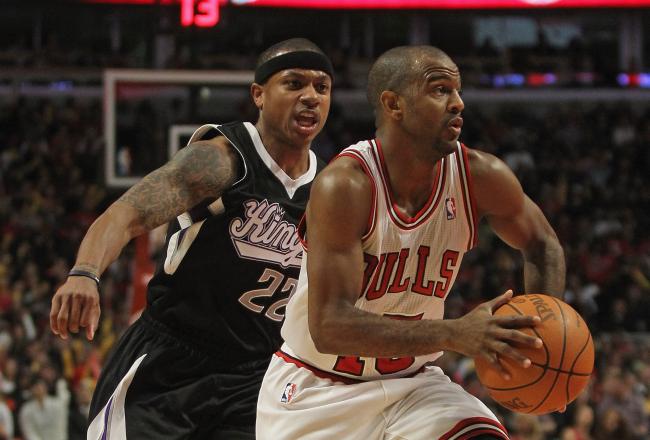 End of 1st Quarter: Bulls 22 Magic 14.
This Bulls are giving the Magic a little taste of their own medicine. John Lucas has come off the bench and nailed three quick three-pointers. The Magic who were at one point leading 8-7 have been outscored 15-6 since. Nine of those points came from Lucas but the Magic looked very shaky on offense where they were consistently limited to one shot per possession and often it was one shot that was not a great look at the basket.
The Magic shot 33.3 percent in the first quarter while the Bulls hit for 52.9 percent.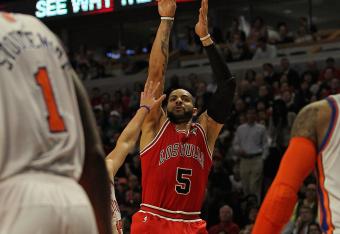 Bulls 12 Magic 11: 3:30 left in 1st Quarter.
Orlando is only one of five from three-point range. That's a big part of why they're struggling to score in the early going. The Bulls have the quickness to double team Howard even if help has to come from the perimeter defenders.
Chicago has been able to dribble penetrate and as well force turnovers creating good shots that they've converted. Carlos Boozer has stepped up in the early going and is three of four from the field with three rebounds, two assists and two steals in the early going.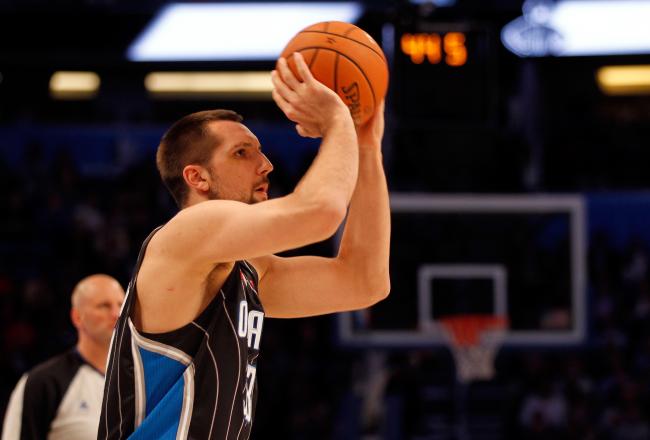 Bulls 8 Magic 7: 7:48 left in 1st Quarter.
Orlando in spite of all the griping about getting another star to surround Howard is a very tough team to defend if they're hitting even a decent amount of their three point shots. They don't live and die with the three but they sure do make their life on the court easier when they're knocking down the long range shots.
The Bulls defense which looked a little shaky in the initial moments has settled down and forced two turnovers both of which they've converted for points.
Chicago would love as many easy basket's as possible with their leading scorer Rose missing the game.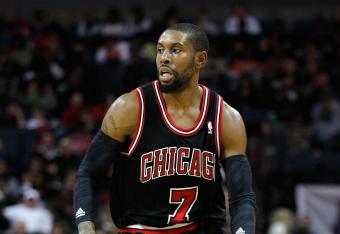 This promises to be an interesting matchup. The Bulls without Rose are not as tough to defend but they're no pushover either.
Orlando uses a combination of two fairly simple offensive philosophies to put points on the board. The Magic shoot a lot of three-pointers and they dump the ball down into the paint for Dwight Howard.
The Magic lead the league in both three-point shots attempted and made per game as a team. The Bulls allow less made three-point shots than any other team in the league.
Some of that has to do with Derrick Rose who posses elite athletic ability and long arms that allow him to consistently extend on three point shooters. It's more than just Rose though. Noah is a very mobile big man on defense and Luol Deng is one of the best defensive small forwards in the league.
When the Magic are hitting their three point shots they become extremely tough to defend. By taking three pointers they force defenses to extend to the perimeter. When that happens it creates space for Dwight Howard to operate and establish good low-post position. If you've heard about "spacing" with regards to basketball this is a fine example of it.
The Bulls will lean heavily on their frontcourt tonight. Carlos Boozer and Joakim Noah will need to provide more than just opportunistic offense and in Noah's case his usual stellar defense. They're going to have to hit some shots. Deng can be counted on to play greet defense but at times he lacks offensive consistency. That can't happen tonight though, not without Rose in the lineup.
C.J. Watson can be counted on to step into Rose's role to the best of his ability but he can't be Derrick Rose, not many can.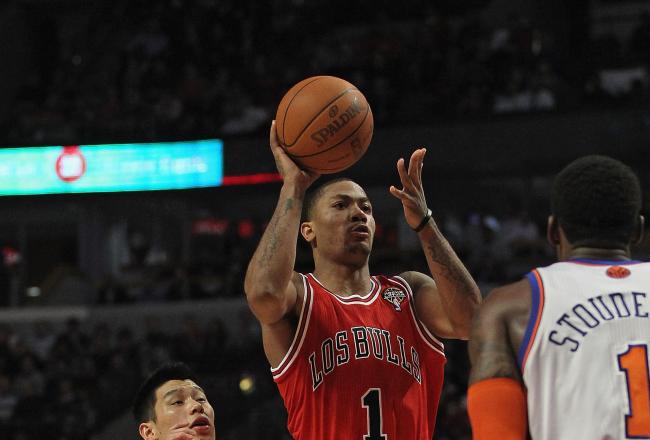 Tonight's Starting Lineups.
Orlando Magic ( 29-17, 16-7 at home)
PG: Jameer Nelson
SG: Jason Richardson
SF: Hedo Turkoglu
PF: Ryan Anderson
C: Dwight Howard
Chicago Bulls ( 37-10, 18-6 on the road)
PG: C.J. Watson
SG: Ronnie Brewer
SF: Luol Deng
PF: Carlos Boozer
C: Joakim Noah
This article is
What is the duplicate article?
Why is this article offensive?
Where is this article plagiarized from?
Why is this article poorly edited?