West Virginia Football: 10 Benchmarks for Spring Success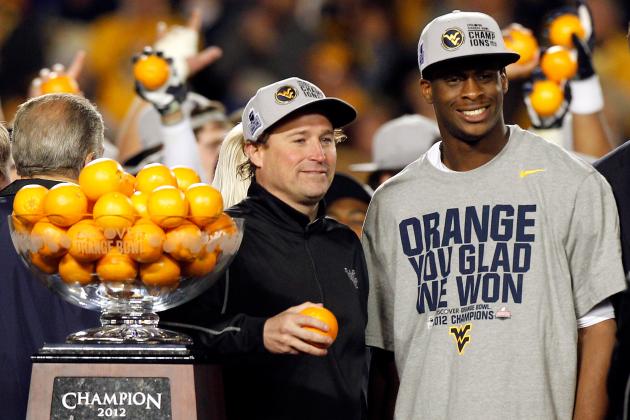 J. Meric/Getty Images

Dana Holgorsen's first season with the West Virginia Mountaineers was a huge success. He went 10-3, won the Big East Championship and shellacked the Clemson Tigers in the Orange Bowl.
But all that means nothing now.
West Virginia is officially a member of the Big 12—a beefier conference with a meaner attitude.
The Mountaineers are known for their speed, but will it hold up against their more physical opponents?
Can Geno Smith play at a Heisman level, or will inconsistent play doom the offense?
Our questions will not be answered until the regular season begins, but as spring unfolds, a few glimpses into the future will be revealed.
This slideshow will explain what the West Virginia Mountaineers must accomplish this offseason if they want to be successful in 2012.
Begin Slideshow

»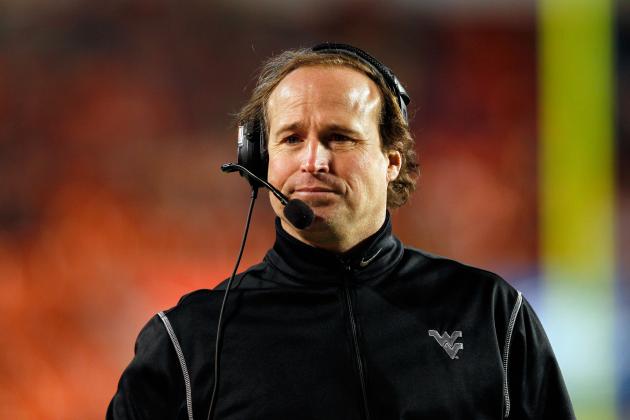 Mike Ehrmann/Getty Images
Dana Holgorsen
After a full season learning Dana Holgorsen's playbook, the West Virginia Mountaineers offense should be a thing of glory next season.
Senior quarterback Geno Smith is a potential Heisman candidate. With dart-quick receivers Tavon Austin and Stedman Bailey at his disposal, points should not be hard to come by.
The Mountaineers proved in the Orange Bowl that they are nearly unstoppable when playing efficiently.
This offseason, the offense needs to work on their consistency. They must operate like a machine if they want to make noise in the BCS next season.
The Big 12 is not known for its defenses. So long as the Mountaineers do not get in their own way, they should not have too many problems on the offensive side of the ball.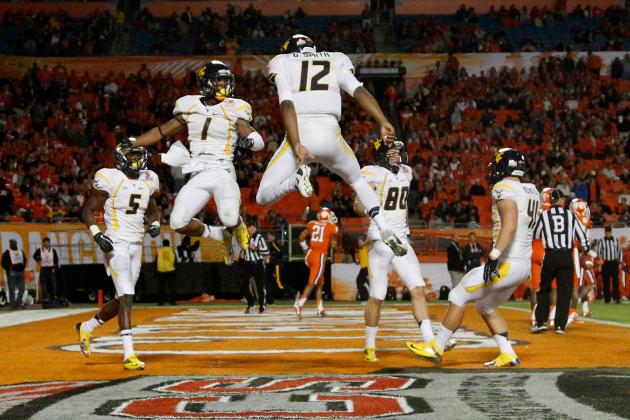 Mike Ehrmann/Getty Images

Dana Holgorsen brought in Shannon Dawson to take over as offensive coordinator this season.
In order to elevate the offense to the next level, Dawson intends to control the tempo, according to the Charleston Daily Mail.
West Virginia's unconventional offense mixed with an increased tempo could give defenses headaches and create incontestable matchup problems.
For this strategy to work, the offense must be completely dialed in. A penalty or a play that gains no yards can result in a quick three and out, which forces the defense to come back on the field without getting proper rest.
If the offense can execute a speedy tempo with flawless execution, they will blow the roof off the sucker in 2012.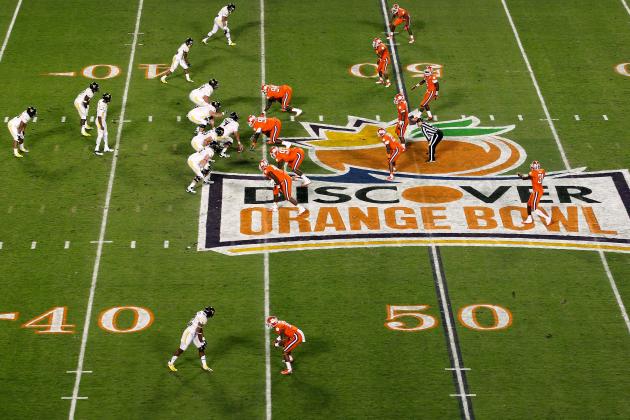 J. Meric/Getty Images

The offensive line is experiencing a realignment this offseason.
Left guard Josh Jenkins is returning from an injury, which will cause Jeff Braun to switch to right guard—the third position change of his career.
Joe Madsen will join them inside. He is the strength of the offensive line and was one of the better centers in the Big East last season.
Quinton Spain and Pat Eger should be the starting tackles next season. Both have great potential, but are still developing.
The West Virginia Mountaineers' offense will only be as good as its guys up front. As long as the offensive line can reestablish their rhythm, they should be solid.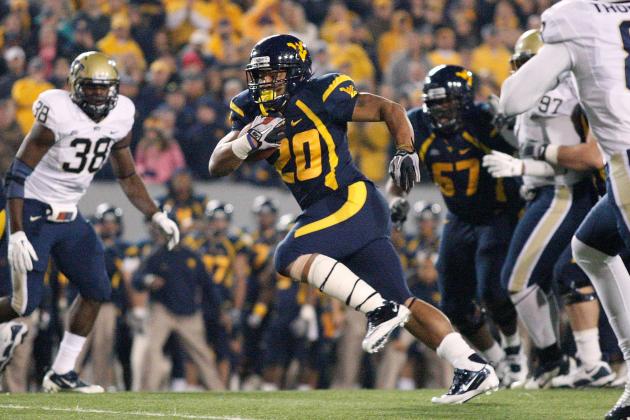 Jared Wickerham/Getty Images
Shawne Alston (#20)
The West Virginia Mountaineers' offense is a premiere running back away from being complete.
Last season Dustin Garrison carried the majority of the load, but went down with a knee injury which will keep him out of spring practices.
With Garrison sidelined, Andrew Buie will has the potential to fill his role as the team's change-of-pace speed back.
Shawne Alston was the team's short yardage back last season, but will look to compete for the starting spot after a good showing at the Orange Bowl.
Alston and Buie will duke it out for the starting spot should Garrison's injury carry into the regular season. Expect Alston to emerge as the more dominant runner this offseason and to see an increased workload in 2012.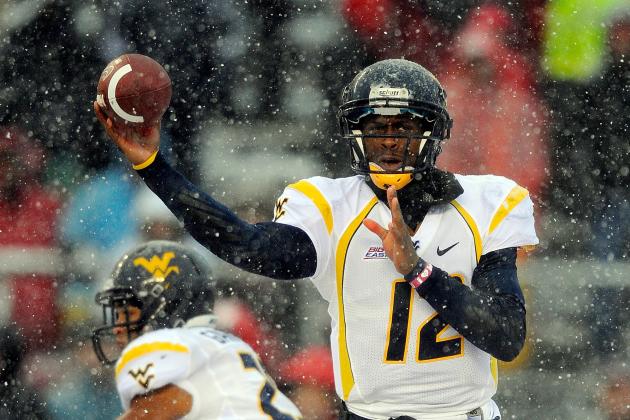 Patrick McDermott/Getty Images
Geno Smith (#12)
Geno Smith is facing big expectations in 2012. He is an experienced quarterback, playing in a high-powered offense surrounded by playmakers.
He, too, is a playmaker. Last year he came into his own, throwing for 4,385 yards and 31 touchdowns.
Next season he will look to improve his stats, as well as compete for a Heisman Trophy.
Personal achievements aside, Smith is the key to this offense. His ability to take control of his team will go a long way in determining the outcome of the 2012 season.
With the change in opponents and offensive tempo, Smith will have to be at the top of his game all year if the Mountaineers want to survive the Big 12.
This offseason, expect to see Smith performing better than ever. Whether or not that translates into regular season success is a whole other matter.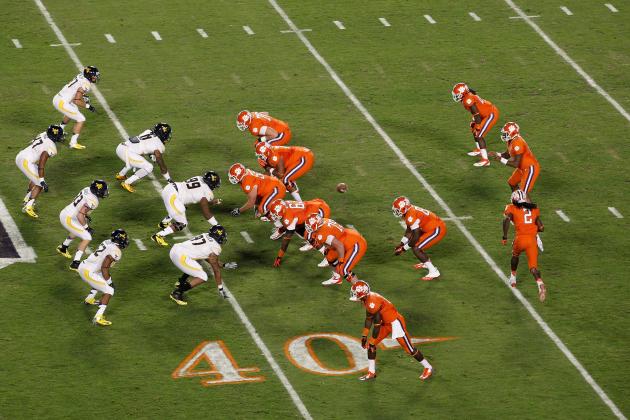 J. Meric/Getty Images

Last year's defensive coordinator Jeff Casteel found a new gig in Arizona. He is being replaced by Joe DeForest and Keith Patterson.
Not only will the defense have to get used to new coaches, but they will have to learn a completely new scheme.
The West Virginia Mountaineers have utilized the 3-3-5 stack defense in past seasons, but coach Dana Holgorsen thinks that the more traditional 3-4 will be a better look in the Big 12.
Defense has always been the Mountaineers' strongest unit. That may not be the case in 2012.
This offseason, the coaching staff will pay special attention to their defense to make sure that they not only understand their new assignments, but can execute them in a way which won't get them burned.
They have a lot of work to do on this side of the ball.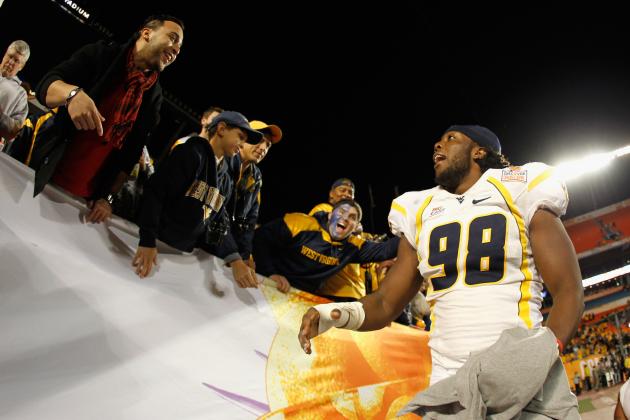 Mike Ehrmann/Getty Images
Will Clarke (#98)
The West Virginia Mountaineers currently do not have a true nose tackle on the roster, a key position in the 3-4.
Jorge Wright and Will Clarke are returning starters, but neither of them have them have the ideal girth for the position.
Wright played nose tackle last season, but would be a better fit at the defensive end spot on running plays.
This offseason, DeForest and Patterson will be searching their roster for a player who can occupy blockers and push the pocket.
Expect the coaches to test a bunch of players at the nose tackle position. If someone like Shaq Rowell (6'4", 308 pounds) can step up next season, the Mountaineers' defensive line could be special.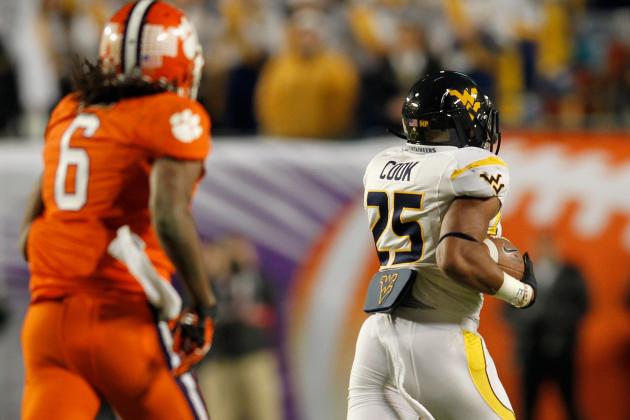 Streeter Lecka/Getty Images
Darwin Cook (#25)
Last season the West Virginia Mountaineers brought in Daron Roberts to be their special teams and receivers coach. This season he is coaching the secondary.
Roberts helped improve the Detroit Lions secondary in 2010. He will be trusted to do the same next season with the Mountaineers.
Strong safety Darwin Cook is the team's most talented player in the secondary. Joining him in the defensive backfield are Travis Bell (FS), Brodrick Jenkins (CB) and Pat Miller (CB).
All four of these players have starting experience, but will see a bigger role in 2012.
It will be interesting to see how well they respond to Roberts' instructions as they make the transformation into the 3-4 defense.
At this year's spring game, do not be surprised if the offensive passing game looks dominant against the secondary. The confidence is not yet there with this group, but it is building.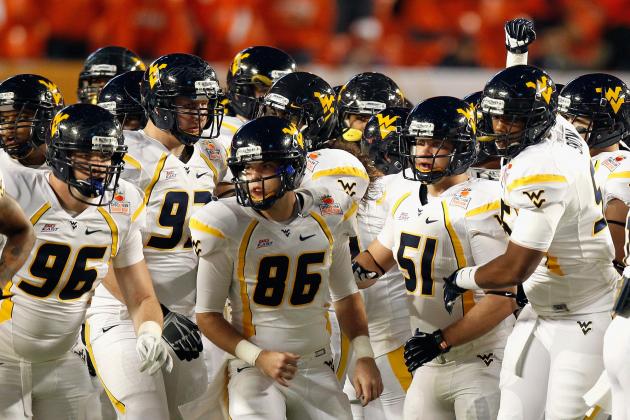 J. Meric/Getty Images

The West Virginia Mountaineers must improve not only their strength, but their overall conditioning next season if they want to run the tables in the Big 12.
This is especially true in the trenches. Teams like Iowa State and Oklahoma are known for their stout offensive and defensive lines.
The Mountaineers must be in top physical shape so that they hold up against the strong fronts of the Big 12 for an entire season.
They also have to be mentally prepared.
Switching to the Big 12 means that they will have to spend more time on the road. They cannot let jet lag or other travel-related excuses justify a bad season.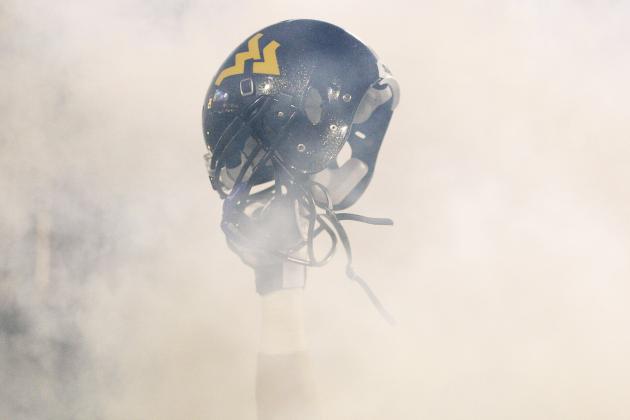 Jared Wickerham/Getty Images

The West Virginia Mountaineers' 2012 season will ultimately come down to whether or not Dana Holgorsen and company can successfully adapt to their new conference.
By switching to the 3-4 defense and increasing the tempo of the offense, it seems as though they have a plan for how to compete in the Big 12.
But by conforming to the schemes of their new conference, will they forget what makes them good?
Holgorsen needs to bring his unique style of football with him into the Big 12 and make his new opponents change their game plans to fit what his team is bringing.
Knowing Holgorsen, this shouldn't be a problem.