Peyton Manning to Broncos: Fans in Denver Must Temper Expectations for 2012
March 20, 2012

Doug Pensinger/Getty Images
Hold your horses, Denver Broncos fans. There's a long way to go before you can (or is it should?) start preparing for a Super Bowl victory parade through the Mile High City.
Don't get me wrong, you have every right to be excited about Peyton Manning's decision to take his talents to the Rocky Mountain State, assuming his agent, Tom Condon, is able to hammer out a deal with the Broncos as expected.
You guys haven't had a truly competent quarterback to root for since John Elway last suited up for the Orange Crush in 1999.
Unless, of course, anyone actually thinks Tim Tebow was starting material from a physical and a mechanical perspective. Sure, Tebowmania was fun while it lasted, but did you really think Tebow was Super Bowl material?
It's as if Elway was able to muster up yet another Mile High Miracle, this time from the front office, and it should get you excited, especially after more than a decade of watching the likes of Brian Griese, Jake Plummer and Kyle Orton traipse through town, defiling your sacred turf like clumsy children stumbling and stomping through a most glorious garden.
But before we get all cozy in our hyperbole-patterned Snuggies while clearing space in the trophy case for another of Vince Lombardi's finest, let's take a moment to consider a few "minor" details:
1. Old Peyton, New Place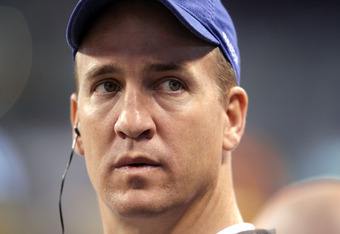 Andy Lyons/Getty Images
First and foremost, it's foolish to assume that Peyton will step in and be a success on his own from Day 1. Yes, he's a great quarterback, and yes, he's a huge upgrade at the position.
But that's all assuming that the dude is still up to snuff after four neck surgeries in less than two years' time.
Even then, there's no telling how Manning will fare in an offense that, while likely tailored to his strengths much like the staff did with Tebow last season, will still be new to him, compared to a scheme of which Peyton was the master for 13 years in Indy.
And, above all, there's the "small" issue of location. Not to take anything away from his brilliance, but Peyton played most of his games to this point in perfect weather on immaculate turf inside a dome.
Now, he'll have to adjust to competing outdoors every week, in which his career QB rating is nearly eight points lower (90.8) than it is indoors (98.7).
And don't forget about Manning's performance amidst wind (82.6 QB rating), precipitation (83.8) and even mild temperatures (85.8)  
Not that Manning's incapable of making the necessary adjustments, but rather that the weather will serve as yet another obstacle to overcome... 
2. Work in Progress
Jim Rogash/Getty Images
...along with Manning's acclimation to a team that, while impressive at times in its run to the AFC West title last year, still has a ways to go before it can be considered Super Bowl material, with or without Peyton on-board.
There's the defense, which—while much improved over the course of the season thanks to the emergence of rookie Von Miller—still ranked in the bottom half of the league in efficiency, according to Football Outsiders.
As big a difference as Manning makes on offense, he's hardly a guarantor of overall Super Bowl success. His career with the Indianapolis Colts, replete with instances of individual brilliance bogged down by defensive ineptitude, serves as a testament to that very notion.
And who's to say Denver's offense will be anything close to those that Peyton orchestrated in Indy? There's no Marvin Harrison or Reggie Wayne to throw to, no Edgerrin James or (healthy) Joseph Addai to carry the ball.
Instead, Manning will be left to uplift the likes of Demaryius Thomas, Eric Decker and Willis McGahee, unless the Broncos seek out some serious upgrades in free agency and the NFL draft. 
3. Schedule's Cruel, Won't Be Kind
Last but certainly not least, there's that thing about the Broncos having to (you know) play other teams. They went 8-8 in 2011 against the eighth-toughest schedule in football, despite being outscored by 81 points on the season and ranking 27th in the league in turnover ratio with a -12.
In other words, the Broncos were more than fortunate to win as many games as they did and can hardly count on the pigskin bouncing in their favor in 2012 as often as it did last year.
Even with Manning under center, and especially with the slate of games that awaits them. At present, Denver's schedule for the upcoming season rates as the second-toughest in the NFL, just a hair behind that of the New York Giants.
That includes games against seven playoff teams (the New England Patriots, the Pittsburgh Steelers, the Baltimore Ravens, the New Orleans Saints, the Atlanta Falcons, the Cincinnati Bengals and the Houston Texans) and at least two others (the Carolina Panthers and the Kansas City Chiefs) that should be at least somewhat improved.
That Yellow Brick Road to New Orleans, then, would appear to be a rather pothole-filled one, prompting Manning and the Broncos to strap on their hard hats and lay down some serious groundwork before they can (and their fans) can even imagine hoisting any hardware whatsoever come early February.