Peyton Manning: 3 Reasons Signing with Denver Broncos Will Be Huge Mistake
March 20, 2012

Doug Pensinger/Getty Images
Peyton Manning has reportedly agreed to negotiate a five-year, $95 million contract with the Denver Broncos, according to ESPN's Chris Mortensen. Manning just made a large amount of money and even larger mistake!
Below are the three reasons I believe Manning's signing with the Denver Broncos was a huge mistake:
The Super Bowl Title Factor
Manning has won four NFL MVPs, two conference championships and set an amazingly amount of passing records on his way to becoming the most beloved and greatest quarterback in Colts history.
Manning has also won just one Super Bowl ring.
Winning another MVP trophy would be nice, and if Manning plays the full five years his Broncos contract calls for, he would most likely eclipse Brett Favre's all-time passing yardage, passing completions, passing attempts and passing touchdowns records as well. However, rest assured that Manning is returning to the NFL to win another Super Bowl ring above all else.
The problem with Manning's signing with the Broncos is that the Broncos are not legitimate Super Bowl contenders. Denver was one of the worst teams in the league last season, until Tim Tebow came to the rescue and led them to the playoffs as well as a major upset over the defending AFC champion Pittsburgh Steelers.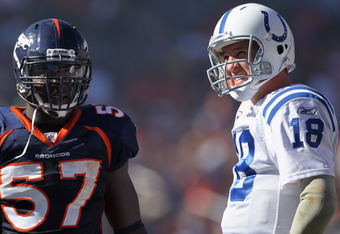 Doug Pensinger/Getty Images
Casual fans may feel that with Denver's dominant defense and great running game, all the team truly needs is a quarterback like Manning to propel them to the Super Bowl. However, such is little more than wishful thinking. Denver's defense was vastly overrated last season and was exposed by the Patriots—twice.
The Broncos' vaunted rushing attack was due in large part to the stress Tebow put on a defense as well as the number of times the team ran the ball each game. With Manning at quarterback, that constant threat will be gone, and the Broncos' running game should return to the middle of the pack.
Manning will undoubtedly elevate the Broncos' passing attack, but with a host of young, no-name pass catchers, the fact is this may be the worst group of receivers Manning has played with in his entire career.
Personally, I do feel the Broncos have as good a chance at the Chargers, Raiders and Chiefs to win the AFC West, but not much of a realistic chance to win the AFC, let alone the Super Bowl. I would put Denver's odds at a division title at around 30 percent, their odds at a conference title around 3 percent and their odds at winning the Super Bowl below 1 percent.
The San Francisco 49ers offered Manning the best chance at winning a Super Bowl, period. The Houston Texans, who would have been interested once they lost Mario Williams to the Bills, offered the second-best chance at a Super Bowl ring. Miami offered even less of a title shot than Denver, while Arizona and Tennessee offered close to the same chance at a title as Denver.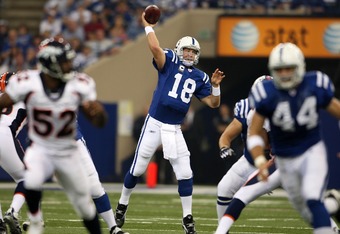 Andy Lyons/Getty Images
Manning chose the Broncos and therefore lost out on the chance to play with the superior 49ers and Texans, which was a huge mistake.
The Tebow Factor
No one wants to follow a legend when one can follow a normal Joe, let alone a loser. Tebow may not be a Denver legend, but he was beloved by the Broncos fan base and as such will be a tough act to follow.
If Manning fails to lead the Broncos to a division title in his first season in Denver, the Tebow-ites will surely be crying foul and saying that Elway made a mistake in choosing Manning over Tebow. Division title or bust is Manning's new lot in life whether he likes it or not.
Had Manning signed with the Texans or 49ers he would have faced similar pressure and expectations to what he will face in Denver. However, had he signed with the Cardinals, Dolphins or Titans he would have the chance to play hero without much chance of being called a "goat."
The Best Quarterback in Franchise History Factor
Manning holds nearly every meaningful passing record in Colts history, and despite Johnny Unitas' greatness is widely considered to be the "greatest" quarterback in team history. There was also a distinct possibility that depending on which team Manning decided to sign with he could retire in five years as greatest quarterback in the history of two separate teams.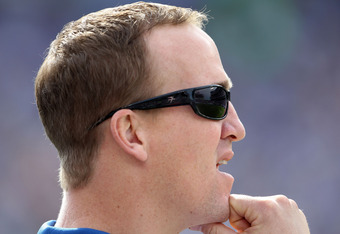 Andy Lyons/Getty Images
However, unless Manning wins three Super Bowls in Denver, he will never be considered the greatest quarterback in Denver Broncos history, a title that belongs to the man in charge of signing him, Elway.
Had Manning signed with the 49ers he would have had even less of a chance at being regarded as the greatest quarterback in team history than in Denver. Had he signed with the Dolphins he would have had a better chance, if for no other reason than the great Dan Marino never won a Super Bowl.
However, had Manning signed with the Cardinals, Titans or Texans he would have had a very high chance of becoming the greatest quarterback in each respective team's history.
Ranking the Six Teams Manning Could Have Signed With
6. Miami: Manning was wise to reject the Dolphins. While following Matt Moore and Chad Henne would have been a dream come true, Miami had no real shot at a Super Bowl, and Marino will likely always be regarded as the greatest quarterback in franchise history.
5. Denver: That Manning signed with the team that was the fifth-best fit out of six is like a high school salutatorian whose entire graduating class was comprised of three students.
4. Arizona: Five words: Larry Fitzgerald and great weather. I realize Manning may not have wanted to play in the same conference as his brother or the same division as the bruising 49ers, but throwing to Fitzgerald in the lovely city of Tempe and having a great chance to become the greatest quarterback in team history would have been more promising than playing in the Mile High City.
3. Tennessee: Again, five words: Indianapolis Colts twice a year. I honestly am quite shocked Manning didn't sign with the Titans. Manning played college ball in Tennessee, was offered a fantastic lifetime contract and could have played twice every season against the team that dumped him for a college player yet to throw an NFL pass. I'm still in shock.
2. San Francisco: Manning may not have had any realistic chance to become the greatest quarterback in 49ers team history, but he would have stood a great chance of winning his second Super Bowl ring. 'Nuff said.
1. Houston: Michael Silver was right, the Houston Texans were the best fit for Manning. Not only would Manning have had a great chance at winning the Super Bowl in Houston, but he would also have instantly become the greatest quarterback in team history and have the added benefit of getting to play the Colts twice every year. Manning should have signed with Houston, period.