The pen hasn't even been put to a contract for Peyton Manning to officially sign with the Denver Broncos, and already his former teammates are starting to follow him to his new team.
Two of Peyton's longtime teammates while in Indianapolis could be playing with the Broncos at the start of the 2012 season. According to the Denver Post's Mike Klis, Dallas Clark could be joining Manning in Denver. In addition, NFL Network's Jason La Canfora reports that Jeff Saturday will be meeting with the Broncos.
Adding Clark would be a huge upgrade at the tight end position over Virgil Green and Julius Thomas. Last year, Daniel Fells led Broncos tight ends with 19 receptions, 256 yards and three touchdowns.
Comparing that to an injury-shortened season for Clark, Fells' numbers do not even come close. Clark only played in 11 games during 2011 and still caught 34 passes for 352 yards and two touchdowns.
Clark's last season with both Manning and himself healthy saw the duo put together 100 receptions, 1,106 yards and 10 touchdowns. If Clark can put together a season like that next year, he will surpass what Broncos leading receivers Eric Decker and Demaryius Thomas combined for last year in receptions.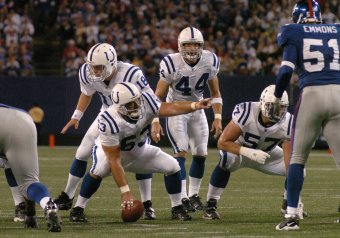 Brian Killian/Getty Images
However, having a great pass-catching tight end is one thing; having Saturday there to help Manning control the offensive line is even better.
Saturday was a big reason for Manning's success while in Indianapolis. Saturday's ability to recognize different blitz patterns and familiarity with Manning will help the QB succeed in Denver.
Saturday should take over for second-year player J.D. Walton. Instead of working with a young player coming into his third year, Manning will have his teammate of the last 13 years.
If Denver can sign two of Manning's former teammates, it will help in his transition to a new team. Plus, bringing in these two players will provide a big upgrade over the current crop of players they have slated to start the 2012 season.