Chicago Blackhawks: Stan Bowman Should Explore Trade for the No. 1 Overall Pick
March 20, 2012

Richard Wolowicz/Getty Images
When this offseason began, the Columbus Blue Jackets made it apparent they were tired of their losing ways.
They traded for Jeff Carter, hoping he would finally be the No. 1 center that Rick Nash had sought for years. On the blue-line, they spent big on James Wisnewski.
As everyone who has followed the NHL with any sort of interest knows by now, the experiment failed on a historically bad level.
Through their first 15 games, the Blue Jackets only racked up five standings points, to the tune of a 2-12-1 record.
When Carter wasn't injured, he wasn't really meshing well with Nash. For much of the 2011 portion of the season, it was veteran winger Vinny Prospal—not the superstar captain Nash—leading Columbus in scoring.
The team has improved somewhat, though they are still looking like they'll be owning the #1 overall pick this summer. Only Edmonton, who has 11 more standings points, looks to be a challenger for the pick.
Canadiens beat writer Marc Godin reported on Twitter on March 12th that Columbus is expected to trade their first rounder to help accelerate their rebuild.
The consensus #1 overall pick should be winger Nail Yakupov of the OHL's Sarnia Sting.
Yakupov took the OHL by storm in 2010/11, tallying 49 goals and 52 assists in 65 games, winning the league's Rookie Of The Year award. The numbers would show a suspect defensive player, as, despite his ridiculous 101 point campaign, Yakupov still managed to be a -2.
Think about that for a moment. Teams scored no less than 103 goals with Yakupov on the ice during the 10/11 season. While the scoring ability is clearly there in bunches, his defense needs work.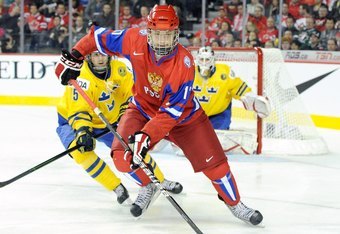 Richard Wolowicz/Getty Images
While Yakupov's scoring is down a bit this season (31 goals and 38 assists in 42 games) he's also a +15, has grown an inch taller, and added roughly 15 pounds to his frame.
Of course, Yakupov isn't the surefire top pick. Fellow Russian Mikhail Grigorenko could easily be taken first overall. Grigorenko has four inches of height on Yakupov at 6' 3", and is a playmaking center compared to Yakupov's assets as a goal-scoring winger.
Playing for the Quebec Remparts of the QMJHL, Grigorenko has racked up 40 goals and 45 assists in 56 games this season, only having 12 penalty minutes, and a +35 rating.
Either player would make a huge impact immediately for the Blackhawks, immediately being able to step on to the second line in Chicago. As far as I can tell, the only question about which one would be selected comes down to if the Hawks see Patrick Kane as a center or winger going forward.
With a world-class farm system, Stan Bowman could easily offer Columbus GM Scott Howson the best package for their first-overall pick.
Presumably, both Marcus Kruger and Brandon Pirri would be expendable. Though they have different games, both would easily be valuable assets.
Pirri was an AHL all-star this season, and has shown the ability to rack up points at every level thus far. Kruger has been playing as the Hawks #2 center for the time being, and is more a dirty-nosed player.
Pirri projects more as a scoring center, while Kruger's fearlessness and defensive acumen project more along the lines of what the Hawks currently have in Dave Bolland.
Jeremy Morin would also presumably go in any deal to acquire Columbus' pick. A highly-touted scoring winger who seems to have stalled out a bit, Morin would almost certainly be playing every day in Columbus for the 2012/13 season.
On defense, the Hawks could offer Shawn Lalonde. An offensive defenseman with some size, Lalonde would further bolster Columbus' defensive depth they've been building via trades this season. Ryan Stanton, Simon Denis-Pepin, and Joe Lavin could also be included.
With the Blue Jackets struggles in net this season—Allen York got a start against the Blackhawks after being recalled from the ECHL—the Hawks could also presumably include one of their goaltending prospects.
Odds are it wouldd likely be 2010 second-rounder Kent Simpson, or former Panthers prospect Alexander Salak.
Armed with so many trade chips in the minor leagues, Bowman and his staff know full well that not all of them will make it to the NHL, and even fewer make it there with the Blackhawks.
Jonathan Toews, Patrick Kane, Marian Hossa, Patrick Sharp, Duncan Keith, and Brent Seabrook will, in all likelihood, be Blackhawks for life. This leaves even fewer roster spots for all their prospects.
With the uncertainty facing the league in the near future, given the state of the collective bargaining agreement, teams seem unwilling to take on big NHL contracts. However, getting a teenage star fresh out of the draft would be a great way to sustain the franchise's success.