Chicago Bulls: Could J.J. Hickson Help out Their Bench?
March 19, 2012
Mike Ehrmann/Getty Images
According to Marc Stein of ESPN the Kings have released forward J.J. Hickson.
Kings announce release of J.J. Hickson after shopping him hard before deadline to try to salvage trade that cost 'em Casspi & first-rounder

— Marc Stein (@ESPNSteinLine) March 19, 2012
Hickson was traded to the Kings before the lockout. He had played in 35 games for the Kings, starting nine, while averaging 4.7 points and five rebounds per game.
To me this is a very surprising move since just two seasons ago he was thought to help relieve the pressure of LeBron James in Cleveland. That was obviously before he took his talents to South Beach.
Last season for the Cavs, Hickson averaged 13.7 points and 8.7 rebounds a game, including 28 double-doubles. How did the Kings screw this up?
Hickson won't turn 24 until September and is in his fourth season in the NBA. Remember that 20 rebound game he had last season against the Bulls?
The Bulls have remained thin on the front line all season. They only have five bigs on the roster with Brian Scalabrine being the fifth. Thankfully, unlike last season, the Bulls haven't had to suffer through any long injuries to either Carlos Boozer or Joakim Noah.
Adding Hickson to me seems like a no brainer. He reminds me a little of Taj Gibson and you can never have too many players like Gibson.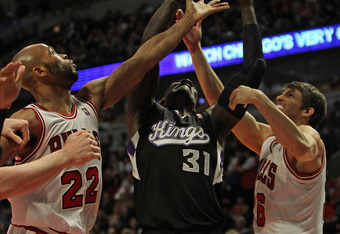 Jonathan Daniel/Getty Images
With Mike James signed to a 10-day contract, the Bulls currently have an open roster spot, so they wouldn't have to release anyone to add Hickson. He could also be insurance in case the Bulls were to trade Gibson in the offseason.
It would also give the Bulls a bigger edge over the Miami Heat as many experts view the Bulls bigs superior to those in Miami.
With no premier shooting guard on the market it would be smart for general manager Gar Foreman to just make the Bulls strength even stronger.
What do you think Bulls fans, should they sign J.J. Hickson or do you like the roster the way it is?
Make sure to follow me on Twitter @dachicagofan, and check out my weekly Bulls podcast every Wednesday on my site, The MG Experience.