NCAA Basketball: Gottfried Has NC State and the ACC on the Rebound
March 19, 2012

Rob Carr/Getty Images
With Florida State's last-second loss to Cincinnati, the ACC is now down to two teams in the Sweet 16.
Having only two teams in the Sweet 16 is nothing new for the ACC in recent years. Generally, Duke and North Carolina are always the participants. But, Lehigh shocked the second-seeded Blue Devils on Friday in the opening round.
Expectations have never been higher for Leonard Hamilton and his Florida State Seminoles. Coming off their first ever ACC championship, the Seminoles drew a third seed in the NCAA Tournament. Losing in the second round was a tough blow for not only the Seminoles, but the ACC as well.
The ACC has long been known as arguably the best basketball conference in the NCAA. That reputation has taken a hit in recent years when the league has struggled to get more than three or four teams into the NCAA Tournament.
NC State and North Carolina are the only schools left from the ACC. UNC was expected to be there, NC State, under first-year coach Mark Gottfried, was not.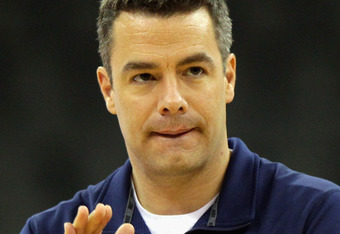 Doug Pensinger/Getty Images
The biggest reason for the ACC and the league-wide struggles in recent years is coaching upheaval.
Of course, Mike Krzyzewski of Duke and Roy Williams of UNC are the two longest-tenured coaches in the ACC. Gary Williams, who suddenly retired from Maryland last offseason, spent the previous 22 years at his alma mater.
Hamilton just finished his tenth year as head coach at Florida State. Seth Greenberg of Virginia Tech is the league's fourth most-tenured coach, having spent nine years in Blacksburg.
After these four coaches though, every team has made a coaching change within the past three years.
In college sports, coaching changes create different philosophies and the timetable on winning can vary from school-to-school.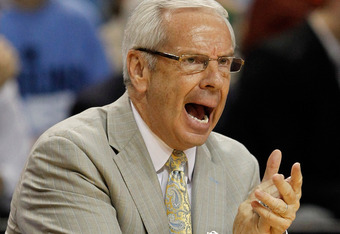 Streeter Lecka/Getty Images
For Gottfried, he inherited a team with some talent. One of his more noticeable changes was moving sophomore Lorenzo Brown to the point guard position. Brown, who played shooting guard as a freshman, excelled at the position and as a result the entire team improved.
In what some viewed as a questionable hire at the time, NC State fans have to be happy with Gottfried. Viewed by many as the fourth choice, Gottfried was very successful in his two previous coaching jobs. Add to that, the Pack's top four scorers all have eligibility remaining. Gottfried has also signed three McDonalds' All-Americans for next season.
Virginia coach Tony Bennett has turned around the entire program. Focusing on strong defense and discipline, Bennett has put his stamp on the program. While some promising players have transferred under Bennett, he has made it clear academics come first.
Bennett's recruiting classes are continuing to improve.
Had injuries not cut into the Cavaliers' depth, perhaps they could have made a run in the NCAA Tournament. Nonetheless, Bennett has Virginia poised to stay among the ACC's elite for some time.
Miami, in their first season under longtime George Mason coach Jim Larranaga, just missed the NCAA Tournament. Miami (20-12, 9-7) finished the regular season in a three-way tie for fourth in the ACC.
Maryland just completed their first season under new coach Mark Turgeon. Turgeon overachieved with the Terrapins (17-15, 6-10), on a team bereft of quality talent.
Brad Brownell, who took Clemson to the NCAA Tournament in his first season, took a step back this season. Clemson's long-term prospects appear promising under Brownell, though.
Things didn't go so well for Georgia Tech and coach Brian Gregory in his first year. Finishing in a four-way tie for last place, Gregory will need a strong recruiting class to rebuild the talent the Yellow Jackets have lost in recent years.
Wake Forest and Boston College haven't seen much growth under their new coaches the last two years. These things do take time.
Keep in mind; the impending arrival of Syracuse and Pittsburgh to the ACC in the near future will also be beneficial to the ACC.
So, while the recent struggles of the league as a whole will concern some, things will be ok. With Duke and UNC anchoring the league, many of these new coaches will represent a positive change for the league.
Regardless of what happens this week in the NCAA tournament, things are looking particularly bright for NC State. If the Wolfpack can keep their top players from pursuing a professional career next year, they could be a serious title contender in 2013.