Derek Fisher Rumors: Breaking Down Best Destinations for Former Laker Guard
March 20, 2012

Harry How/Getty Images
It's not every day that a veteran with Derek Fisher's resume hits free agency in the middle of the season.
Five rings, a willingness to hustle and sacrifice his 37-year-old body and one of the most iconic moments in NBA playoff history.
Not bad for a guy whom the Los Angeles Lakers sent packing as part of a point guard revival/salary dump and whom the Houston Rockets bought out upon his arrival.
As a result, the 16-year veteran and president of the National Basketball Players Association is back on the prowl, in search of some jewelry for his other hand.
Let's have a look, then, at Fisher's best options and what he would have to offer each one.
Miami Heat
If the ring is the only thing that matters, then D-Fish would be wise to take his talents to South Beach to join the Miami Heat. They're the best bet to win the title, with LeBron James, Dwyane Wade and Chris Bosh having figured out (to some extent) how to mesh their talents this season.
After nearly winning without that benefit last year, mind you.
Fisher is already familiar with the organization. He nearly joined the Heatles in the summer of 2010, when he last hit free agency following the Lakers' last title, and has already shown some interest in giving it a go with Miami this time around.
The Heat could certainly use a player of Fisher's particular talents, too. The team's struggles in crunch time have been well documented, and Fisher just so happens to be one of the best in the business when it comes to hitting big shots. Miami could offer him a spot as one of the first players off the bench alongside rookie Norris Cole and, more importantly, the opportunity to play important minutes in a run to the top.  
Chicago Bulls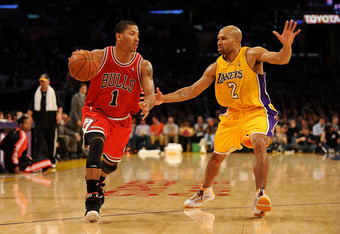 Harry How/Getty Images
According to ESPN's Marc Stein, the Chicago Bulls also sit atop Fisher's wish list, though there's no word yet as to whether the team is similarly interested:
One source says Bulls are right at top of Fisher's wish list ... but whether Chicago plans to reciprocate that interest remains to be seen

— Marc Stein (@ESPNSteinLine) March 19, 2012
Like the Heat, the Bulls have a least one guy (Derrick Rose) who can and does hit shots in the clutch, though that one guy also happens to be rather injury prone.
That aside, Rose likely wouldn't mind having someone to kick the ball out to in crunch time rather than having to force up contested jumpers in the closing minutes of games or hope (and pray) that, say, Luol Deng or Kyle Korver can actually catch and shoot without wilting.
Trouble is, Chicago already has two solid backups for Rose at the point, in John Lucas III and C.J. Watson, and a third (Mike James) who's on his third 10-day contract of the season with the team.
Minutes may be easier to come by for Fisher at the 2, where Ronnie Brewer has essentially taken over for the oft-injured Rip Hamilton, though even those figures to dry up if/when Hamilton heals up for the playoffs. 
Oklahoma City Thunder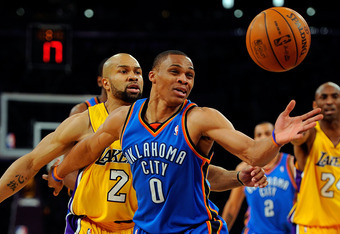 Kevork Djansezian/Getty Images
There may be no better fit for Fisher, though, than Oklahoma City. As Stein points out, the Thunder have yet to find a true replacement for the injured Eric Maynor as Russell Westbrook's primary backup: 
Sources say Thunder, who have yet to fully replace backup PG Eric Maynor, are weighing whether to make formal bid to sign Derek Fisher

— Marc Stein (@ESPNSteinLine) March 19, 2012
While Reggie Jackson and Royal Ivey have done an admirable job in Maynor's stead, they'd be lucky to so much as sniff Fisher's jock as far as experience and performance under pressure is concerned.
The Thunder wouldn't need to rely on Fisher to produce in crunch time, per se—not with Westbrook and Kevin Durant on the team.
But, adding a veteran presence with five rings to a locker room chock-full of young guys would be a boon to OKC's title case come playoff time.
San Antonio Spurs
Harry How/Getty Images
As far as age is concerned, though, Fisher would find many more of his peers with the Spurs. San Antonio sports one of the league's oldest rosters, with guys like Tim Duncan (35), Manu Ginobili (34) and now Stephen Jackson (33) logging key minutes for Gregg Popovich.
And, as Stein reports, the Spurs may well consider Fisher to fill the void behind Tony Parker if their bid for Patrick Mills falls flat:
Sources say Spurs, meanwhile, have not ruled out pursuing Fisher w/planned signing of Patty Mills yet to go thru. Link: espn.go.com/nba/story/_/id…

— Marc Stein (@ESPNSteinLine) March 19, 2012
The Spurs could certainly do worse than Fisher, who's had his fair share of career-defining moments at their expense.
What's more, they figure to finish no worse than second or third in the Western Conference, giving Fisher a golden opportunity to chase a championship and exact a smidgen of revenge against the Lakers for cutting him loose.