NFL Rumors: Alex Smith Will Not Fix Miami Dolphins' Problems at QB
March 20, 2012

Ezra Shaw/Getty Images
The Miami Dolphins have had a terrible offseason. They lost out on Peyton Manning and Matt Flynn, while missing out on trading up in the NFL Draft for Robert Griffin III. However, making a desperate move to get free agent QB Alex Smith will not save this horrible offseason.
According to Pro Football Talk, the Dolphins and Smith have had some extensive talks where a contract is on the table.
Both SI.com's Peter King and Armando Salguero of the Miami Herald are reporting that free agent quarterback Alex Smith has been in contract negotiations with the Dolphins on Monday.

King heard that Smith is "very serious" about the possibility of playing for the Dolphins. Per Salguero, Smith has told folks he'd strongly consider joining the Fins "under the right circumstances."

In other words, on the grounds that the Dolphins fulfill Smith's contract demands.

On Sunday night, Mike Klis of the Denver Post reported that the Dolphins had already begun monetary talks with Smith, and a deal could enter the $8 million-per-season range on a multi-year contract.
Smith finally had a big season last year after floundering for six years. However, his failures can be linked to Smith having a number of different offensive coordinators in seven years. 
He was finally able to have a coordinator stick around for consecutive seasons, and the result was a career year for Smith. 
If Smith is going to go to the Dolphins, he will be back to square one with another new offensive coordinator. Additionally, the Dolphins moved their best wide receiver, Brandon Marshall, to the Chicago Bears for a third-round draft pick.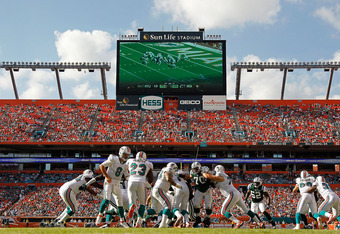 Mike Ehrmann/Getty Images
The Dolphins needed a big offseason move to help revive a fan base that has seen their team make one bad decision after another. Their stadium capacity ranks near the bottom of the NFL, as only 81 percent of Sun Life Stadium was full during Dolphins' home games. 
Adding Manning would have helped move tickets. Maybe bringing in Flynn would have put more butts in seats. However, the potential signing of Smith and the results he may bring will not help move attendance figures for a once proud franchise. 
The Dolphins need help at the quarterback position to bring some life back into this team. Adding a quarterback after one good season out of seven years will not be the answer to this problem.