Mel Kiper, Jr. 2012 NFL Mock Draft: The Picks He Totally Nailed in Mock 3.0
March 19, 2012

A little over a week ago, I pieced together a reactionary article on the picks in Mel Kiper, Jr.'s most recent mock draft that simply didn't make sense. (ESPN Insider required.)
Now, I give him the credit he deserves. 
Many of his selections were spot on. 
Let's take a look. 
(I'll stay away from the obvious choices, like Andrew Luck to Peyton's old home.)
Great choice No. 1: No. 11 Kansas City Chiefs: Luke Kuechly, LB, Boston College
Joe Robbins/Getty Images
Kiper says: Kuechly came to Indy with concerns about his size. But he weighed in at over 240 pounds, easing some of those concerns, and then shined in workouts, proving the added bulk won't slow him down; a classic case where a guy answers the big questions and solidifies his stock. Romeo Crennel needs linebackers with great instincts who can be physical in the run game, make stops and also get into the backfield when asked. Kuechly is simply a machine, a prototype for what you want in an interior linebacker. I can see the Chiefs looking for a nose tackle, so if Poe is around, that pick makes sense as well.
My take: Anytime I write about the Chiefs, I revert back to the fact that I don't see many, if any, holes on their roster. This obviously hinges on Jamaal Charles, Eric Berry and Tony Moeaki returning to 100 percent after their season-ending leg injuries. 
They're almost in a luxury position with the No. 11 pick. Derrick Johnson is an up-and-coming middle linebacker who was named to the Pro Bowl last year, but he needs help on the outside of his linebacker corps. 
Kuechly would be a great addition to a defense that flashed moments of brilliance last season and would learn from and feed off Johnson in the middle. 
Great choice No. 2: No. 15 Philadelphia Eagles: Michael Brockers, DT, LSU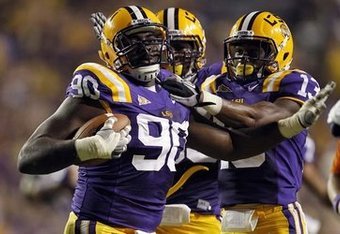 Kiper says: No team was softer up the middle than Philly in 2011, and in Brockers, the Eagles get a big, active player who can both take up blocks and penetrate. He weighed in at 322 pounds at the NFL combine, heavier than I've ever had him listed, but I don't see him as a prototype 3-4 nose tackle. My guess is he'll play a little lighter once he gets into camp, and the Eagles will benefit, particularly against the run. This is like a baseball team -- they need to build out the middle of the field on defense. If Kuechly is here, that makes sense as well.
My take: Brockers represents upside more than anything else because he's only 21 years old. He was a menacing force with the Tigers this season, but has to grow as an all-around player. 
The Eagles, above all, need beef on their defensive front. That's what Brockers provides. Because he's a disruptive, penetrating-type player, he'll occupy multiple offensive linemen on the interior if teams want to consistent stop him. 
That'll considerably benefit Trent Cole, the team's intimidating pass-rushing demon. Playing against Eli Manning, Tony Romo and most likely Robert Griffin III, having quality defensive linemen will be critical for the Eagles in the future.  
Great choice No. 3: No. 25 Denver Broncos: Fletcher Cox, DL, Mississippi State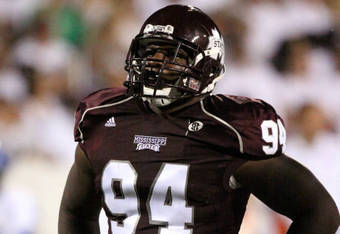 Kiper says: Denver has the pass rush on the edge but must add more depth on the inside, because despite the flashes this defense had last year, overall the Broncos profile as a team that has some holes on that side of the field. Cox is an active guy, a penetrator who will be a great fit in the Denver system, and can help them get some inside push. Cornerback is also a concern, but we'll know more after free agency. 
My take: Now that the Broncos have Peyton Manning (yes, it is odd to type that), they'll be looking to construct the team around him. 
Despite having the luxury of two bookend pass-rushers in Elvis Dumervil and Von Miller, like the Eagles, they need some muscle on their defensive interior. 
They allowed 126 yards on the ground in 2011. 
Cox is an extremely versatile player who has a rare combination of size, strength and athleticism. 
There's a chance they look to add a corner here, but Cox represents great value and will be a starter from day one.