DeSean Jackson: 10 Best Plays of His Career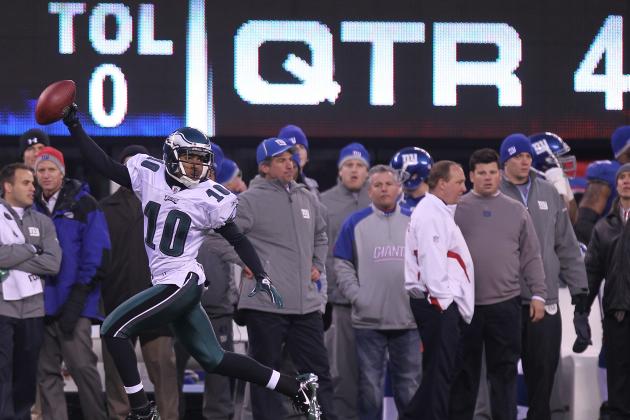 Nick Laham/Getty Images
For all the distractions, DeSean Jackson is worth the investment.
The Eagles opted to retain the services of one of the NFL's most electrifying players on Thursday, signing wide receiver DeSean Jackson to a five-year, $55 million contract.
Smart move.
For as many headaches as he's given the front office throughout his brief career, Jackson is worth the gamble. And as much as it pains me to say any player "deserves" that kind of money, Jackson was a bargain at less than 500K the past four seasons and probably merits a little kick-back.
Give the Eagles credit for keeping their egos out of the decision (even if Jackson didn't). I'm not sure I would have blamed them if they'd decided to spare themselves the aggravation, but recognizing Jackson as the difference-maker he is, is testament to why Andy Reid is the NFL's longest-tenured coach.
Oh, dissenters will cite the perils of diva behavior—see the failed T.O. experiment—but at the end of the day the 25-year-old Jackson is a dynamic talent with the rare ability to swing a game in his team's favor. He can burn you with the post, take an end-around to "the house" or go the distance on a punt return.
Yes, he needs his ego stroked occasionally (frequently), but he wins games, sells tickets and most important to Eagles fans, scares the hell out of the Giants and Cowboys.
In tribute to his re-signing, and as preview to future performances, let's take a look back at Jackson's 10 most electrifying plays.
Begin Slideshow

»
Jump to the 2:04 mark to get things rolling.
From Jackson's NFL debut, this 67-yard punt return didn't go the distance, but went a long way toward foreshadowing future exploits.
His 203 all-purpose yards remains a rookie record.
Catching an 88-yard touchdown reception on the first play from scrimmage of Monday Night Football—Electrifying.
Burning nemesis LaRon Landry on your way to the end zone—Priceless.
Any highlight that makes kickers look bad is a crowd-pleaser, and this clip from Jackson's college days offers one epic whiff.
As Jackson reverses field, keep your eyes peeled for the violent hit against UCLA's Korey Bosworth. Both players were OK, but Bosworth achieves YouTube infamy after attempting to exit the field under his own power (1:41 mark).
What is it with this family and getting run over?
This one's a two-for, but close your eyes if you're a Redskins fan because there's a theme developing.
Alleged speedster LaRon Landry (he owns a 4.35 40) takes another shot to his ego, and McNabb's 200th career touchdown pass earns the Washington secondary a dubious place in the league's archives.
I might have this one a little high, but I can't get over Jackson's burst on this play from 2009.
Most coaches preach running straight downfield on a return, but in this highlight it's easy to see why Jackson's earned an exemption.
Chris Johnson may be the NFL's fastest straight-line runner, but I'll take the lateral magic of Jackson.
Another bit of Berkeley artistry from Jackson, this time against Chip Kelly's Oregon Ducks.
Skip to the 1:20 mark to jump ahead to Jackson's punt return and if you're a Bear fan, cue the nostalgia.
Bias is the greatest possible threat to a reporter's integrity, so believe me when I say that I take no joy in opening old wounds or exposing victimized teams. My duty is to the craft and…oh hell with it.
As a lifelong 49ers fan, this one tastes pretty good.
Cowboys' corner Mike Jenkins probably figured jumping the route was worth the gamble, but Jackson exploits open space better than anyone since…impartiality be damned!…Jerry Rice.
I had to sift through the clips of lonely Madden gamers just to find this one, and when I did, I couldn't believe how much the Panthers' speed has suffered since switching to semi-pro.
From Week 1 of 2009, Jackson's punt return against Carolina cemented an early season laugher.
It took every ounce of restraint to keep from putting this gem any higher.
Tennessee had beaten up on my beloved Bears the previous season and the week-long jawing between Jackson and "some idiot kicker" (as coined by the Vols' most famous alum, Peyton Manning) added to what was already a hyped rematch.
Jackson responded by taking the first touch of his junior campaign into the end zone and the Pac-10 silenced its critics for one glorious day.
Down by 21—twice—the Eagles roared back to beat the rival New York Giants.
With just 14 seconds remaining, and despite being told NOT to kick it to Jackson, Giants punter Matt Dodge did the unthinkable. After a near muff, Jackson sliced though the middle, tip-toed along the goal line and trotted into the end zone to complete the comeback.
If only the Giants' special teams unit had pursued Jackson with the same alacrity Tom Coughlin used to corner Dodge.
Give the assist to announcer Joe Buck for noting Jackson's failure to return a punt for a touchdown all year just seconds before the snap.