Predicting the Hypothetical 4th and 5th All-NBA Teams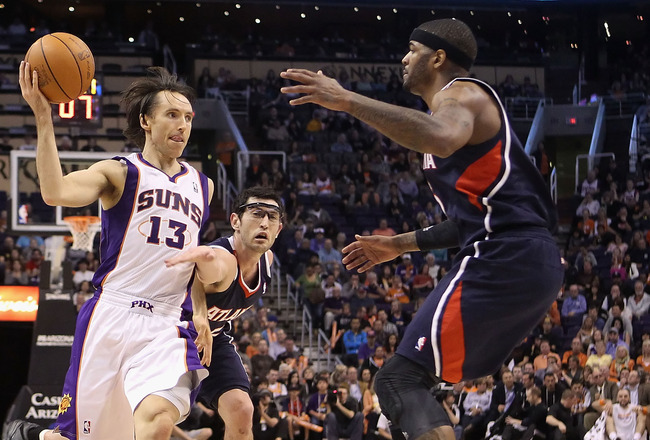 Steve Nash and Josh Smith
Christian Petersen/Getty Images
The All-NBA selections are the most straightforward decisions on who is overall better than whom. All that the MVP award says is which one player was the most valuable to his team. It's not necessarily about who the best overall player is.
Most people would agree that Derrick Rose wasn't the best overall player last year even though he definitely deserved his award. So the first, second and third All-NBA teams are simply designed to say who the top six guards and forwards were, and who the top three centers were—no strings attached.
While the fourth and fifth All-NBA teams don't exist, let's just say that they do, and serve the same purpose as the first three teams. My picks aren't necessarily who I think should make it but who I think would make it based on the league's vote.
In the next slide, I have used an article by Dylan Conley as a reference point for the first three teams. However, these last ones are entirely my idea. Keep reading to find out more.
Quick Recap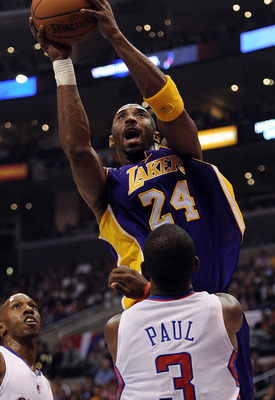 Chris Paul and Kobe Bryant
Harry How/Getty Images
In Dylan Conley's article from earlier this month, it was decided that the first team would look like:
Guard: Chris Paul
Guard: Kobe Bryant
Forward: LeBron James
Forward: Kevin Durant
Center: Dwight Howard
The second team would consist of:
Guard: Derrick Rose
Guard: Dwyane Wade
Forward: Kevin Love
Forward: Blake Griffin
Center: Andrew Bynum
And the third team would be as follows:
Guard: Tony Parker
Guard: Russell Westbrook
Forward: LaMarcus Aldridge
Forward: Chris Bosh
Center: Marc Gasol
Let's assume that all those are true as we move forward in this slideshow.
Fourth Team Guard: Steve Nash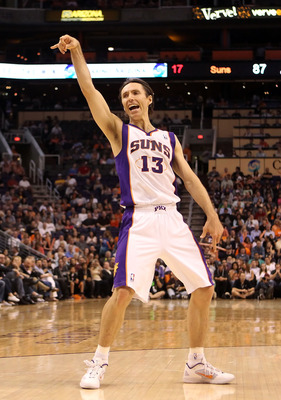 Christian Petersen/Getty Images
If it was up to me, Steve Nash would be on the third team over Westbrook. However, I know that's not going to happen at this rate, simply because Westbrook is on the best team in the West and Steve Nash's Suns aren't the best. However, I think it's more of an accomplishment that a team whose highest scorer is Marcin Gortat is above .500 and half a game out of the Playoffs in the West, than that a team with Westbrook, Durant, Harden, Ibaka, and Perkins is 34-11.
Steve Nash is on a team in which not a single other player besides Marcin Gortat is even average at their position. It's absolutely shocking to me that the Suns are above .500. He's putting up 13.4 PPG and 11.3 APG. His field goal percentage is 54.4%, which is unreasonable for a guard. His three point percentage is .402, despite the fact that he constantly has to hoist them up because he has no help. His only number that is below par by his standards is his free throw percentage- a "miserable" 88.5%. Keep in mind that he's 38-years-old.
Fourth Team Guard: Deron Williams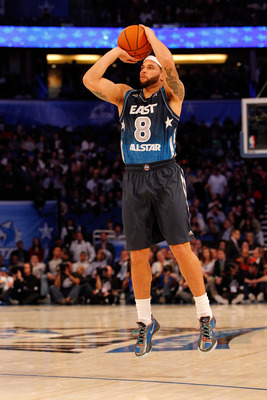 Ronald Martinez/Getty Images
While Deron Williams is not meeting my preseason expectations of MVP front runner, his supporting cast can't even meet their subzero ones, although Brook Lopez has been gone pretty much all year. Regardless, 22 and 8 is pretty good. That about sums it up right there.
It's a shame that Deron Williams is wasting one of his prime years on this team. If they had this post-deadline roster healthy all year, they would be sporting a starting five of Deron Williams, Marshon Brooks, Gerald Wallace, Kris Humphries, and Brook Lopez. That team would definitely slip into the Playoffs. But it's not enough. They didn't get Dwight Howard, or any other very big names, and they'll be lucky if Deron Williams hangs around any longer.
Fourth Team Forward: Josh Smith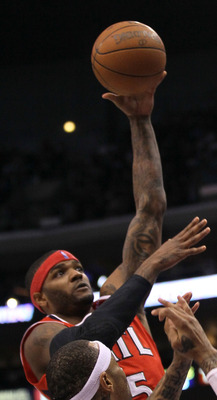 Stephen Dunn/Getty Images
The Atlanta Hawks are sitting comfortably in 6th place in the East, despite having lost Jamal Crawford through Free Agency and Al Horford through injury. Up until recently, Joe Johnson had been playing very poorly. Jeff Teague has only played at a high level for parts of the year, and Marvin Williams is still in the starting lineup. So why are they still a Playoff lock? Josh Smith, who should have been an All-Star.
Josh Smith, as usual, is a fantasy basketball owner's dream. He's putting up 17.7 points, 9.5 rebounds, 1.5 steals, 1.9 blocks, and 3.8 assists every game. And for the first time, his long jumpers are going in, as he's making one third of his three pointers. So now you can add that to the stat sheet.
These are some insane numbers for a small forward having to play in the post. I've said it many times: next year, they must start Zaza Pachulia instead of Marvin Williams. A lineup of Jeff Teague/Kirk Hinrich, Joe Johnson, Josh Smith and Al Horford in their actual positions, and Zaza Pachulia would be almost impossible to stop. I realize that's off subject, but Josh Smith is just a great overall player, and this year he's playing smart, too.
Fourth Team Forward: David Lee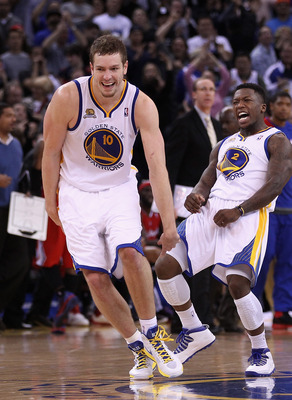 Ezra Shaw/Getty Images
I realize that many of you probably don't understand this, as he was a bit of a letdown last year, but David Lee has cleared his name. He's putting up a highly efficient 19.1 PPG and 9.6 RPG. He's also throwing in a steal every game, and he's one of the best interior passers in the NBA.
I might also mention that his defense is better than it was last year, which is one of the reasons that the Warriors' team field goal percentage against is the 14th best in the NBA.Technically, that's above average, which is not what most people would expect from them. (Their problem is that Lee is the only good rebounder on the team.) And David Lee is logging a high percentage of his minutes at center, not his natural position.
If you have seen a Warriors game this year, you'd fully realize that he's as important to his team as anybody. Next year, playing with Andrew Bogut, look for these numbers to be even more impressive when he's not doing all the work down low by himself.
Fourth Team Center: Al Jefferson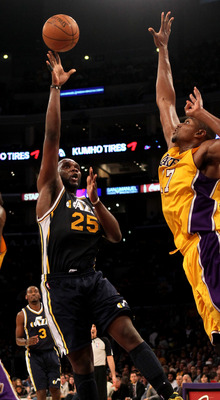 Stephen Dunn/Getty Images
In the aforementioned article, there was a lot of debate about whether or not Marc Gasol should actually be on Third Team All-NBA, or if it should be Roy Hibbert or Tyson Chandler. But who exactly is putting up 19 points and 9.4 rebounds with a block and a half every game through constant double teams? Al Jefferson.
The Utah Jazz are tied with the Suns. They are half a game out of the Playoffs and are 23-22, which is a huge accomplishment in the West. Tyson Chandler and Roy Hibbert are better defensively, but Al Jefferson is easily better than both at scoring, which is what his team needs. His Jazz are probably the worst team in the NBA at scoring from the perimeter, so his opposition can usually afford to put another guy on him. Still, he's putting up 19 PPG while shooting 48.7% from the field.
Fifth Team Guard: Rajon Rondo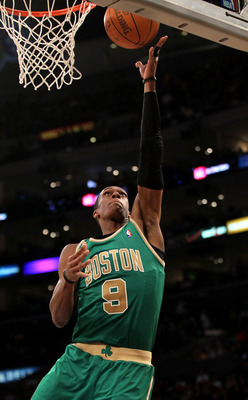 Stephen Dunn/Getty Images
The subject of many trade rumors, Rajon Rondo has numbers that may not overwhelm you. They are quite similar to Steve Nash's; they both are putting up 13.4 points every game, and Rondo is second in the league in assists with 10.3 per game, behind only Nash himself.
Rondo has the edge in rebounding over most guards, with 4.8 per game. The primary difference is that Rondo is playing with Boston's Big Three. Steve Nash is playing with Marcin Gortat, Markieff Morris, and Shannon Brown. Not five, not six, not seven...
Last year, I think Chris Paul should've been on the First All-Defensive Team over Rondo. This year, I think Rondo should be on the first team for sure. In fact, I think that if there was no Dwight Howard, he could be a strong candidate for Defensive Player of the Year. His steals are actually down to a merely solid 1.6 per game. However, last year he gambled way too much. This year, his defensive decision making is excellent. Instead of going for steals and getting beaten, he's reminding people that he might be the best on-ball defender in the league. That's why he should be on the hypothetical 5th Team All-NBA.
Fifth Team Guard: Kyle Lowry
Elsa/Getty Images
This pick I had trouble with. Manu Ginobili has been great while healthy, but when has he been healthy? Eric Gordon has been out all year, and Ty Lawson isn't quite there. Neither is Kyrie Irving, John Wall, or Ricky Rubio. Joe Johnson has been great at times, but far from consistent. Monta Ellis is on a losing team, and that is rarely rewarded. And no, it's not going to be Jeremy Lin.
Kyle Lowry's numbers started to slip about a month ago, conveniently right after I picked him for my fantasy team, but what he's done for the Rockets has been impressive. They are currently in the Playoff picture in the West at 24-22, although they definitely lack talent in general. Kyle Lowry has really carried his team with 16 PPG and 7 APG, with great shooting percentages. It's one of those cases where a guy's numbers are good, but his overall impact on his team makes him invaluable.
Fifth Team Forward: Pau Gasol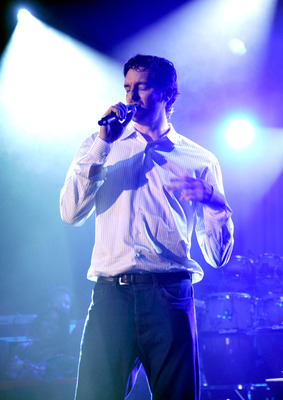 What the heck is this?
John Sciulli/Getty Images
I'm not going to lie, I forgot about this guy for a while. Andrew Bynum has really stolen his spotlight, and that's why he has retired to pursue a career as a singer (see left).
For those of you who didn't believe me (hopefully most of you), Pau Gasol is only putting up 16.6 points per game. That's not a whole lot by his standards. While he is still one of the best passing big men in the NBA, and his defense is garnering more respect, his 10.4 rebounds per game is the main reason that I put him here, over, say, Luol Deng, although I do appreciate that Gasol can shoot threes now. I'll take 16+ PPG and 10+ RPG from my secondary post player any day.
Fifth Team Forward: Dirk Nowitzki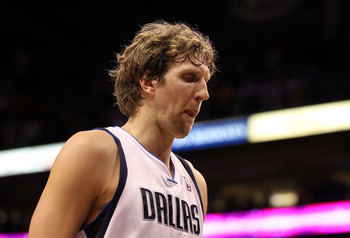 Christian Petersen/Getty Images
Why do I think Dirk Nowitzki would make the team? Because he's Dirk Nowitzki. I could really stop the slide here. His 6.6 rebounds per game is not a great stat. 20.5 PPG is impressive but not overwhelming. But he made the All-Star team somehow, so I'd assume he'd receive this honor too.
Fifth Team Center: Roy Hibbert
Elsa/Getty Images
This was another tough one. It came down to Hibbert and Tyson Chandler, but in the end, I chose the better offensive option. Both are very good rebounders and defensive players. Chandler is better in both categories defensively. But offensively, Hibbert is a lot better.
Sure he's only putting up 12.8 PPG. If you watch a Pacers game, you'll see that he is vastly underutilized considering his abilities. Hey, maybe that's a good thing. The Pacers play at a fast... pace. They don't heavily rely on running their plays and/or half court sets. That's where a 7'2" guy would usually come in. If Hibbert was on another team, he could definitely be averaging 18 and 10 without playing any differently.
That's the level he's playing at; his team is winning, and thus, I think he would be chosen over Chandler.
Notable Snubs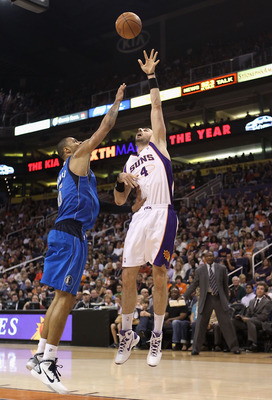 Chandler and Gortat
Christian Petersen/Getty Images
Jazz F Paul Millsap
Warriors/Bucks G Monta Ellis
Knicks C Tyson Chandler
Grizzlies F Rudy Gay
Bucks G Brandon Jennings
Nuggets G Ty Lawson
76ers F/G Andre Iguodala
Kings C/F DeMarcus Cousins
Pistons C Greg Monroe
Suns C Marcin Gortat
Cavaliers G Kyrie Irving
Timberwolves G Ricky Rubio
Wizards G John Wall
Hawks G Joe Johnson
Bulls F Luol Deng
Overview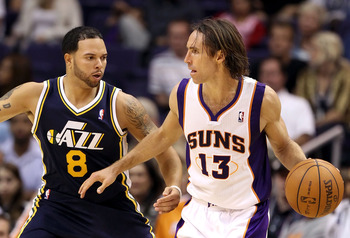 Williams and Nash
Christian Petersen/Getty Images
Fourth Team All-NBA:
Guards: Deron Williams, Steve Nash
Forwards: Josh Smith, David Lee
Center: Al Jefferson
Fifth Team All-NBA:
Guards: Rajon Rondo, Kyle Lowry
Forwards: Pau Gasol, Dirk Nowitzki
Center: Roy Hibbert
Thank you for reading!
Keep Reading