English Premier League Power Rankings: Week 29
Scott Heavey/Getty Images

This weekend was a slow one for actual Premier League action, but seven of the eight clubs left in the FA Cup were from the Premier League, with Leicester City being the exception.
However, the games in both competition were an afterthought after the collapse of Bolton's Fabrice Muamba during the his club's match with Tottenham in the FA Cup quarterfinals.
At the time of this article, Muamba seems be showing small signs of improvement in his condition.
In Premier League action, Manchester United extended their lead at the top of the table to four points with a blowout win over Wolves while Manchester City were off this weekend.
The relegation battle did not take a break as Wolves fell down to the bottom of the table with their loss and a Wigan draw.
Begin Slideshow

»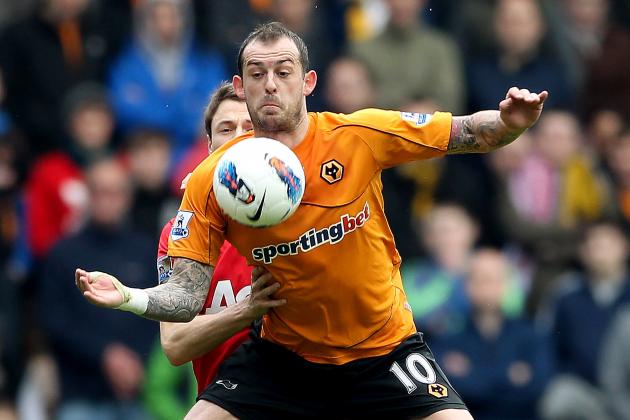 Scott Heavey/Getty Images

If Wolves were not in panic mode before Sunday's 5-0 loss to Manchester United, they should be now.
The club has lost three straight games and have been outscored 12-0 during that stretch, including two 5-0 losses.
Now at the bottom of the table on goal difference, Wolves will look to turn their bad fortune around at Norwich on Saturday.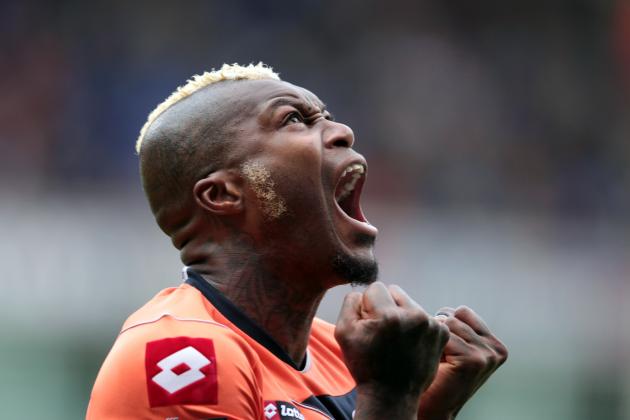 Ross Kinnaird/Getty Images

QPR had the weekend off and remained in 18th position in the table.
The R's have two games this week as they host Liverpool on Wednesday in their rescheduled match at Loftus Road.
On Saturday, Mark Hughes and company will make a visit to the Stadium of Light to face Sunderland.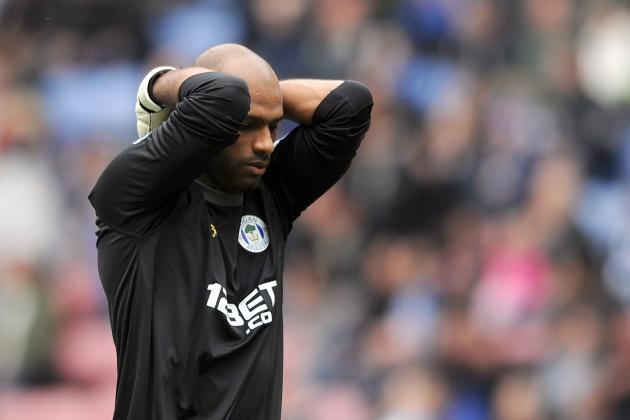 Chris Brunskill/Getty Images

Wigan played in their second straight 1-1 draw on Saturday with West Brom.
James McArthur scored in the 54th minute before former Wigan player Paul Scharner equalized the game.
The draw marked the third draw in four matches for the Latics as they look to survive the relegation fight for yet another season.
Right now, the club sit in 19th place with 22 points but could easily jump out of the bottom three with a win over but that may be unlikely at Anfield on Saturday against Liverpool.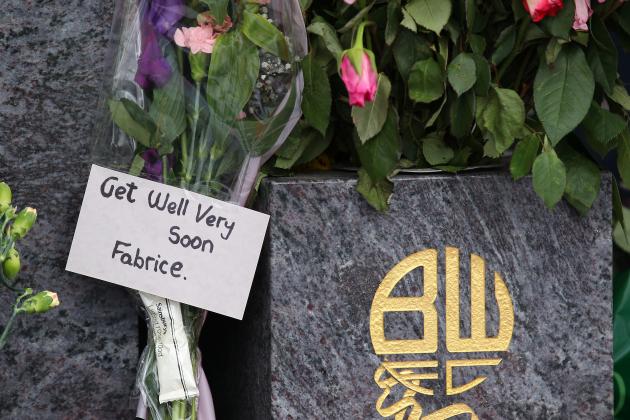 Alex Livesey/Getty Images

As we all know by now it was not about football this week at Bolton Wanderers as Fabrice Muamba collapsed on the pitch against Tottenham on Saturday in their FA Cup quarterfinal match.
The match was abandoned, and Tuesday's match with Aston Villa has been rescheduled for a later date.
Muamba's condition continues to improve as well wishes come in from all parts of the footballing world including former teammate Gary Cahill's Pray for Muamba T-shirt that he revealed after scoring for Chelsea on Sunday.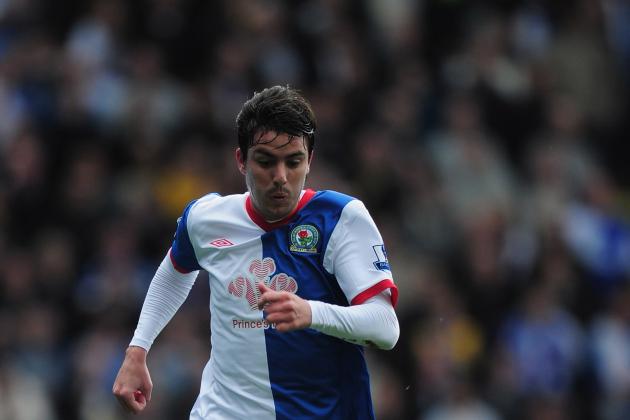 Jamie McDonald/Getty Images

Blackburn were one of the clubs to have off this weekend as a result of FA Cup play.
Rovers are close to escaping the relegation race as it sits with 25 points in 16th place and could easily run away from the drop zone with a win or two.
Steve Kean's club will host Sunderland on Tuesday at Ewood Park and then visit Bolton on Saturday at the Reebok Stadium.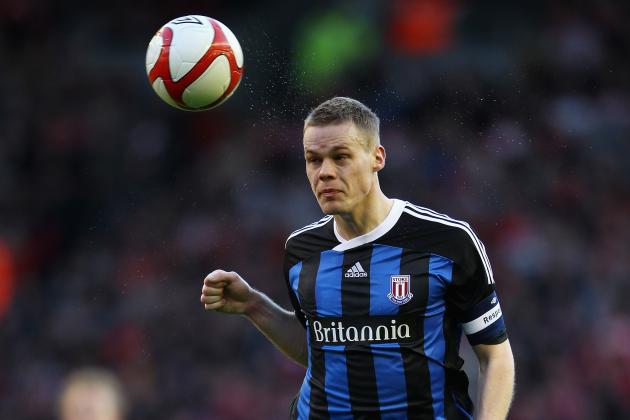 Alex Livesey/Getty Images

Stoke could not reach their second straight FA Cup final as they were downed by Liverpool by a 2-1 scoreline at Anfield on Sunday.
Peter Crouch scored an equalizer in the 26th minute but it was not enough for the Potters.
A tough week is now ahead for the Potters as they head to White Hart Lane on Wednesday to face Tottenham and then they host Manchester City on Saturday at the Britannia Stadium.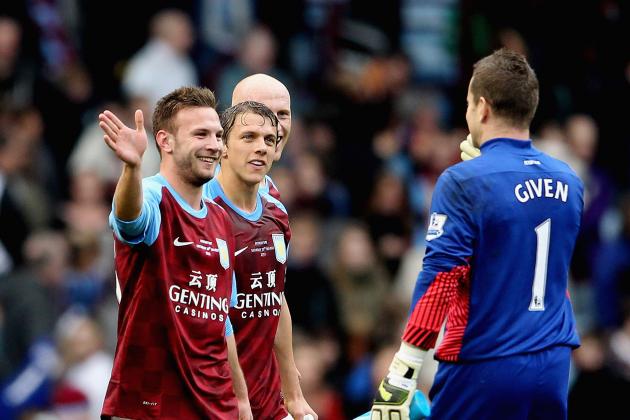 Scott Heavey/Getty Images

Aston Villa face the longest layoff of all the Premier League clubs as they will not play for two weeks.
The club's match with Bolton on Tuesday will be rescheduled for a later date as Bolton are in no shape to play football at the moment due to the Fabrice Muamba situation.
The Villains will take to the pitch on Saturday at the Emirates Stadium against Arsenal.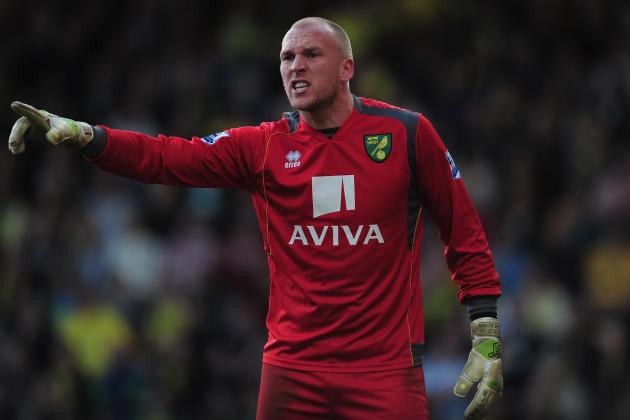 Jamie McDonald/Getty Images

Norwich fell to Newcastle on the road on Sunday by a 1-0 score.
The Canaries gave up a 11th minute goal and were unable to put a goal past their opponents' in form keeper, Tim Krul.
Paul Lambert's club are now in the middle of a four-game winless streak and they will look to turn that around against a struggling Wolves club at home on Saturday.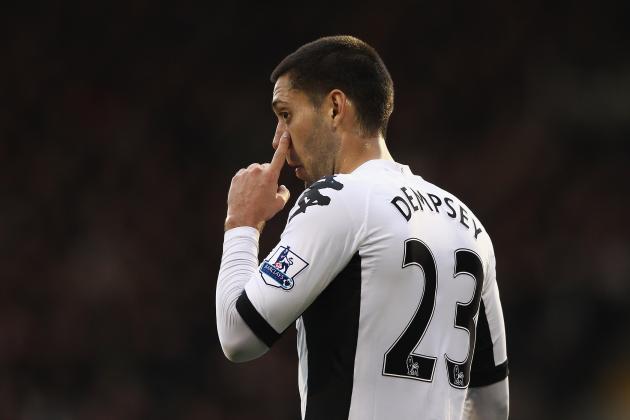 Ian Walton/Getty Images

Fulham's recent run of good form was broken on Saturday as the were beaten 3-0 by Swansea.
After winning three in a row, the Cottagers have now lost two straight and it does not get easier as a trip to Old Trafford is ahead on Monday to face league leaders Manchester United.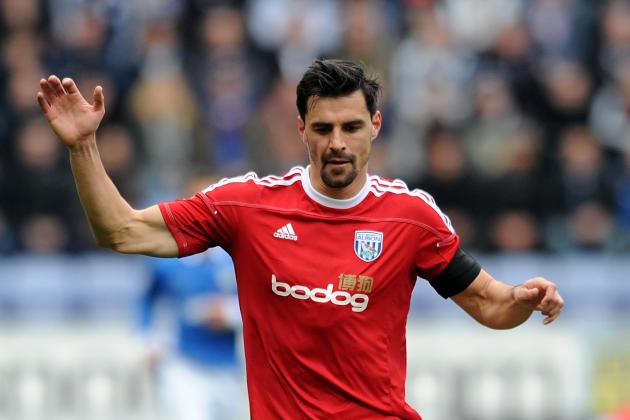 Chris Brunskill/Getty Images

West Brom were able to comeback and earn a draw at Wigan on Saturday.
Paul Scharner scored against his former club in the 65th minute to give the Baggies a 1-1 draw.
The draw boosted the Baggies up to 12th in the table into a group of four clubs with 36 points.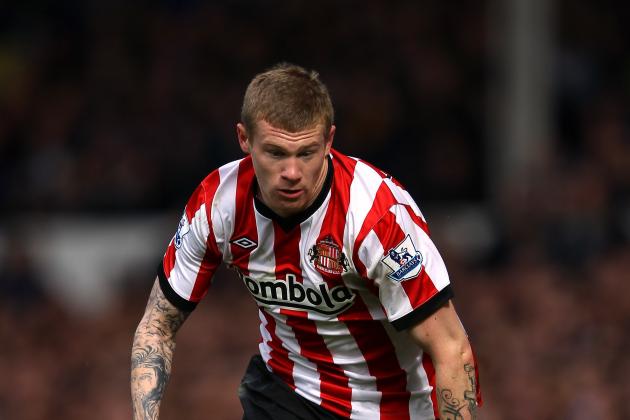 Alex Livesey/Getty Images

Sunderland survived their trip to Goodison Park in the FA Cup quarterfinals on Saturday and forced a replay with a 1-1 draw against Everton.
Phil Bardsley scored the opening goal for the Black Cats in the 12th minute before Everton equalized and put a ton of pressure on keeper Simon Mignolet, who had a few crucial saves late in the game.
With the positive momentum coming from forcing a replay at home to possibly earn a spot in Wembley, the Black Cats head back into Premier League play on Tuesday at Blackburn.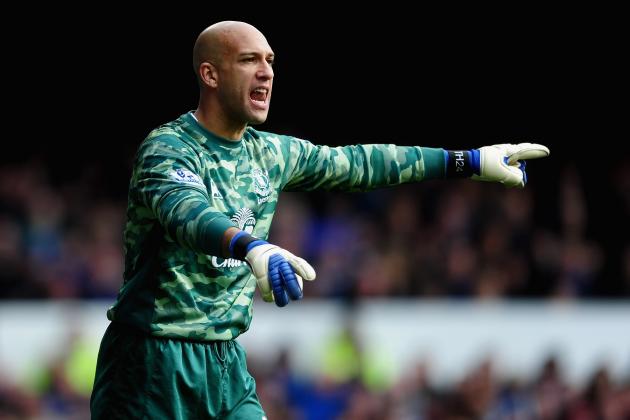 Laurence Griffiths/Getty Images

Everton were unable to secure a trip to Wembley on Saturday at home as they drew with Sunderland, 1-1, in the FA Cup quarterfinals.
The draw came four days after a 3-0 loss in the Merseyside derby against rivals Liverpool.
The Toffees hop right back in to Premier League play on Wednesday when they host Arsenal at Goodison Park before traveling to Wales on Saturday to play Swansea at the Liberty Stadium.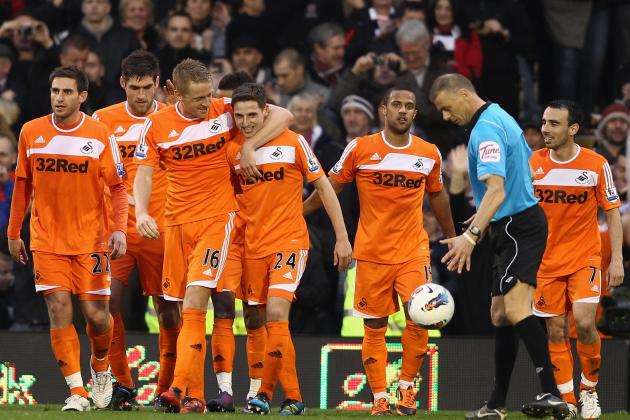 Ian Walton/Getty Images

Who would have thought at the beginning of the season that Swansea would be in eighth place at this point in the season?
That is the exact spot where the Swans sit in the table after their 3-0 win on the road at Fulham on Saturday.
Gylfi Sigurdsson continued his impressive loan spell with two goals while Joe Allen netted the third goal for the club in the 77th minute.
Next up on the schedule for Brendan Rodgers and his group of overachievers is a visit from Everton on Saturday.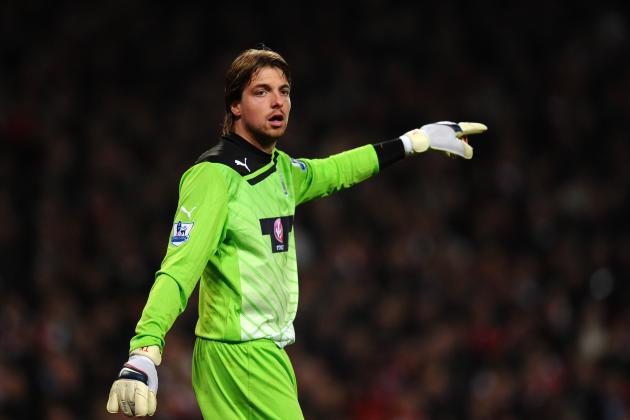 Mike Hewitt/Getty Images

Newcastle broke their four-game winless streak on Sunday with a 1-0 win over Norwich.
Papiss Demba Cisse's early 11th minute goal was enough to carry the Magpies to victory at the Sports Direct Arena.
With the win, Alan Pardew's club are now only two points behind Chelsea for the Europa League spot going into their trip to The Hawthorns to face West Brom on Sunday.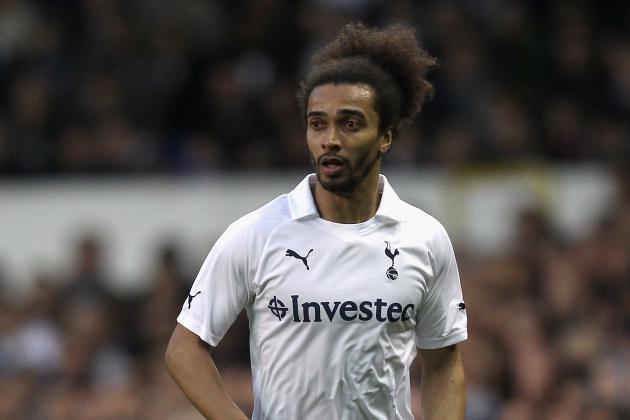 Clive Rose/Getty Images

Tottenham's FA Cup quarterfinal with Bolton was abandoned due to Fabrice Muamba's on field collapse.
Unlike Bolton, Spurs will continue on with playing in the Premier League starting with a home match at White Hart Lane with Stoke on Wednesday.
The more important of the two games that Spurs will play this week is on Saturday as they visit Stamford Bridge to take on Chelsea in a top five showdown.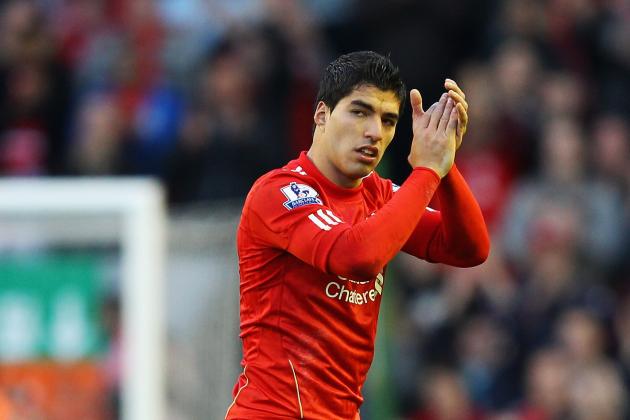 Alex Livesey/Getty Images

Liverpool continued their success in cups this season with a 2-1 win over Stoke in the FA Cup quarterfinals on Sunday.
Luis Suarez and Stewart Downing were the goal scorers for the Reds as they will head to Wembley in April with the possibility of participating in a third Merseyside derby of the season if Everton wins their replay with Sunderland.
The Reds face a light schedule in terms of opponents this week with a visit to QPR on Wednesday and a home match at Anfield with Wigan on Saturday.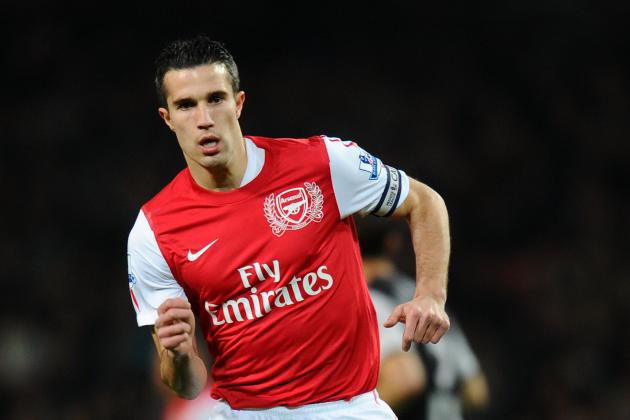 Mike Hewitt/Getty Images

Arsenal were able to have a week off to get everyone healthy ahead of the stretch run in the Premier League.
The fourth place Gunners will get back on the pitch Wednesday at Goodison Park as they visit Everton and then they will host Aston Villa on Saturday at the Emirates Stadium.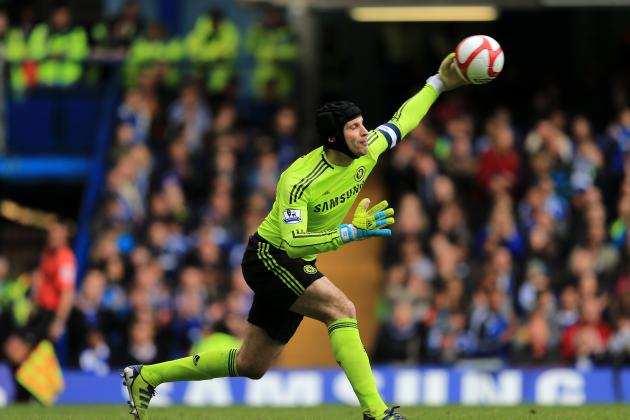 Richard Heathcote/Getty Images

Chelsea found their groove this week as they survived in the Champions League and advanced in the FA Cup.
The Blues came back from a two goal deficit to beat Napoli on Wednesday in the Champions League and then they pummelled Leicester City by a 5-2 score in the FA Cup quarterfinals on Sunday.
Chelsea have found some sort of momentum since Roberto di Matteo took charge and will look to extend their string of positive results on Wednesday when they visit Manchester City.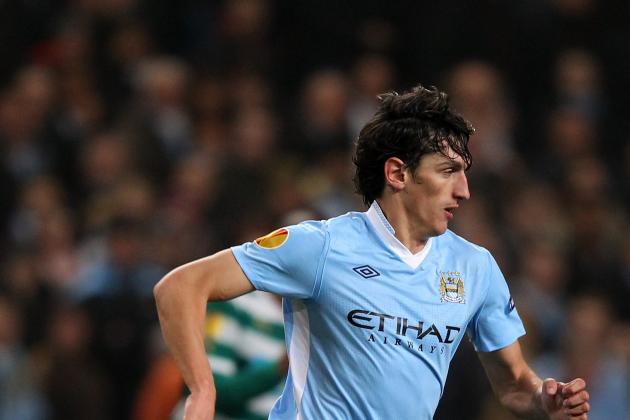 Alex Livesey/Getty Images

Manchester City were another club that had off on the weekend.
City will now play twice this week and look to bring back some of the four point deficit they face in the title race.
A home match with Chelsea awaits on Wednesday before a trip to Stoke on Saturday.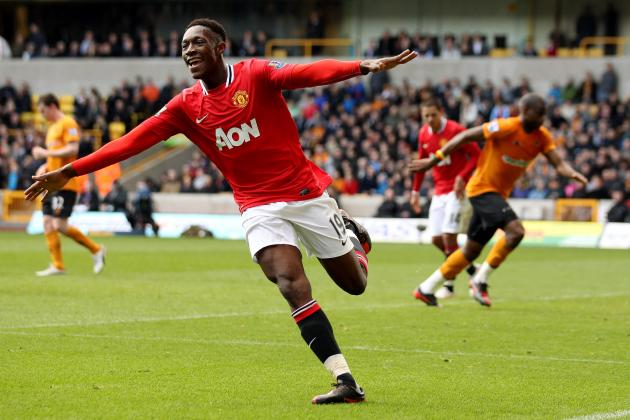 Scott Heavey/Getty Images

Manchester United unleashed a five-goal onslaught against Wolves in a 5-0 shutout on the road at the Molineux Stadium.
Chicharito scored a double while Jonny Evans, Danny Welbeck and Antonio Valencia chipped in with a goal a piece.
The win put United four points ahead of second place Manchester City in the title race as they now have only the Premier League to focus on after being eliminated from the Europa League on Thursday at the hands of Athletic Bilbao.
United's title chase will continue on Monday at Old Trafford when the Red Devils host Fulham.