John Cena Car Accident: Injury News on WWE Star Contains Conflicting Reports
March 19, 2012

Michael N. Todaro/Getty Images
John Cena was involved in a car accident ahead of tonight's Raw telecast in Philadelphia, which likely caused Vince McMahon's heart to skip a beat when he first heard the news. The WWE's megastar appears to have escaped major injury, but there are conflicting reports about his health status:
Rumors surround @JohnCena following his car accident today. He says he's fine, others say he was holding his neck when he arrived at #Raw.

— The WWE Insider (@WWEInsider) March 19, 2012
At first, as with any wrestling injury, it seemed like some type of angle created by the WWE to increase interest in tonight's show. But it turned out to be a legitimate accident. TMZ reports that Cena was involved in a three-car crash, including another car and a tractor trailer.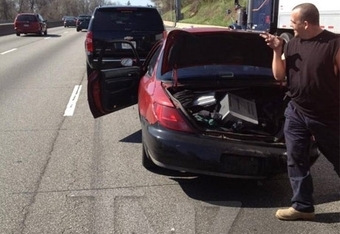 It's yet to be seen if Cena's neck injury is actually of any true concern, but you can bet he'll be pulled out of his hyped match with Mark Henry if he's feeling any type of pain from the chain reaction. The WWE isn't going to risk its biggest match in years for a Raw match.
Cena has been embroiled in a feud with The Rock for nearly a full year. Losing the company's biggest star right now would be a massive blow to WrestleMania. Luckily for the WWE, it appears Cena will be good to go.
Since it seems like The Rock won't be taking part in any matches until the biggest one of them all, it's important that Cena gets a few in to remind fans that the feud is more than just promo after promo. His scheduled match against Henry would serve that purpose.
Whether you love him or hate him, Cena plays a crucial role in the company. Without him, WrestleMania wouldn't be generating nearly as much hype both from wrestling fans and those casual viewers who stopped watching over the years. He holds the key to success for the year's biggest show, so hopefully anything beyond the initial bump is simply kayfabe and everything proceeds as planned.
The Rock already promised the fans of Philadelphia something special tonight, so Raw should be interesting, to say the least.
McMahon and co. have apparently dodged a bullet this time around, but you can bet they will be playing it safe for the next two weeks. They can't afford to take any unnecessary risks that could result in disaster.
After all, there's no "Plan B" for John Cena vs. The Rock.