NCAA Scores 2012: Battle-Tested Teams That Will Cause Problems for Favorites
March 19, 2012

Jonathan Ferrey/Getty Images
Some teams get stronger on the big stage.
And as we've seen throughout the years in the NCAA tournament, you're only as good as you're playing at the moment.
Heading into the Sweet 16, three teams in particular have raised their level of play and will be tough matchups for favorites.
Cincinnati (No. 6 Seed, East Region) vs. Ohio State (No. 2 Seed)
The knock on the Cincinnati Bearcats this season has been that they're not a good shooting team and they've been wildly inconsistent. During the regular season, they beat Georgetown, Louisville and Syracuse, but lost to teams such as Presbyterian and Rutgers.
Well, the Bearcats still have trouble shooting the ball, but they are a physical team who just outscrapped No. 3 seed Florida State. On top of that, they have a legit big man in Yancy Gates who has the ability to change games.
It's hard to imagine Cincinnati beating heavily-favored Ohio State in the Sweet 16, but if they can get hot from the floor, like they did against Texas in the Round of 64, they have the ability to grind out a victory.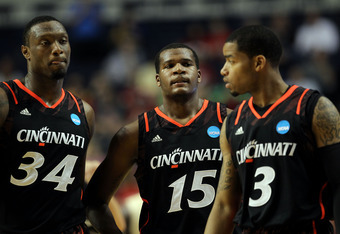 Jamie Squire/Getty Images
Wisconsin (No. 4 Seed, East Region) vs. Syracuse (No. 1 Seed)
Syracuse has played better without Fab Melo than expected, in part because of a terrific bench. But I also still believe the loss of Melo will hurt Syracuse in the long run.
Wisconsin had a rough game against Michigan State on March 10, but the Badgers have come ready to play in the NCAA tournament. Montana was a gimme, but Vanderbilt was a legit darkhorse who many had going to the Sweet 16.
Wisconsin does have a dynamic player in point guard Jordan Taylor, but its strength lies in its defense. The Badgers were first nationally in scoring defense and three-point percentage defense this season. Opposing coaches have compared facing their defense to having a root canal.
Syracuse is great at creating fast-break opportunities. If the Badgers can take care of the ball and get back quickly on defense, that severely limits the Orange's impact.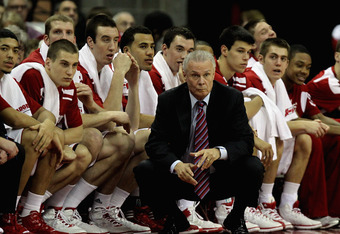 Jonathan Daniel/Getty Images
Louisville (No. 4 Seed, West Region) vs. Michigan State (No. 1 Seed)
Well, Rick Pitino is at it again.
After winning the Big East tournament, the Louisville Cardinals have knocked off Davidson and New Mexico to reach the Sweet 16.
Now, the defensive-minded Cardinals face Draymond Green and Michigan State, a premier challenge.
But the Cardinals do have some things working in their favor. They are battle-tested first and foremost, defeating a Cinderella hopeful in Davidson and a solid team in New Mexico that won the Mountain West Conference tournament.
They also have the kind of defense to slow Michigan State down and a star in point guard Peyton Siva.
Also, was anyone really that impressed with Michigan State's win against Saint Louis? Sure, Green was dominant, but anyone who watched that game knows it was sloppy from start to finish.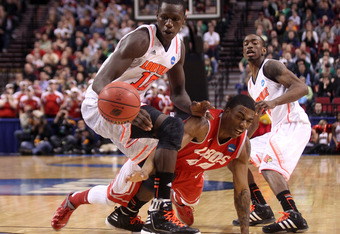 Jed Jacobsohn/Getty Images
Follow me on Twitter. We can talk about the NCAA tournament.