Sweet 16 Schedule: Ranking Excitement Level For Each Thursday Matchup
March 19, 2012

Kevin C. Cox/Getty Images
The slate of Thursday games in the Sweet Sixteen is grand.
Two No. 1 seeds that are on upset alert, a battle of Ohio, and two of the hottest teams meet in what is going to be an incredible five hours of basketball.
Here is the excitement level for all four matchups, with berths to the Elite Eight on the line.
No. 1 Syracuse vs. No. 4 Wisconsin (7:15 p.m ET)—Five Oranges out of 10
This is going to be a close game through the very end, but the first 30-plus minutes are going to be brutal to watch. The Badgers have allowed an average of 53 points in their two tournament wins and are predicated on slowing the tempo down and ensuring every possession counts.
It's a philosophy that pays off for Bo Ryan's club, but it makes for one yawner of a game.
The Orange are on upset alert since Fab Melo was suspended, so nobody will be shocked if the Badgers win.
This is going to be the basketball equivalent to a 1-0 pitcher's duel in baseball.
No. 3 Marquette vs. No. 7 Florida (10:17 p.m ET) - Seven Gator Chops out of 10
This game is going to be a thriller based purely off the first two rounds of action.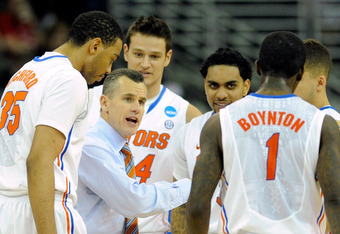 Eric Francis/Getty Images
The Gators have won two games by a combined 60 points and are doing so with stifling defense. They are allowing only 47.5 per game thus far.
The Golden Eagles aren't far behind, with two wins by a combined 29 points. They are sharing the ball, which creates some extremely entertaining possessions where all five players are involved.
These two teams are red-hot and it should make for an incredibly competitive game that comes down to the final seconds.
No. 1 Michigan State vs. No. 4 Louisville (7:47 p.m ET) - Eight Spartie's out of 10
This is going to be the most physical game of the Sweet Sixteen by far, and possibly the entire tournament.
The Spartans are incredibly difficult to keep off the glass, but the Cardinals are no slouches. In fact, Michigan State ranked 25th in the nation, with Louisville only one spot behind them.
There is going to be a ton of fouls, some blood shed, and two of the greatest coaches in the game in Tom Izzo and Rick Pitino playing a high-stakes game of chess.
This is going to be war.
No. 2 Ohio State vs. No. 6 Cincinnati (9:45 p.m ET) - 10 Buckeyes out of 10
It's about time.
The two schools located a mere 90 miles apart haven't played each other consistently since the days of Oscar Robinson. Plenty of bad blood has been brewing for a long time.
One of the greatest one-on-one battles of the entire tournament is going to be between Yancy Gates and Jared Sullinger. Both players are strong, back-to-the-basket scorers that are great rebounders and go-to scorers down the stretch.
With the physicality and mental toughness of the Bearcats, the Buckeyes have to shoot a decent percentage from three-point land to ensure they aren't bounced in the Sweet Sixteen for a second straight year.