Peyton Manning to Broncos: Analyzing Fallout for Losers in Manning Sweepstakes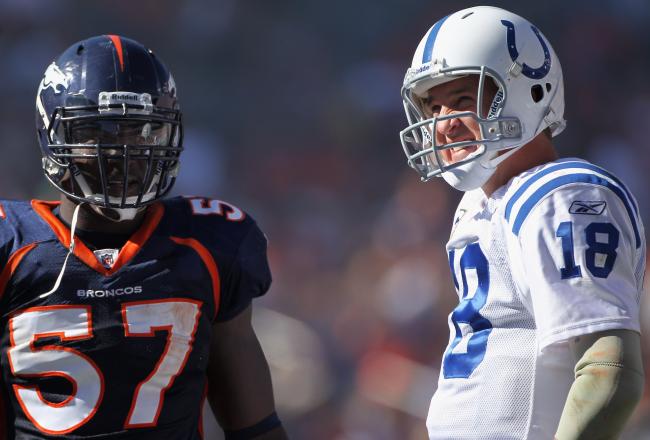 Doug Pensinger/Getty Images
Ladies and gentleman, our long national nightmare is finally over.
According to ESPN NFL insider Adam Schefter, Peyton Manning will take his talents to the Mile High City, where he'll play for the Denver Broncos.
More filed to ESPN: And now that Peyton Manning has directed his agent to get deal done with Denver, Broncos will try to trade Tim Tebow.

— Adam Schefter (@AdamSchefter) March 19, 2012
Apparently, 12 days of free agency were enough for the former Indianapolis Colts cornerstone to settle on a second destination, this time working under the auspices of two-time Super Bowl champion John Elway.
But as big a winner as Denver is at the end of this sprint, what are we to make of all the so-called "losers," the ones who crossed the finish line with nothing but crumpled water cups and broken dreams?
Tim Tebow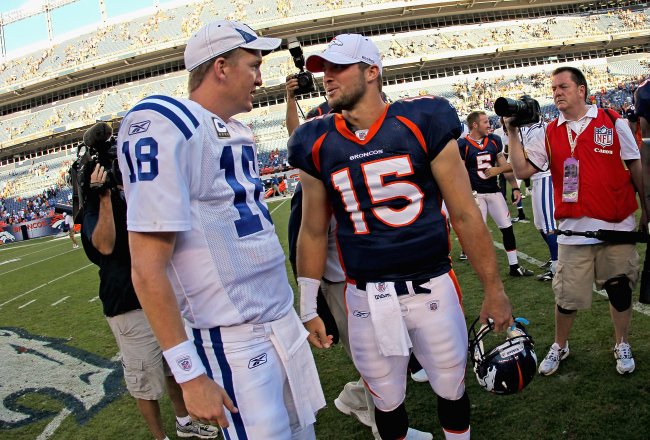 Doug Pensinger/Getty Images
It looks like Tebow Time is just about over in Denver. With Manning on board, the Broncos won't likely have any need or desire for a quarterback like Tebow, whose poor mechanics and unconventional skill set make him something of an anti-Peyton.
The Broncos could choose to keep Tebow and have Manning serve as his de facto quarterback coach, though with so many teams still starved for quality play under center, they won't likely hold onto a kid who made himself a hot commodity last season.
The Jacksonville Jaguars appear to be the most "natural" fit for Tebow. He's an immensely popular figure in the region, having hailed from northern Florida and won two BCS National Championships and a Heisman while at the University of Florida. Tebow's mere presence might be enough to put warm bodies in the seats at EverBank Field, a task at which the Jags have failed for years now.
Trouble is, Jacksonville already has one subpar, young passer on its hands (Blaine Gabbert) and may not care to add another.
In that event, Tebow's journey as a Manning-displaced refugee could lead him further south to...
Miami Dolphins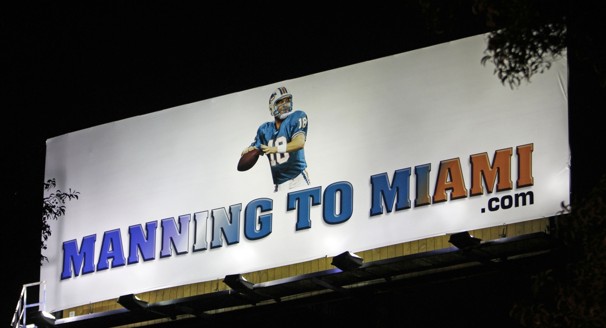 Photo Credit: Alan Diaz/AP
...Miami! Yes, the Dolphins may well be the ones to wind up with Manning's leftovers in the end.
A fitting development, considering how earnestly the organization went after the Peyton, with fans putting up billboards all over town and team owner Stephen Ross likely penning at least one or two psychotic soliloquies in his diamond-encrusted diary.
Manning knocked Miami out of the running earlier last week, as did free agent Matt Flynn, who snagged a lucrative deal with the Seattle Seahawks.
Tebow would be an intriguing option for the 'Fins. After all, it was against Miami that Tebowmania first took root last season, in a game preceded by a ceremony honoring Tebow's Gators, no less.
Like last year's Broncos, the 'Fins come equipped with a strong defense, a productive running back (Reggie Bush), a solid offensive line and a brand-new coaching staff.
Of course, Tebow's hardly the ideal fallback option for Miami, though he's not that far off from Alex Smith, with whom the team had serious discussions over the weekend, and may be their best bet if Smith opts to return to...
San Francisco 49ers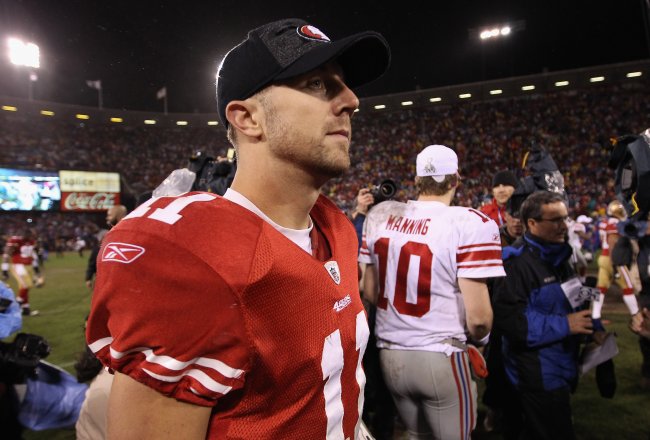 Ezra Shaw/Getty Images
...San Francisco, now that the 49ers have officially struck out with Manning.
What fun it would've been, though, throwing Peyton into the mix with a team that came within a mistake (or a converted third down or two) of cracking the Super Bowl under first-year head coach Jim Harbaugh, the man whom Manning replaced in Indy back in 1998.
So much for closed loops and destiny and all that jazz. Maybe a man of Manning's particular political leanings wasn't too keen to live and work in the liberal capital of the country.
Whatever the case may be, the Niners are now left with little choice but to splash the cash at a jilted Smith, to whom the team previously offered a deal somewhere in the neighborhood of three years and $24 million.
The Niners could certainly do worse, seeing as how Smith was the guy calling the shots under center for a team that went 13-3 and reached the playoffs for the first time since 2002. Considering all the talent still on tap, San Francisco should be back in the mix for a postseason berth, thanks in part to a weak NFC West that includes the likes of...
Arizona Cardinals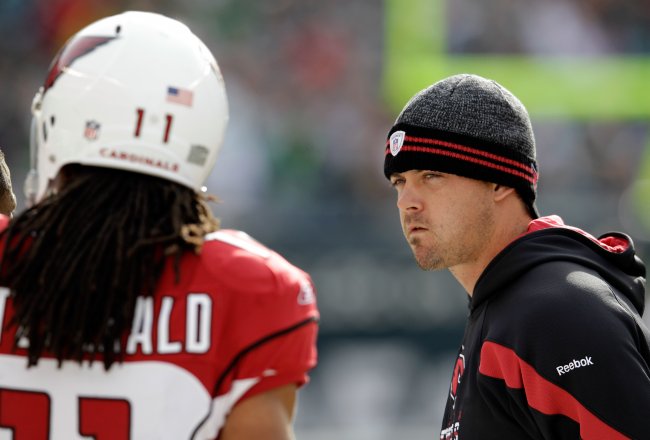 Rob Carr/Getty Images
...the Cardinals, whom Manning met with early on but seemed to lop off his wish list just as quickly. For all we know, Peyton wasn't particularly impressed with the team's "track record" of resuscitating the careers of geriatric quarterbacks (see: Warner, Kurt).
Even with an All-World receiver like Larry Fitzgerald to throw to.
As such, it's back to the drawing board for Ken Whisenhunt and company in Arizona, as they attempt (once again) to do with Kevin Kolb what the Seahawks are hoping to accomplish with Matt Flynn.
That is, pluck a franchise quarterback from someone else's depth chart.
For the Cards, then, there really was no "losing" in the Manning sweepstakes, seeing as how they went 8-8 with Kolb and John Skelton splitting time at QB and have already invested serious resources in the position, much like...
Tennessee Titans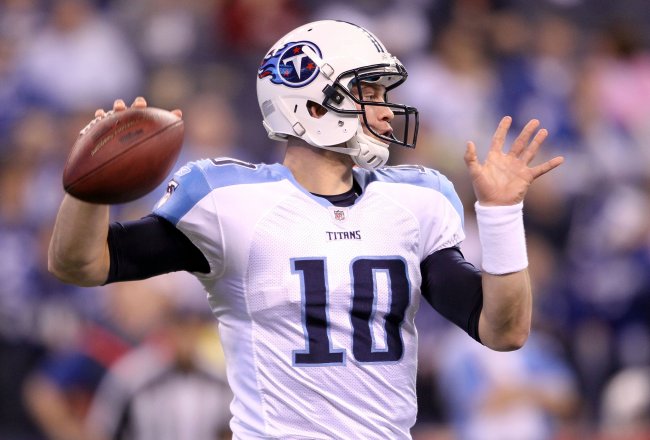 Andy Lyons/Getty Images
...Tennessee. The Titans had hoped to use the allure of a triumphant return to the Volunteer State, where Peyton earned his stripes as a Rocky Top collegian, to bringing Manning to Nashville. Their hearts were further aflutter when Manning hit it off with Titans head coach Mike Munchak.
Who did Manning's decision hurt most?
But, alas, the courtship ended without the pact for which owner Bud Adams had so publicly pined.
Not that anyone should weep for folks in the Music City. They still sport a quality veteran at quarterback (Matt Hasselbeck) and a young prospect (Jake Locker) who the team is expecting will be fit to take the reins of the offense sooner rather than later.
And, after a 9-7 season in 2011, it's hardly heresy to suggest that the Titans have a great shot at the playoffs this time around anyway.
This article is
What is the duplicate article?
Why is this article offensive?
Where is this article plagiarized from?
Why is this article poorly edited?