2012 NFL Free Agency: Ranking the 50 Best Remaining Players Available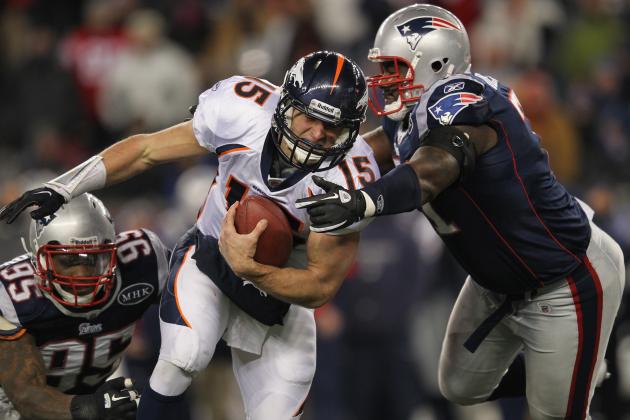 Jim Rogash/Getty Images
Odd Man Out?
There are high-quality 2012 NFL free agents not named Peyton Manning. I know; I was surprised too.
Stalled in the logjam of the Manning Sweepstakes, quite a few free agents were left pacing the floor and driving their wives crazy last weekend as they wait for the call that will determine the next phase of their lives.
One week after the official start of the NFL's annual "do-si-do," it certainly did feel at first as if "all the good ones are married." And some of them are.
Peyton Manning, Mario Williams and Vincent/DeSean Jackson have tied the knot. Even Calvin Johnson is off the market—and he wasn't on the market to begin with.
But when you really start searching, it's amazing how many good players are still out there.
So, take a deep breath, pull up your team's depth chart and let's take a look. Even if you didn't land Peyton Manning, there's a lot of free-agency joy to spread around.
Begin Slideshow

»
Nick Laham/Getty Images
Turning it around
In deference to this year's two biggest free agents, Peyton Manning and Mario Williams, we'll start with defensive ends and finish with quarterbacks.
Defensive Ends
Aaron Maybin—New York Jets, three seasons. Maybin has managed to resurrect his career in New York after getting booted out of Buffalo. Rotoworld reports that the Jets will tender Maybin and probably hang onto him. If I were another team, I would seriously consider stealing him. But, it's a first-round tender so maybe not. Good for the Jets for giving him a shot.
Dave Tollefson—New York Giants, five seasons. Tollefson proved a godsend in 2012, but as a reserve player, he might get a bigger contract on another team. We'll see if he has played his way into the starting lineup in another town.
Luis Castillo—San Diego, seven seasons. Castillo was on IR all last year with a broken leg, but that apparently isn't frightening the Patriots, who are interested according to FA guru Jason La Canfora.
Shaun Ellis—New England ,12 seasons. Ellis' one-year $4 million deal is over with the Patriots. I don't think New England is going to re-sign someone his age. I think it depends partly on Andre Carter's health and how comfortable they feel with Mark Anderson switching sides. The fact that the Pats signed Trevor Scott away from the Raiders does not bode well for Shaun in Boston.
Defensive Tackles
Brodrick Bunkley—Denver, six seasons. CBS' Larry Holder reported that Bunkley is visiting the Saints. Well, N'awleans will probably need a lot of new defenders any minute now and since the Broncos won't be able to hire anyone until Manning is sealed and delivered, the Saints might snatch this DT away from John Fox.
Update: Mr. Bunkley has taken his talents to N'Awleans. The only good thing I can say about this is that new defensive coordinator, Steve Spagnuolo, is untainted—and might end up as the new head coach. 3/21/2012.
Tommie Harris—San Diego, eight seasons. Due to the recent tragic passing of Harris' wife, he may not want to upset his family situation by moving. Or he may feel that he needs to sign with the highest bidder. He was a second-stringer in 2011, so I hope that staying in San Diego is an option.
Trevor Laws—Philadelphia, four seasons. Laws will improve someone's defense. He is a free agent more due to a scheme change than any athletic shortcomings.
Pat Sims—Cincinnati, four seasons. He's not an every down guy, but he's very good against the run. His last contract was $1.2 million plus bonus. A team with a big need on run D might better that.
Amobi Okoye—Chicago, five seasons. Okoye and the Bears were talking in December, so I'm not sure what the hold-up is for a new deal. Okoye shouldn't be too picky here. His success in Chicago was a surprise after his dismal time in Houston.
Gerard Warren—New England, 11 seasons. The Patriots won't strain themselves re-signing a mid-30s lineman unless they can't replace him.
Nose Tackles
A good nose tackle is hard to find. I don't see any.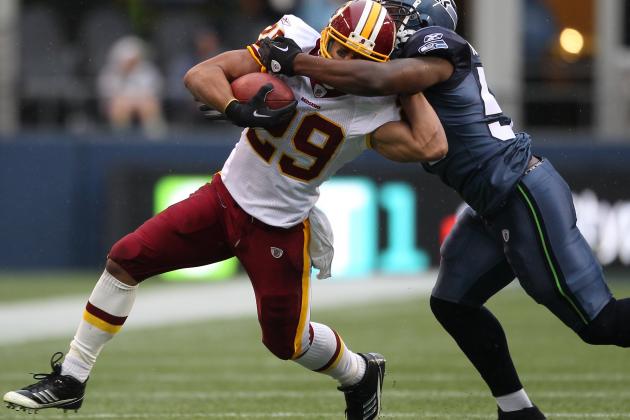 Otto Greule Jr/Getty Images
Tackling Machines
According to the NFL Network's Bucky Brooks current all free-agency team, the only true values left are at linebacker and safety. I wouldn't go that far, but there are certainly quite a few decent LBs still floating around. Do linebackers float? Perhaps—in the Ali sense of the word.
Inside Linebackers
Jameel McClain—Baltimore, four years. With Ray Lewis approaching Rip Van Winkle status, do you think that the Ravens should be letting any linebackers visit the Broncos? Glad you agree. I'm sure John Harbaugh has a plan for this group. I'm just not sure what it is in terms of depth.
Update: McClain has re-signed with the Ravens. Well, there's a shock. 3/23/2012
Bradie James—Dallas, nine seasons. Formerly dynamic, James is possibly still useful in limited situations. But probably not in Dallas, now that they have hired Dan Connor. According to Dallas media man Mac Engel, James' new city is going to be getting a heckuva good guy. Aaaah. That's nice.
Rocky McIntosh—Washington, six seasons. He of the cool name lost his starting job last winter, so he probably won't be a Redskin. Some think that Detroit might use McIntosh to fill in if they can't keep Stephen Tulloch. Isn't that kind of going backwards?
Middle Linebackers
David Hawthorne—Seattle, four seasons. Sometimes I just don't know what Pete Carroll is thinking. When the Seahawks get about four highlights a month and this linebacker is two of them, why exactly does he not have a contract?
Stephen Tulloch—Detroit, six seasons. This negotiation is going on forever. I am sure that other teams are watching, because if the Lions can't keep Mr. Tulloch, someone should jump on him. Well, not literally. You could get hurt.
Update: Tulloch just re-signed with the Lions. 3/20/2012.
Curtis Lofton—Atlanta, four seasons. So, Mr. Lofton was seen dining with the Saints brass. Hmmm. I see New Orleans is stealthily preparing to change the guard on D.
Barrett Ruud—Tennessee, seven seasons. The Titans' D felt the loss of Ruud keenly when he was injured. Depending upon his health, he could be a good acquisition for all of his leadership qualities.
Chase Blackburn—Giants, seven seasons. Blackburn may be able to cash in on his 2011 heroics that culminated in a Super Bowl INT. For someone with this kind of perseverance, that would be a great reward. He may even get overpaid. Good for him.
Outside Linebackers
Erin Henderson—Minnesota, four seasons. I can't believe the younger Henderson is still available. It would completely serve the Vikings right if they lost him. I'd be on the phone now.
Kamerion Wimbley—Oakland, six seasons. This was apparently an amicable parting that was truly "just business." Another team will sign Wimbley soon. Pass rushers don't grow on trees. Right, Mario? The Tennessee Titans are trying to recover from the Peyton spurning by wooing this linebacker. Be careful, Kamerion, you know what they say about teams on the rebound. But, hey, if you don't expect them to marry you, it could be a fun fling. Trust me.
Update: Wimbley has signed with Tennessee. 3/20/2012.
Versatile LBs worth a look
Stephen Cooper—San Diego, nine seasons
Na'il Diggs —San Diego, 12 seasons
Jonathan Goff —Giants, four seasons
Mario Haggan— Denver, nine seasons
Oldies but Goodies
James Farrior and London Fletcher—15 and 14 seasons respectively, but I might still go for it. Maybe. If my job weren't on the line or anything.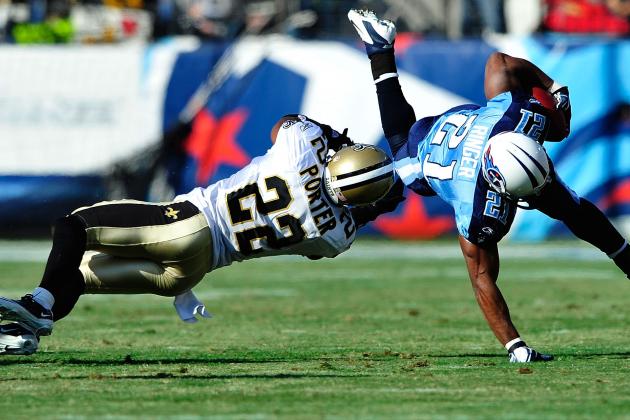 Grant Halverson/Getty Images
Playing or not?
Cornerbacks
Tracy Porter—New Orleans, four seasons. You'd think a guy that both sent his team to the Super Bowl and won the Super Bowl with his interception skills wouldn't have to be on a free-agency tour. His former DB coach, Dennis Allen, is wooing him with the Raiders. As are the Titans and the Rams. Well, at least he's in demand. But it may all be moot if Mr. Porter is part of the bounty scandal. Time will tell. But he may pick the Silver and Black just to get away from the Crescent City mess.
Update: Well, if he isn't suspended, the Denver Broncos just reaped another benefit of having Manning as a draw. Or maybe Peyton just doesn't want him to be able to ruin another SB. 3/23/2012
William Gay—Pittsburgh, five seasons. Gambling on a one-year discount contract last season is going to pay off for Gay. He capitalized on team injuries and truly rose to the occasion. He wants to be a Steeler; apparently the Steelers want him. I know that Pittsburgh never rushes into free agency, but let's get this one done.
Lardarius Webb—Baltimore, three seasons. Under a tender offer. You think?
Aaron Ross—New York Giants, five seasons. Ross should have options. He has visited the Raiders, Redskins and Bengals.
Update: Ross just signed with Jacksonville. 3/20/2012.
Marcus Trufant—Seattle, nine seasons. Is Pete Carroll just cleaning house? Why is he even letting Trufant visit the Broncos?
Reggie Smith—San Francisco, four seasons. Smith is going to look for—and probably get—a starting position.
Antwaun Molden—New England, four seasons. Due to a surprising performance in the AFC Championship game (however, it was a touchdown by Lee Evans), Molden may get some free agency action from teams with bad secondaries. I think he has potential as a late bloomer.
Safeties
Oshiomogho Atogwe—Washington, seven seasons. He has visited Minnesota and Detroit and now is headed for the Jets. I'm thinking he'll have a job. The Jets need depth badly enough to spin the healthy dice on Atogwe.
Another injury risk
Jim Leonard—New York Jets
Situational guys
Chris Harris—Detroit, seven seasons. After being cut by the Bears, Harris ended up having a very productive year in Detroit. He'll work somewhere.
Melvin Bullitt—Indianapolis, five seasons. I'm not sure that Bullitt is as limited as perception has it, but he'll probably have to get over the "speed and finesse" Colts' reputation.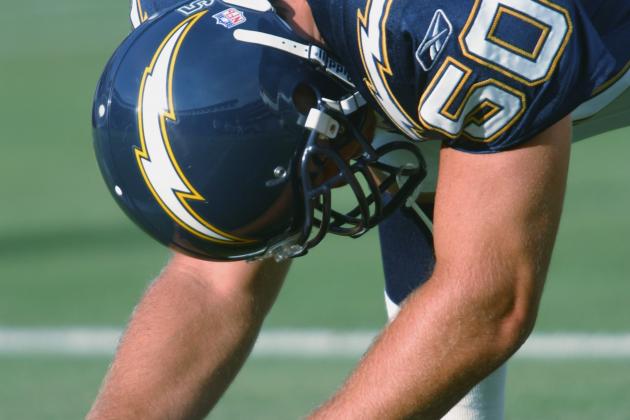 Stephen Dunn/Getty Images
Where do I get this job?
Long Sappers (seriously?)
David Binn—Denver, 18 seasons. If you still have this job you must be good at it.
Place Kickers
If franchising, signing or drafting a kicker is your priority—you have bigger problems than kickers.
All of the below are serviceable if you are in the unfortunate position of needing field goals to win games:
Steven Hauschka—Seattle, three seasons.
Neil Rackers—Houston, 12 seasons.
Dave Rayner—Buffalo, five seasons.
Jay Feely—Arizona, 11 seasons.
Punters
Unlike my cautionary position on PKs, I think punters are indispensable. Ask the Giants and Steve Weatherford.
I would try not to let these guys get away. They're punters; who cares how old they are?
Jason Baker—Carolina, 11 seasons.
Dave Zastudil—Arizona, 10 seasons.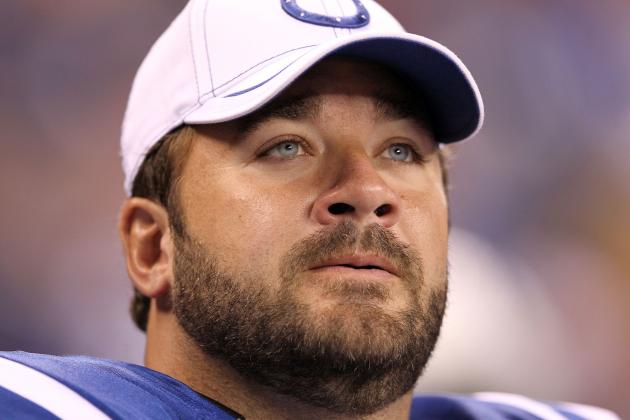 Andy Lyons/Getty Images
Mile High? ESPN? Or State Assembly?
Centers
Samson Satele—Oakland, five seasons. The best prospect in terms of mileage, the last time I checked, he did not have a backup on the Raiders depth chart. Earth to Reggie McKenzie. He is probably the only one in this group who could get a large contract elsewhere. But don't give him the ball. He has one career rush. He fumbled.
Update: Satele is a Colt. Well, at least he's used to losing. 3/21/2012.
Jeff Faine—Tampa Bay, nine seasons. The victim of a changing regime and a youth movement, I wouldn't assume that Faine's career is over. At 31, he won't get a huge contract but I'd at least bring him in for depth if I could afford it. Dependable, smart, consummate pro.
Dan Koppen—New England, nine seasons. The Patriots may have just shoved their excellent center out the door and instituted a changing of the guard to Dan Connolly (even though they are about the same age). It's been a tough nine years and I'm not completely sure how much Koppen has left. But I think he's worth a workout and physical. I hear that the Packers think so too.
Todd McClure—Atlanta, 13 seasons. Unless McClure can channel his inner Bruce Matthews, he may need to retire if the Falcons don't keep him. I think Matt Ryan may have a vote on this decision.
Jeff Saturday—Indianapolis,13 seasons. Saturday was talking to the Titans. And the Packers. And the Broncos of course. What a shock. I'm sure Matt Hasselbeck would love to have him, if he doesn't land in Denver. Or Jeff may move into broadcasting or politics.
Update: I'm quite surprised that Saturday has gone to the frozen tundra. We were all so sure that he'd end up with Peyton. Wonder what will happen if the Packers play the Broncos? 3/23/2012.
Casey Wiegmann—Kansas City, 16 seasons. Either the Chiefs are happy with their upcoming sophomore Rodney Hudson or they are going to go draft fishing. It is remotely possible that the wise old man of the O-line might be retained as depth and mentor. If he wants to play, I hope they sign him. But he is probably considering retirement. Wonder what his fingers look like.
Guards
Doug Legursky—Pittsburgh, three seasons. I don't know if someone is going to sign Legursky and make him a starter, but the Steelers would be crazy not to keep him at the very least as an incredibly versatile reserve. Pittsburgh has extended the tender, so this selection could be academic.
Chad Rinehart—Buffalo, four seasons. Rinehart played in all 16 games last season in various positions along the line. I think he's a valuable player, but Buffalo may not be spending a great deal more after going into the luxury market with Mario Williams. Some Rams fans are waxing hopeful, but the Bills do have him on tender.
Kraig Urbik—Buffalo, three seasons. I admit it. Never heard of him until this article. But he is the starting guard and will probably remain one wherever he signs Like Rinehart, he is versatile and filled in at center when Eric Woods was hurt. The Bills will certainly try to re-sign him, since all they will get is a third-round pick if they let him go.
Tackles
King Dunlap—Philadelphia, four seasons. The Iggles have given new contracts to right tackle Todd Herremans and guard Evan Mathis. Will they make it three O-linemen re-signed? Dunlap backs up Jason Peters and is also versatile enough to fill in at guard. Did I mention that he's 6'9" and weighs 330-pounds? Yeah, he'll be playing somewhere.
Demetrius Bell—Buffalo, three seasons. According to nfl.com's Jason La Canfora, Mr. Bell is visiting with both the Redskins and the Cardinals. The Bills did make an offer to Bell, but have not received a counter offer. Now that Arizona has re-signed Levi Brown, we'll have to see if Daniel Snyder wants to invest free-agent money in protecting his new rookie QB. Assuming, of course, that Shanahan doesn't lose his mind and draft somebody else. Which we all know is possible.
Marcus McNeill—San Diego, six seasons. McNeill talked to the Lions, but then they re-signed Jeff Backus. Then he talked to Atlanta, but they really have no money. I guess that leaves the Chiefs as his next stop. Some Redskins bloggers are proposing him as a Griffin protector. Unless McNeill has completely fallen apart, he is still a good offensive lineman. Peyton Manning's apparent recovery from a neck injury may help teams feel better about Marcus.
Harry How/Getty Images
Big man running
Mamas, don't let your babies grow up to be running backs.
Yeah, it's cool in high school and college when you're the star of the whole town. But fewer and fewer rushers are landing big first-round draft money. And once you hit the four-year mark and free agency—you're already considered old.
Hardly any teams will "pay it backward" any more—even to players who have stupendously outplayed their rookie deals. We all understand that the salary cap makes this difficult, but it's not condusive to high morale if every man on your team knows that it's not even "what have you done for me lately," it's "what will you do for me soon?"
Financially, brutally using up young runners and then dumping them is a brilliant strategy. In terms of team morale, this cannot possibly be a good policy.
No wonder Arian Foster cried—he is one of the few running backs to actually be rewarded after playing his heart out on an undrafted free-agent contract. Particularly at this dangerous position. Kudos to the Texans.
Fullbacks
Jacob Hester—San Diego, four seasons. San Diego has no need of Hester after signing former Chief Le'Ron McClain. But someone will get a good player at this vanishing position. Or, he could work out a deal to stay on as a reserve. He's willing. How about A.J. Smith and the budget?
Ahmard Hall—Tennessee, six seasons. Good leadership, but did not have a great 2011. Plus he had a PED suspension, which always makes me think the player has nagging physical issues. I don't think the Titans will keep him, but I would certainly work him out (and do a blood test).
Running Backs
Kahlil Bell—Chicago, three seasons. The best backup running back in the NFL last year. Period. Da Bears put out a tender, but Bell was hot late in the 2011 season and might get more coin elsewhere.
Kevin Smith—Detroit, four seasons. The perception of Smith is that he is small and fragile. And yet, with tremendous heart, he keeps showing up and putting up yards. If Detroit doesn't appreciate him, he should be able to get a job as a change-up back elsewhere. The Lions are making appreciative noises.
In the right circumstances
Joseph Addai—Indianapolis, six seasons. With Manning and the Colts' passing game, it's hard to tell how great a runner Addai really is. But I have a feeling he is better than he has been given credit for and some team will get a few more years of solid production—in the right system.
BenJarvus Green-Ellis—New England, four seasons. The Law Firm hasn't been able to hammer out a contract in New England. Apparently they want him to go see how much money he can scare up on the market. Any team that runs by committee could benefit from Green-Ellis. Remember, he was a solid runner in a short-passing offense. NFL.com has reported that Green-Ellis has visited Cincy.
Update: The Law Firm is a Bengal. 3/21/2012.
Maybes
Justin Forsett—Seattle, four seasons.
Ryan Grant—Green Bay, five seasons.
Jerious Norwood—St. Louis, six seasons.
LaRod Stephens-Howling—Arizona, three seasons.
Third-Down Only
LaDainian Tomlinson—New York Jets, 11 seasons.
Mewelde Moore—Pittsburgh, eight seasons.
Risky
Michael Bush—Oakland, four seasons. Mr. Bush has been a tough, professional rusher for Oakland. He's going to turn 28 years old in June. So why does he look to my eyes like he's 35? He just has that "rode hard and put away wet" aura. Chicago is pursuing him, That's a good idea. He can go back to being a change-up runner.
Tim Hightower—Washington, four seasons. Hightower was having a wonderful 2011 until he was hurt. If healthy, he'll be a steal.
Cedric Benson—Cincinnati, seven seasons. Benson shows no signs of "getting it" even now. He and Adam Jones need to go to some island where they can be safely self-destructive together.
Brandon Jacobs—Giants, seven seasons. See above on Benson. He's not quite bad enough to own a condo on the island—but maybe he can rent for those times when he engages his mouth before his brain.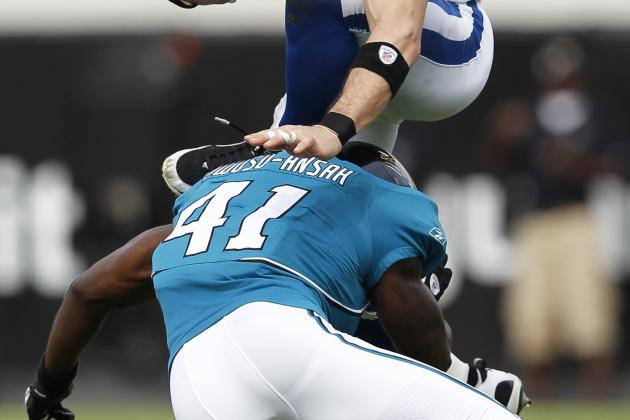 Joe Robbins/Getty Images
Who says I'm not athletic?
Tight Ends
Dallas Clark—Indianapolis, nine seasons. Clark is at the top of this list not because he is the best player available. He's just the best whose name begins with A, B or C. Dallas is old in football years and the pounding is clearly getting to him. He is probably only valuable to Peyton Manning. The ball is in Denver's court. I am not sure that any other team will sign him at this point in his career. But I am sure that Peyton will want him. Daniel Fells' decampment to New England Monday might just clear the way for Dallas in Denver.
Joel Dreessen—Houston, six seasons. Dreessen has played all 16 games for the past four seasons. That's a significant accomplishment when you play behind Owen Daniels. And his durability is big. Dreessen is not the first or second or third star on the Texans offense. He's not even the starter. But that doesn't make him less valuable. Six TDs from your backup TE is pretty impressive production—particularly when playing with a third-string rookie QB. PS: Dreessen played for new Oakland offensive coordinator Greg Knapp. Just thought I'd mention it. On the other hand, Mr. Dreessen is taking a tour of Cincinnati these days.
Update: Score Broncos! 3/23/2012
Visanthe Shiancoe—Minnesota, nine seasons. Favre haters, cover your ears. Just like Sidney Rice, Shiancoe was money when No. 4 was slinging the ball. Without Brett, not so much. He is visiting Seattle. So, if Matt Flynn turns out to be a true franchise QB, this could be a good landing spot. This TE is only useful if you have a top ten QB.
Wide Receivers
Mike Wallace—Pittsburgh, three seasons. Wallace is far and away the best FA wide receiver around. The fact that he hasn't been visiting other teams indicates that Pittsburgh must be serious in their attempts to hang onto one of the best deep threats in the league. Frankly, they need to do a long-term deal so that they won'd have to deal with two WRs on the market next year when Antonio Brown hits restricted free-agent status. ESPN's Jamison Hensley pointed out that Denver might be the one team Pittsburgh still needs to worry about—now that the Broncos are signing Manning. Wallace also has interest from the 49ers. Of course he does.
Jerricho Cotchery—Pittsburgh, eight seasons. Unless Cotchery fell off the age cliff between seasons seven and eight, this will be a good signing for some team (he is rumored to be going to the Chiefs). I think the Steelers simply did not need him and that he will be a great over-the-middle option with great character.
Ted Ginn, Jr.—San Francisco, five seasons. The Ravens are looking at Ginn. If all I needed were a return man who can catch a few balls, I would be signing Ginn. His speed may not hold up much longer, but he's still got good vision.
Update: Staying by the Bay as of 3/23/2012 - good choice, Ted.
Jerome Simpson—Cincinnati, four seasons. Talented kid. Probably going to be in jail. If he takes a deal that avoids jail time, some team not allergic to off-the-field issues will hire him. Oh, wait, that's the Bengals.
The Visanthe Shiancoe principal—only if you have a top-five QB
Plaxico Burress—New York Jets, 10 seasons.
Greg Camarillo—Minnesota, six seasons
Steve Smith—Philadelphia, five seasons. (And no, Michael Vick does not qualify.)
Unfortunate
Hines Ward—14 seasons. Please retire. I really hope the fact that he is selling his "dream house" does not mean that this All Pro is broke.
Update: No. 86 has announced his retirement. 3/20/2012.
Intriguing
Devin Thomas—Giants, four years. Considered a bust in Washington, Thomas redeemed his reputation big time in the NFL Championship game. But he should stay in New York if the Giants show interest. His body of work is not strong enough to warrant a competitive deal. But stranger things have happened.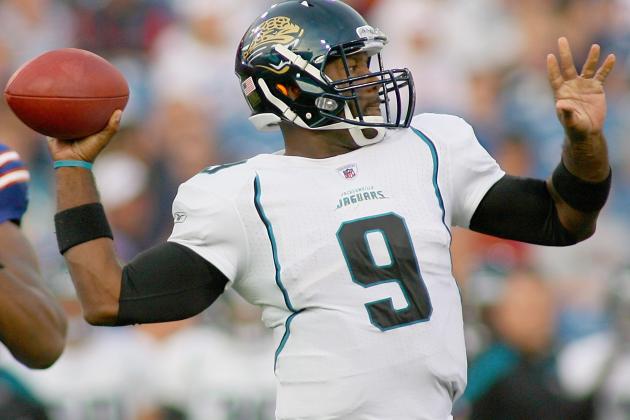 Rick Stewart/Getty Images
Back?
Tim Tebow—Denver, two seasons. Add Tebow to the list of quarterbacks whose (fragile) egos have taken a beating because Jim Irsay decided to seize the Andrew Luck opportunity. Jets? Jags? Oh dear.
Might as well put Mark Sanchez on the list too. Will he want out?
Update: Although they keep hitting obstacles, the Jets and Team Tebow expect No. 15 to be a Jet by Tuesday. So far, no word on Sanchez leaving--just lots of criticism. From Jets fans? Really? 3/23/2012
Alex Smith—San Francisco, seven seasons. Wow. I don't know if agent Tom Condon knew that Manning was going to throw for the Niners before or after he let Alex Smith turn down a $24 million contract (broken down to about $8 million per year) with San Francisco. According to the NFL Network's Jason La Canfora on Sunday's NFL Total Access, this is the same basic deal that Matt Flynn just landed with the Seahawks.
Smith may be considering an agent change at the same time that he considers a team change. Smith flew to see the Dolphins on Sunday. He would certainly be better than Matt Moore. But ultimately, Miami opted for David Garrard.
Then of course one wonders who will QB the Niners if Smith goes off in a huff? Or is Condon a genius who put all of this together to get Alex a better deal in San Francisco? Talk about NFL Russian Roulette. Wow.
Update: Smith is staying a Niner. Hope Harbaugh brings flowers and chocolates. 3/21/2012.
Other QBs Worth a Look
Dennis Dixon—Pittsburgh, four seasons. How many backup quarterbacks does Pittsburgh need? They have so far chosen ancient Charlie Batch and sluggish Byron Leftwich over Dixon. This does make one wonder about Dennis, even though he has looked pretty good when he has hit the field. He might get a chance to be a solid No. 2 somewhere, the value of a real backup QB having gone up significantly in the past year. I wonder why. Perhaps Bill Polian can tell us.
Vince Young—Philadelphia, six seasons. I wouldn't even sign him as a backup at this point. But I bet somebody will fall for his past glory and overpay him.
Have to add Drew Stanton as a backup contender now that he is probably leaving Gang Green. 3/23/2012
Most Intriguing
Brian Hoyer—New England, three seasons. The Patriots like Hoyer. A lot. But how much do they like Ryan Mallett? Hoyer is going to pursue starting options.
But with Manning in Denver, Hasselbeck in Tennessee and Alex Smith probably staying in San Francisco, there really aren't any openings—assuming that Cleveland will stick with Colt McCoy for now and draft a rookie QB. Got that?
If the Pats shove Hoyer out the door, then Mallett is ready to hold the clipboard. If not, then all of that talk about Mallett's problems will probably have been true.
Donovan McNabb—Is he done or did he get screwed by Shanny? I have no idea.
Congratulations
David Garrard is trying to return from back surgery. Heck, if he can play professional QB with Crohn's, I'm not ruling him out. The former Jag has signed a one-year deal with the Dolphins.
I don't have a big ego. I love starting, I love being the guy that everybody looks up to. If that's not quite the situation… I don't have any harsh feelings toward that. I'll give my all so when the number is called if I am in that situation I'll be ready to go.
Are you sure he's a quarterback?
Alright, sports fans—there are deals to be done and squads to be improved. And miles to go before executives and reporters sleep. I hope it doesn't last too much longer, though. Jason La Canfora and Adam Schefter are going to have permanent damage to their necks and thumbs if this level of activity continues unabated. You know they love it though; they've got that high-on-the-scoop-adrenaline gleam in their eyes.
Next?