West Virginia Football 2012: Latest News, Updates and More from Spring Practice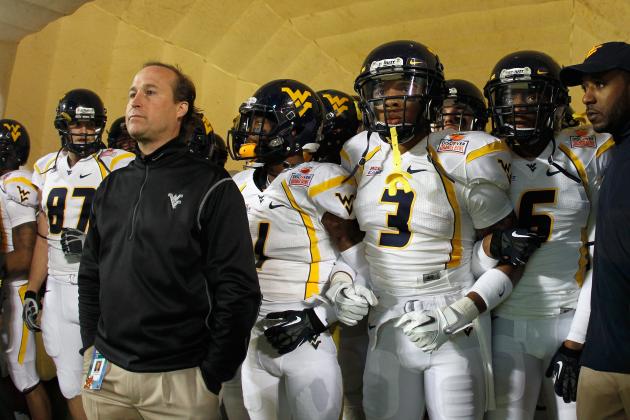 Mike Ehrmann/Getty Images

West Virginia finished their final season in the Big East in style, as they racked up 10 victories and had one of the most explosive offenses in the country. Now they head into the Big 12 and will have a much more difficult schedule standing in the way.
The good thing for the Mountaineers is that they return 15 starters, including eight from an offense that averaged nearly 38 points per game last season. Quarterback Geno Smith and company should fit right in this conference that plays little to no defense. Speaking of defense, West Virginia also returns seven starters on that side of the ball.
The Mountaineers do have a few questions though, and the spring should provide a few answers. West Virginia began spring practice on March 11 and they'll play their spring game on April 21.
Stay tuned for all of the latest news, updates and more invoking your West Virginia Mountaineers.
Begin Slideshow

»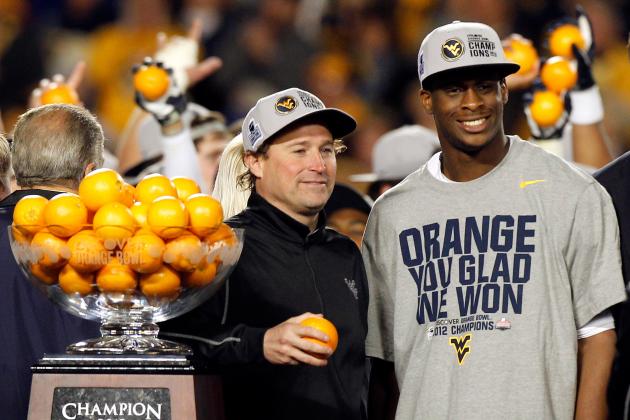 J. Meric/Getty Images

West Virginia has all but finished their spring practice, as they're preparing for the spring game that takes place this weekend. The game will take place as a fundraiser that will raise money for the West Virginia University's Children's Hospital.
"We've had 14 great practices and we're ready to wrap it up here for a good cause," WVU Head Football Coach Dana Holgorsen said on Thursday's MetroNews Talkline.
Holgorsen also said that the defense will be ready for the spring game and could be the biggest surprise of the day.
"I don't know if the offense is reading too much about its players' being so good, but they are getting a little too complacent and the defense is flying around making plays," Holgorsen said via journal-news.net.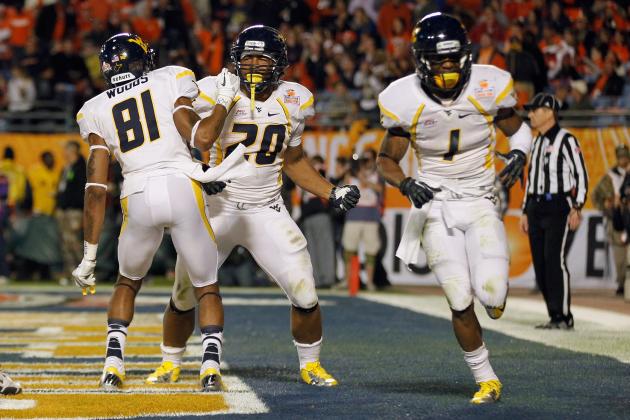 Streeter Lecka/Getty Images

We know what the West Virginia passing game can do with Geno Smith and all of the weapons on offense, but it's the running game that needs improvement. The Mountaineers ground attack was ranked 92nd in the country last year and they enter the spring without their best back in Dustin Garrison. Despite all of that, Head coach Dana Holgorsen has been surprised how well the remaining running backs have looked so far.
"Shawne Alston looked as good as I ever seen him," Holgorsen said via rgisterherald.com "He is hard to tackle. Last spring, we didn't get anything out of him, camp we didn't get anything out of him and the first five games of the year, we didn't get anything out of him. As the season went on, he became more healthy. He looks good."
The running game this season will rely heavily on Shawne Alston and Andrew Buie until Garrison is able to recover from his recent surgery he suffered before the BCS Orange Bowl. Combined those two backs fell just short of 500 rushing yards last season.
The spring game is less than a week away and you can find all of the info you need here.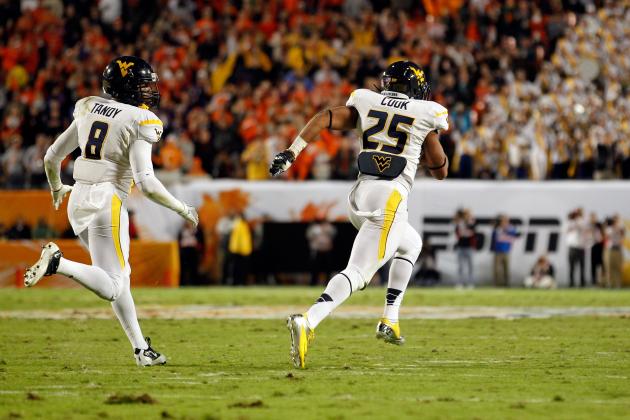 J. Meric/Getty Images

West Virginia just wrapped up their latest spring practice before they enter spring break. Here are some of the headlines.
The offensive line remains an area of concern due to a few key pieces graduating this season. Although a bright spot is that Josh Jenkins should be ready to go by the time the regular season kicks off. Offensive line coach Bill Bedenbaugh talks about his progress.
"He's good, but just like everyone else he has to get better," Bedenbaugh said. "He retained a bunch of stuff. He was in a lot of the meetings, out there coaching, so he is a guy who has experience and he understands the offense. It's just getting out there, getting reps and getting comfortable with Joey (Madsen) and (Quinton) Spain. He's done a good job of that so far."
Wide receiver is also an area for concern, especially with the lack of experience at the position. Besides the three starters, there isn't must after that, and wide receivers coach Shannon Dawson says that's not the only issue.
"Up and down -- we haven't been doing great. In my opinion we've dropped too many balls," Dawson said. "I'll give credit to the defense because they're real aggressive, real aggressive at corner and making us work for releases. If I had to letter grade it, I would give it a C or C-, we can do better, a lot better."
And of course the defense which will switch from a 3-3-5 to a 3-4 is continuing to experience growing pains as they try to make the transition.
"As a coaching staff we try to make it as easy as possible on them – transition-wise, we tried to rhyme some things, make sure they understand who was blitzing and who wasn't, and they've run some of the coverages we're going to run, so there was some carry over there," DeForest said. "After six practices, I'd say the defense is a C, because we're not even close yet – it's an A for effort."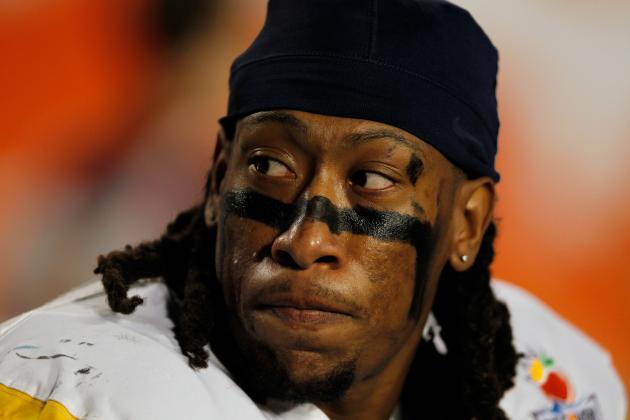 Streeter Lecka/Getty Images

West Virginia recently had another full practice in pads, and head coach Dana Holgorsen says he wants to see his team more physical on the football field. I guess in becoming a recent member of the Big 12, he knows what it's going to take to win.
"I don't care what kind of offense you run, what kind of defense you run or any of that, if you're not physical you're not going to be very good," he said. "I was really pleased with how they responded to that and got out there and did a lot more things from a physical nature, so that was good to see."
Holgorsen also talked to Pittsburgh Steelers head coach Mike Tomlin when trying to decide which defense he'll run his team with.
"One of the things I was talking to coach Tomlin about was playing the 4-3 as opposed to the 3-4. There are 11 NFL teams running the 3-4. Which scheme is better? I don't know; they're both good schemes," he said. "The 3-3-5 is a good scheme. The guys here last year did a good job of coaching them up. You've got to settle on something. In my opinion, going against the spread, you're probably giving a little bit of an advantage to being able to cover sideline to sideline."
Last season the Mountaineers ran the odd 3-3-5, but with a new defensive coordinator in Keith Patterson, they look to run a more traditional defense with four down linemen this year.
Bruce Irvin arrested
Right after former Mountaineer Bruce Irvin's pro day, he was arrested for destruction of property and disorderly conduct for breaking a sign at a sandwich shop. Irvin had a great career at West Virginia and an excellent combine, but issues off the field may hurt his draft stock.
Only time will tell on this one.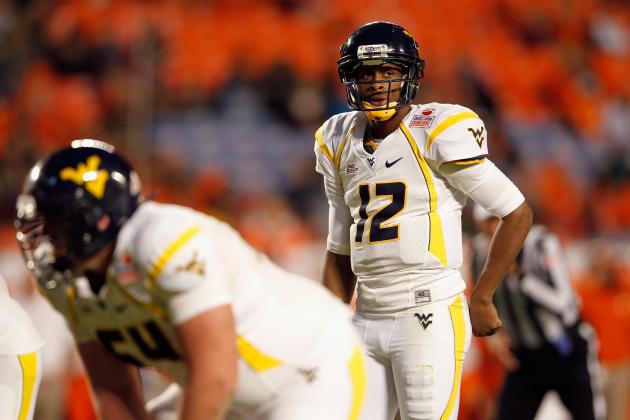 Mike Ehrmann/Getty Images

The Mountaineers recently took the field for the first time in pads, and senior quarterback Geno Smith feels more comfortable than he's ever been.
"I feel much more seasoned," Smith said. "I'm not trying to figure things out like I was last spring. I have a better understanding of the offense and I can teach the younger guys a little bit more than I was able to in the past."
Head coach Dana Holgorsen is also impressed with the improvement that Smith has made over the years and says he doesn't really have to say much to him anymore.
"It felt good. I probably did less coaching [at Sunday's opening spring practice] than I've done the last three springs," Holgorsen said. "It was like it was with [quarterback] Case Keenum coming back at Houston. After you've coached him for a year, you didn't have to tell him a whole bunch."
On the defensive side of the ball, West Virginia has a new defensive coordinator in Keith Patterson. This means that the Mountaineers will switch from an odd 3-3-5 and go with a more conventional defense that features four down linemen. Patterson believes that the transition won't be as difficult as you may think.
"For the guys who have experience playing, and even at linebacker, it hasn't been that big of a transition. We're moving forward and I like where we are," he said. "We put in a new coverage and some of the concepts are different, but we're facing different concepts every day from our offense. We're going out there cold turkey and you basically just have to react to it."
West Virginia is returning seven starters on the defensive side of the ball, which should make the switch a little easier with experienced players.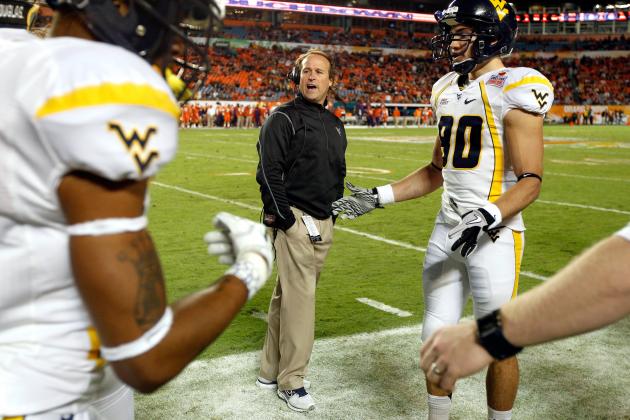 J. Meric/Getty Images

West Virginia is coming off of one of their more successful seasons and a bowl victory over Clemson that broke all kinds of records. Now they have begun spring practice, and head coach Dana Holgorsen feels that the makeup of his team has shifted.
"From an offensive perspective, it was where we were at defensively a year ago, and from a defensive perspective, it was where we were at offensively a year ago," he said. "The roles have been flipped, and we have a long way to go on both sides."
Offensively last season, the Mountaineers averaged nearly 38 points per game, but weren't exactly clicking early on. Last year, West Virginia ran the odd 3-5-5 scheme that made things very difficult for the opposing offenses.
This season, they look to have four down linemen, which of course would take a while for the players to get used to.
One of the top recruits from this year in 4-star quarterback Ford Childress also practiced a bit. He's expected to take over the team once Geno Smith graduates at the end of the season. He's a very accurate quarterback with a very strong arm.
"(Childress) is a tremendous talent (and) is physically very imposing with a phenomenal arm, exactly what we knew when we recruited him," Holgorsen said. "From a mental standpoint and understanding the offense, he's obviously got a long way to go. He looked like (sophomore quarterback) Paul (Millard) did last year when (he) first got here, and I'm sure he looked like Geno did when (he) first got here."
If he ends up playing like Smith, Mountaineer fans will be happier than ever.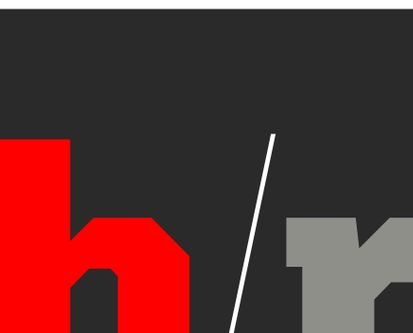 This slideshow will continue to be updated with the latest news, quotes, position battles and more throughout spring practice. Stay tuned for everything involving your West Virginia Mountaineers.