UFC 145 Preview: An Early Breakdown of Jon 'Bones' Jones vs. 'Suga' Rashad Evans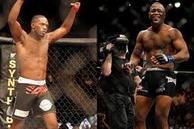 This is the hottest feud in the MMA world today.
Current UFC light heavyweight champ Jon "Bones" Jones is coming off the most remarkable year in the history of the sport. In January 2011, Jones was viewed as an up-and-coming guy and a little more than a year later, Jones is thought of by most as unbeatable.
A meteoric rise might be a bit overused at this point, but either way Jones has taken the UFC light heavyweight division and put it in his fireproof safe that he keeps in his office. Lyoto Machida is the only man in the UFC to win a round over Jones and he was then promptly Superman-punched in the face and choked into a deep slumber.
Jones has already said he wants to fight four times this year, as he did the previous one. If that is true, he plans on walking through Rashad Evans and at least two other top contenders inside of this calender year. Not much to say there but "wow!"
Rashad Evans is the former UFC light heavyweight champion. He won the title at UFC 92 in December 2008 by knocking out then-champion Forrest Griffin. He was knocked silly in a bout with Lyoto Machida, and in the ensuing three years he has fought only four times.
There are several factors that have led to Evans' inactivity. Suga was forced to wait to fight Quinton "Rampage" Jackson when Jackson decided he would rather make a movie than fulfill his obligation to the UFC. Evans then chose to wait for a title shot as Mauricio "Shogun" Rua recovered from knee surgery following his UFC 113 title win over Machida. While waiting for Shogun to recover, he suffered his own knee injury and was forced to withdraw.
So, the story ends there, right? I mean, surely Evans' 2011 would get easier. Nope. Evans was then passed up by former teammate Jones who destroyed Shogun and won the championship. And to round out 2011, Evans was forced to wait for his grudge match with Jones because of a strange situation with Jones' hand.
After beating late-replacement Tito Ortiz last fall and Phil Davis this January, Evans now will finally get his second crack at the title and his first chance to back up all of the talking that he and Jones have been engaged in over the last year.
For those of you that have not, for whatever reason, heard about their feud, here is a very brief synopsis:
Jon Jones and Rashad Evans used to be training partners at Jackson-Winkeljohn MMA in New Mexico. In an interview, Jones basically said that if he were asked by his bosses, Dana White and Lorenzo Fertitta, to fight Evans, he would do it keep his job. Evans got upset by this and kinda lost it. Jones stepped in for an injured Evans and won the title. Evans felt disrespected, left the New Mexico training center for greener pastures, and they have hated each other ever since.
After Jones pulled out of their proposed fight late last summer, Evans stepped up the trash-talk and with wins over Tito Ortiz and Phil Davis and he now gets his shot at Bones Jones.
In the upcoming slides I will break down the aspects of this fight that I see making the biggest difference.
Begin Slideshow

»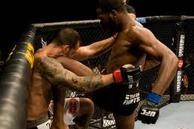 Jon Jones lands a viscious flying knee from range
Range and distance will play a huge role in this fight. As with most fights, finding the distance and utilizing reach will be important. However, in this bout it will be an even greater factor due to the parties involved.
Jon Jones has proven time and again that his amazing 84.5" reach is an obstacle not easily traversed. Rashad Evans is a much smaller fighter and the real question is whether his speed and movement will be an answer for the reach riddle that is Jonny Bones.
Jones has shown in all of his UFC bouts that if you cannot get inside, you have exactly zero chance of being effective in any way.
Evans has great head movement and speed, but the range Jones operates out of may very well be the biggest factor in this fight.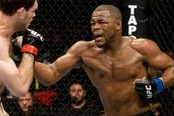 Rashad showed his lightning speed in knockout win of Forrest Griffin and Chuck Liddell.
Speed kills, as they say. This has certainly been true in the sport of boxing for a long time and it is true in the present day in the UFC and in the sport of mixed martial arts as a whole.
The first boxing match of the modern era—the era of gloved contests—in 1892 pitted the last bare-knuckle heavyweight champion of the world, John L. Sullivan, against the dancing, fluid motion of James J. Corbett. Sullivan was an old-school brute who charged out of his corner like "a roaring lion," but he was prodding and slow on the step. Corbett battered him into submission, practically running circles around the champion.
Other boxers such as Sugar Ray Robinson, Sugar Ray Leonard, Muhammad Ali, Roy Jones, Jr. and Floyd Mayweather, Jr. have found enormous success with their blazing speed and movement in the ring. In the modern day we see this displayed prominently in the Octagon.
UFC bantamweight champion Dominick Cruz is a great example of a speedster who uses angles, combinations, head movement and pure speed to baffle his foes. Other great UFC speed-oriented fighters include Jose Aldo, Frankie Edgar, Anderson Silva and a lot of others I won't bother you with listing.
However, of all of these fighters there is one guy who stands out: Rashad Evans.
(Just to note, I am not saying that Jones is not a fast fighter with good movement. What I am saying that is this is where I see Evans having an edge.)
Evans proved in his fight with Chuck Liddell that he can throw a punch at the same time as his opponent and his will land first. Evans moves in and out and side to side well and he keeps his opponents off guard, not knowing if the takedown or big right hand are coming.
The big question mark is whether Evans can get past the reach of Jones to clinch, look for takedowns and land strikes on the champion. The speed of the former champion will play a significant factor in this fight and should allow Evans to get inside of the reach of Jones and do damage.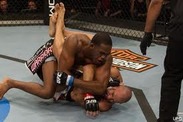 One viscious elbow broke Brandon Vera's orbital bone!
Rashad Evans and Jon Jones both have great wrestling experience. Although Evans has a good top game and great wrestling for MMA, but his top game and ground and pound cannot compare to Jones'.
Jones has wicked submissions on the ground. He utilizes mostly chokes as his submission of choice and his finishing ability is on its own level compared to other light heavyweights.
Not only does Jon "Bones" Jones have submission skills on the ground, but his ground and pound is absolutely devastating. When he fought Matt Hamill he was seconds away from a TKO finish from elbow strikes before a controversial blow ended in disqualification for the reigning 205-pound champ. In his bout with Brandon Vera, Jones broke Vera's orbital bone with a vicious elbow that was so fast and accurate no one would be able to get out of the way in time.
The advantage on the ground definitely goes to Jon Jones in part because of his submissions, wrestling and ground-and-pound prowess.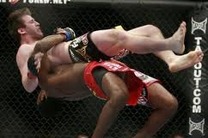 Bones does a suplex slam on Stephan Bonnar
Rashad Evans is a very experienced wrestler. The former Michigan State wrestler has developed fast, driving takedowns that translate very well to mixed martial arts. Phil Davis, Evans' last opponent, was a national champion wrestler at Penn State and Suga was still able to get him to the ground and control him.
The problem for Evans is that Jones is also a very good wrestler. Jones was a junior college national champion. He has won tough wrestling matches in the past as well. Not only does Jones have prior experience, but his reach and athleticism can allow him to pull off crazy trip takedowns, sweeps and throws that other athletes cannot do. Period.
Evans has great speed and movement and he will attempt takedowns on Jones. I guarantee that. However, Jones has never been held down and it is unlikely Evans can realistically hold the bigger, stronger and longer champion.
Spinning Back Elbow
This is one category that a lot of people go back and forth on, and to be honest I have, too.
On the one hand, Jones has great use of his reach, a variety of strikes and has more power than he gets credit for.
On the other hand, Evans has had head-kick knockouts, a one-punch knockout of UFC Hall of Famer Chuck Liddell and he has great speed and head movement. Evans will not be afraid to strike with Jones, that much I'm sure about.
I just don't see Evans being able to reach Jones. Evans is fast but Jones will be three feet away before he ever lands more than a glancing blow. Although I acknowledge Evan's striking ability and power, if he cannot get close enough to land solid shots he will not be able to put Jones away.
Jones, on the other hand, can land from eight feet away or two feet away. Evans cannot land strikes from long range on the champion. Jones will have the striking advantage.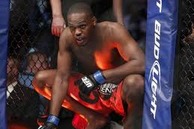 Prepared for War
Evans has one major weakness in my eyes: submissions. He has them in his arsenal, but he hasn't been able to pull off any against world-class competition. And let's be honest, if he couldn't submit his other foes, how would he submit Jon Jones? It's doubtful.
The champ has very long limbs that not only make him a dangerous striker, but they also give him the ability to pull off the modified chokes that he has pulled off on the likes of Ryan Bader and most recently Lyoto Machida. The Machida chokeout is now immortalized in a commercial advertisement.
Jones can literally wrap around someone's neck like an anaconda wraps up its horrified prey. This huge advantage alone could lose the fight for Rashad Evans.

Evans and Jones are both very confident competitors and both are very sure they will win this fight. I am giving a slight edge to Jones because of his confidence coming off a colossal year in the UFC in 2011 and his looking-away routine for the staredowns is almost a way to say, "I'm on my own level and my path won't be broken."
Evans is definitely a confident fighter, but his confidence coming off a decision win cannot compare to the self-assurance Jones gained with his standing guillotine of Lyoto Machida in December to make it four major wins in one calender year.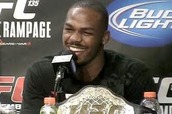 It is hard to envision any man beating Jon Jones right now. The champion is in a league of his own and it is entirely possible he will ride this winning streak all the way until he storms the UFC heavyweight division in the future.
Rashad Evans is a great fighter and I take absolutely nothing from him. He is the second-best light heavyweight, but Jones is just that much better right now.
Unstoppable is a misnomer, but Jon "Bones" Jones is as close to that as a mixed martial artist could get.