Tennesseee Volunteers Football: The 5 Most Underappreciated Players in History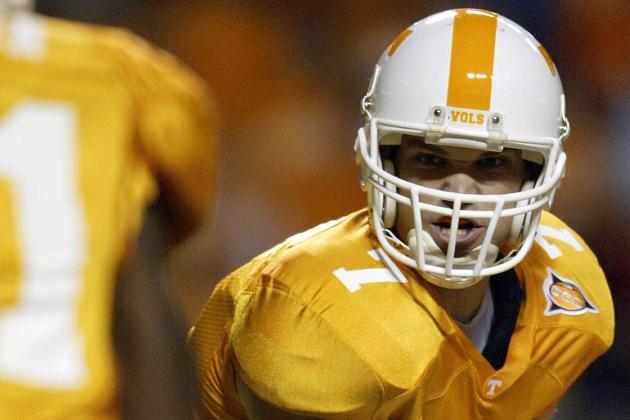 Elsa/Getty Images

The Tennessee Volunteers have a long list of great football players that have donned UT orange. But behind every winning season, bowl win and championship trophy is a slew of players who made it all possible but don't get the appreciation they deserve. I've got five of them for you here.
Remember that there's a huge difference between being "underrated" and being "underappreciated." The former lends itself to lazily naming players that we all know and love (like Nick Reveiz), while the former conjures up a few names that we may not be as familiar with.
Note also that these men all come from the 1990s and 2000s since it's difficult to underappreciate a player capable of such notoriety for 30 years. Eventually, players worthy of recognition receive it, especially with the Big Orange.
Begin Slideshow

»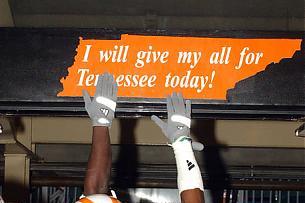 In Jonathan Hefney's four years on Rocky Top, he played in 51 games. Of those, he started in 50. That's a great start for me.
After starting the last 12 games of his freshman year in 2004, Hefney entered his sophomore season with All-SEC Freshman honors. During the miracle comeback at LSU, his 26-yard interception of JaMarcus Russell setup up a goal-line touchdown that brought the deficit to just three points.
Firmly cemented as a starter by his junior year, Hefney tallied 96 tackles in 2006, which ranked eighth in the SEC. Hefney was a talented return man, too, and his 12.1 yards per punt return was good for 17th nationally. He started in each of the Vols' 13 games.
In his final season in Knoxville, Hefney was a preseason All-SEC selection by the coaches and didn't disappoint. He once again started each game, finishing his career with 50 consecutive starts, which remains a school record for the most consecutive starts by a non-specialist player.
Hefney was always good for 80 to 90 tackles and three to five interceptions each year. He was a leader, durable and unselfish, routinely moving from safety to cornerback as the team needed.
In conversations about recent UT players, Hefney's name is sure to come up, but it's far too quickly breezed over. Take some time to appreciate this player next time.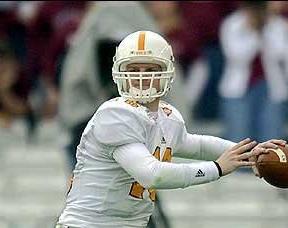 Not only does Rick Clausen remain underappreciated by the Volunteers seven years after his last pass at Tennessee, the lefty transfer from LSU was also underappreciated during his time as a Vol.
True freshmen quarterbacks Erik Ainge and Brent Schaeffer came into the fall of 2004 with a wealth of hype and excitement and for good reason. Ainge was the 11th-ranked pro-style quarterback and Schaeffer the seventh-ranked dual-threat quarterback in the nation.
The pair split time until Schaeffer broke his collarbone and Ainge separated his shoulder in back-to-back weeks.
Enter Clausen, the younger brother of then-recent Tennessee quarterback Casey.
As a starter, Clausen went 3-1 in 2004, including a blowout 38-7 Cotton Bowl win over Texas A&M.
Ainge and Clausen shuffled the starting job at the beginning of 2005 before Ainge immaturely, inexplicably and (almost) unforgivably threw a pick-six in the endzone at LSU.
Clausen took the starting job from then on and won a thrilling overtime game in Baton Rouge, fighting back from 21-0 deficit at halftime.
The rest of 2005 was tough. Aside from Clausen, Arian Foster was the only other major offensive threat, and the Vols weren't able to extend their 22-year reign over the Vanderbilt Commodores.
Still, considering the circumstances, Clausen remains one of Tennessee's most underappreciated players ever. He would've joined Tee Martin and Peyton Manning as the third SEC Championship winning quarterback had he not come across future first-rounders Jason Campbell, Cadillac Williams, Ronnie Brown and Carlos Rogers at Auburn.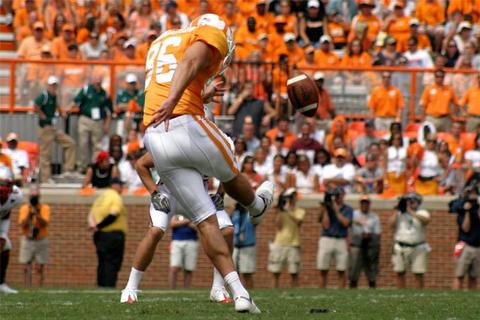 When you think of great punters in Tennessee Volunteers history, no doubt you think of the Colquitt family: Craig, Jimmy, Dustin and Britton.
(I'd pay good money for someone to calculate how many miles have been punted in the name of the Vols by that family.)
David Leaverton comes to mind too, as the punter for the 1998 BCS National Championship team.
But it take a long time for your brain to find Chad Cunningham, who handled the punting duties from 2008 to 2010.
As a starter, Cunningham averaged 41.7 yards per punt. That's good, not great, but after Tennessee fans saw how valuable a dependable punter was from the 2011 season, Cunningham's consistency has grown in importance.
He booted 40 punts inside the 20-yard line and only had three blocked in his four years as a Vol.
Overshadowed by the Colquitt shadow and numerous questionable kickers, Cunningham is an underappreciated player at an underappreciated position.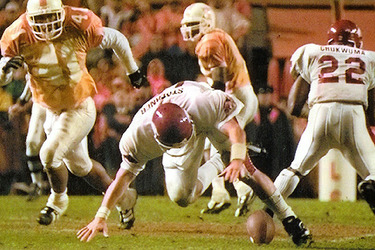 If you don't get just a little emotional when seeing this clip (drag to 1:44:14 if it's off), you're not a true fan of the Big Orange. I'm calling you out!
The man who caused the fumble, recovered the ball and kept the magical undefeated run of 1998 alive was defensive tackle Billy Ratliff.
In the clip, you'll see Ratliff line up to the left of the nose tackle, ready to take on Arkansas' right guard, the late All-American Brandon Burlsworth.
Ratliff came off the snap so hard that Burlsworth had to step backward faster than usual, if only for an instant. In that instant, quarterback Clint Stoerner tripped over his guard leg, lost his balance and dropped the ball.
The ball laid there on the Arkansas 44-yard line for what seemed like ages. Ratliff shrugged off Bullsworth's block and covered the fumbled ball that he helped cause. Five ferocious runs from Travis Henry later, the Vols took the lead for good.
Ratliff managed only three sacks and two fumble recoveries in his four-year career at Tennessee, but his five incredible seconds of glory make him one of the Vols' most underappreciated sons.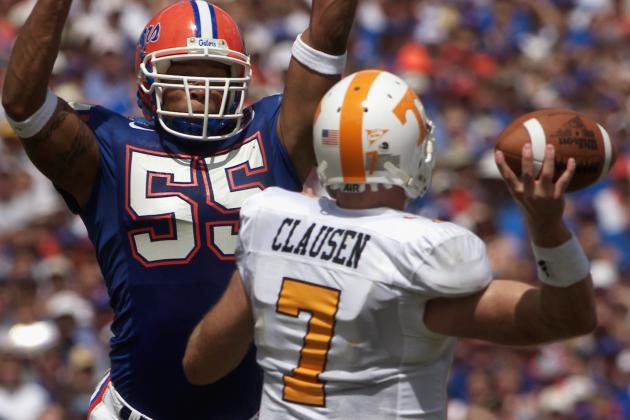 Matt Stroshane/Getty Images

The most underappreciated Tennessee Vol in school history is Casey Clausen. The guy was a very good quarterback, great leader and fierce competitor.
After Peyton Manning and Tee Martin left in 1997 and 1998, the Volunteers were in a state of flux at quarterback. I distinctly remember wondering each week who was going to start, and that's not a good feeling at all.
Finally, Clausen supplanted A.J. Suggs as the starter, and the Vols experienced a short period of 1990s-esque success.
First and foremost, Clausen was undefeated in the Swamp. Tennessee hasn't won in Gainesville since 2003, his senior year. He seemed to thrive when the fans were meanest and the situation was most dire, as exemplified by his 14-1 road record in his career.
He was also at the helm of some other great wins in UT history. The gritty 10-6 win at No. 6 Miami in 2003 was one of the best victories of the decade. He was 3-1 against Alabama and 4-0 against South Carolina.
Clausen nearly equated himself with Martin and Manning in 2001, when his Vols lost in the SEC Championship Game as the No. 2-ranked team in the country. A win would've certainly put Tennessee in their second BCS National Championship in four years.
Clausen ranks behind only Manning in career passing yards, touchdowns, completions and virtually every other conceivable school passing statistic.
I still miss his fire on Rocky Top. Tyler Bray could learn something from studying up on the most underappreciated Vol of all—Casey Clausen.