Denver Broncos: Why John Fox Was the Driving Force Behind Manning's Decision
March 19, 2012

Joey Foley/Getty Images
The paint has barely dried on the game-changing decision by Peyton Manning to join the Denver Broncos (reported by ESPN's Chris Mortensen and Adam Schefter), and already there are reports on potential tools that Denver can add, where Tim Tebow may end up and so on.
Before it gets too far gone, take a moment to consider what a tremendous job the Denver front office and ownership did in wooing Peyton Manning. In fact, wooing may be too strong of a term considering the Broncos played it extremely cool and low key the entire way.
Unlike the other two finalists for the services of the future hall of famer, the name Manning was the headline in every Denver news story linking him to the team. Even despite the fact that Denver boasts arguably one the top-three quarterbacks ever in John Elway as part of the negotiation team, his names were not in the papers nearly as much as Jim Harbaugh or Bud Adams.
It seemed as though the eccentric Titans owner, Bud Adams, was using the Manning signing as a vehicle for his ascension to the throne of "wily owner" that was recently vacated by the passing of Al Davis in Oakland.
Similarly, in San Francisco, it was all about Jim Harbaugh and how he could co-exist with the elder Manning. Harbaugh's brash nature, which inspires his current team, might not be the leadership that Manning was looking to play for.
In Denver, Pat Bowlen played the role of the silent owner and simply let his team do their jobs and promised that if the deal became imminent, that salary would not be an issue. He did not seek his name in the papers, nor he did deliver any "buzz-worthy" quotes like his counterpart in Tennessee.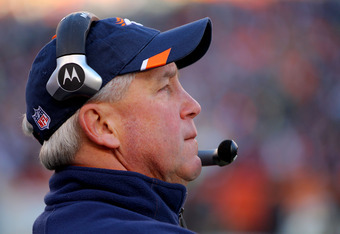 Doug Pensinger/Getty Images
Many will give credit to Elway for closing this deal, and deservedly so. Elway has proven now that in a short time on the job he must be considered alongside some of the most savvy and exciting NFL front-office leaders working today.
Still, Elway wasn't going to be on the sideline with Manning at practice and on gamedays. Could it be that the "Other John" had a bigger impact on Manning's decision?
It certainly seems like it, because of all the coaches involved with the final three teams, it was Fox who emerged most "Dungy-Like" in his approach to coaching.
Like Manning's former coach, Tony Dungy, Fox embodies the strong leader who takes pride in surrounding himself with great people and simply stepping in to manage the talent instead of controlling it.
Both Jim Harbaugh and Mike Munchak have specific ideas on how their offense is going to operate and in which way their team is going to play no matter what the personnel is. Fox, on the other hand, has always looked at what he has been given, and adapted to what will suit his team's strengths the best.
Manning had to look at Fox as the type of coach who is going to allow him the freedom to create the offense that will best suit his skills and those of the players around him, and not allow the ego of any one player or coach to take a front seat over what is best for the team's success on the field.
Give Bowlen, Brian Xanders and Elway a lot of credit for making this deal happen. Remember though, that it is Fox who will be working with Manning more closely than anyone, and both Manning and Fox knew that during their fateful visits leading up to this moment.
Oh yeah, the Broncos might want to give Frank Tripucka a gift for ensuring early on that if No. 18 wanted to remain No. 18, he was welcome to do so.