NFL Trade Rumors: Why Jonathan Stewart, DeAngelo Williams Could Be on Block
March 19, 2012

Al Messerschmidt/Getty Images
According to Jason La Canfora of NFL Network, the Carolina Panthers have signed running back Mike Tolbert:
RB Mike Tolbert agrees to 4yr deal with Panthers. #freeagency

— Jason La Canfora (@JasonLaCanfora) March 19, 2012
This was an interesting acquisition by the Panthers, simply because DeAngelo Williams and Jonathan Stewart both combined for almost 1,600 rushing yards, 548 receiving yards and 11 total touchdowns.
Williams and Stewart are clearly a two-back tandem that works, however, DeAngelo will be turning 29 before next season kicks off and Stewart is set to be a free agent after the 2012 season.
To that end, here's a quick breakdown of each running back and a prediction at the end as to which one could be put on the trade block.
DeAngelo Williams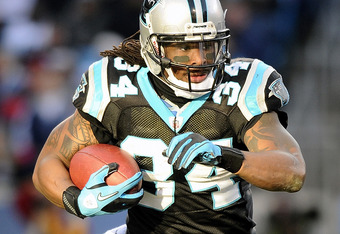 Jared C. Tilton/Getty Images
Definitely the better of the two between he and Stewart, DeAngelo Williams is nearing the end of his prime and has had injury issues in the past.
Arguably the best running back in Panthers' franchise history, though, Williams has earned a Pro Bowl and All-Pro selection during his career. A solid rushing threat as a standout No. 1 back, Williams led Carolina in rushing last season with 836 yards and had seven rushing touchdowns.
In 2008 and 2009, Williams compiled over 2,600 yards between each season and scored 25 rushing touchdowns. When healthy, Williams is one of the league's better No. 1 ball carriers and has proven consistency and reliability.
His size allows for a between-the-tackles rushing threat, which sets up the edge ground game and play-action pass.
Jonathan Stewart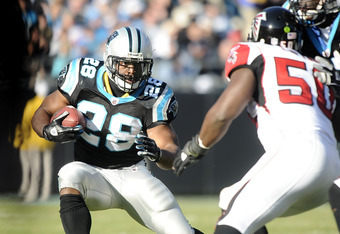 Jared C. Tilton/Getty Images
The No. 2 back to Williams, Jonathan Stewart has had an equally impressive career. In four seasons, Stewart has averaged over 1,000 total yards per season and has scored 26 total touchdowns. When Williams was sidelined, Stewart stepped in and rolled well for Carolina.
An underrated running back and one of the best No. 2 backs in the league, Stewart could definitely takeover the reigns as the No. 1 guy if Williams were to be put on the block.
One area favoring Stewart also, is that he's more of a dual-threat running back.
Last season alone, Stewart outgained Williams with 418 receiving yards to 135. He also has 47 receptions to Williams' 16. On third-down situations, Stewart's reliability is much more proven than Williams for Cam Newton.
Who Goes on the Trade Block?
Jonathan Stewart
It's a tough loss for the Panthers and Stewart, but considering that Mike Tolbert is virtually the same kind of back-there's no need for two of them.
Tolbert also has experience as a blocking back in the ground game, so Williams will have a lead to follow when getting a toss or running off tackle. Stewart is also in a contract year coming up; and after four consistently productive and impressive seasons, he'll want paid rather well.
Therefore, it's better to get something for him now, as opposed to not re-signing him after the 2012 season. Tolbert is just as reliable in the passing game with 54 receptions for 433 yards last season, so Carolina won't be missing that aspect.
Not to mention, Williams' contract runs through the 2015 season. In short, the Panthers are more invested with Williams; which the signing of Tolbert has the odds leaning toward Stewart on the trade block.
John Rozum on Twitter.