Mike Tolbert to Carolina Panthers: Deal Analysis, Grade and Twitter Reaction
March 19, 2012

Stephen Dunn/Getty Images
On the surface, you wouldn't expect a team with three quality running backs to pursue a top-level player at that position in free agency. 
Carolina Panthers GM Marty Hurney is apparently a little deeper than most would expect.
Despite carrying DeAngelo Williams, Jonathan Stewart and Mike Goodson on the roster, Hurney signed former San Diego Chargers running back Mike Tolbert to a four-year deal Monday. NFL Network's Jason La Canfora reported the contract agreement: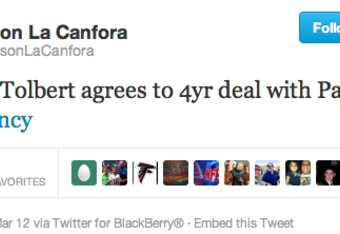 The Panthers now have a decision to make regarding their running back stable. 
Do they keep all four, while using each in offensive subsets and limiting the touches? Or do the Panthers send one, such as Stewart, out of Carolina in a trade? NFL Network's Michael Fabiano certainly feels they will: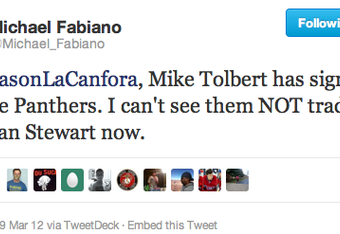 The signing may complicate things in the Panthers backfield, but Tolbert is a unique talent who had several suitors in free agency. According to Will Brinson of CBS Sports, Tolbert took less money—maybe as much as $1 million per season—to sign with the Panthers.
A capable short-yardage runner, blocker and receiver, Tolbert has all the skills you want in an elite third-down back. Over four seasons with the Chargers, Tolbert ran for 1,410 yards and 20 touchdowns—including 19 over the last two years—and also caught 109 passes for 1,019 yards and eight more scores.
It's possible now that the Panthers could shop Stewart, who is entering a contract year and likely won't be retained past 2012 after giving contract-rich deals to both Williams and Tolbert. Several teams, including the John Fox-led Denver Broncos, may be willing to work out a deal for Stewart if the Panthers are interested. 
Despite the logjam, the fit for Tolbert in Carolina works. CBS Sports' Clark Judge definitely approves the move: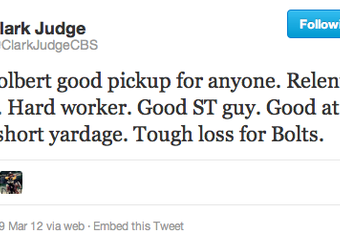 He has experience working under both Ron Rivera and Rob Chudzinski, who each were in San Diego with Tolbert previously. Stewart is also an upcoming free agent, so there's a natural replacement in Tolbert already under contract moving forward—should Stewart leave.
And finally, the Panthers may look to Tolbert to be their No. 1 goal-line option. Williams and Stewart struggled in that role, and the Panthers may not want the pounding associated with goal-line carries for franchise quarterback Cam Newton.
The move doesn't seem like an ideal fit on paper, but there's a lot to like about Tolbert signing in Carolina.
Grade: B+