2012 Free-Agency Tracker: What's in Store for Alex Smith?
March 19, 2012

Ezra Shaw/Getty Images
The rumors are true: Jim Harbaugh's go-to guy might not be back next season. It has been known for weeks that quarterback Alex Smith has had trouble reaching an agreement with the 49ers this offseason. Where does he end up if San Francisco isn't the answer? There are plenty of suitors that have him on their boards already.
Last year Smith led the once-awful 49ers to a 13-3 record and an appearance in the NFC Championship Game. Well, maybe "led" isn't the word that best fits that scenario. His performance last year was not top-tier material, throwing for only 3,144 yards and 17 TDs with a 90.7 rating.
He did play smarter in the pocket though, he only threw five interceptions last year. How did they expect to beat the Giants in the title game if he only completed one pass to a wide receiver for three yards?
OK, OK. Smith has gotten enough of this over the past five years, as fans awaited the former first-rounder from 2005 to finally do something right. And being the quarterback of a 13-3 team means something. It was almost assured that Harbaugh was going to bring him back for the next season. The addition of Randy Moss and Mario Manningham gives him other players to rely on instead of the inconsistent Michael Crabtree.
It has been reported that Smith will be visiting the Dolphins soon and possibly the Seahawks. Seattle signed Matt Flynn to a 3-year deal on Saturday, making the possibility of Smith playing for Pete Carroll and company very slim.
Time for another plot twist: Harbaugh and his 49ers had recently shown a lot of interest in Peyton Manning. It appeared that Manning had narrowed it down to two locations to resume his career in 2012—Tennessee and Denver.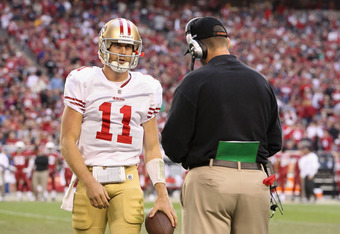 Christian Petersen/Getty Images
San Francisco jumped on the train as well, and it has been confirmed that Manning actually met with the organization last week. This must be a serious consideration if Manning refused to even fly to Seattle or other realistic suitors to hear what they had to say. 
Now that Manning has been signed by the Broncos, the 49ers are stuck with a lot of talent everywhere but at the quarterback position. Will Smith forgive Harbaugh and agree to come back?
Miami, who failed miserably in an attempt to pick up Robert Griffin III, Matt Flynn and even Manning, seems like the most likely destination for Smith if he chooses not to return.
Don't forget about other QB-needy teams that might step out of the shadows and grab him, like division rival Arizona or Cleveland. One thing is for sure, there is more of a chance that the sky begins to fall than Colin Kaepernick starting in red and gold next season.