Wrestlemania XXVIII: 5 Ways Shawn Michaels Could Screw Over HHH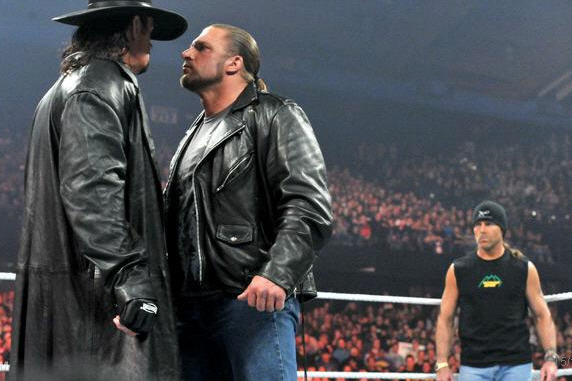 We're less than two weeks away from Wrestlemania XXVIII and the epic Hell in a Cell match between the Undertaker and Triple H.
But there's even more to this match. Shawn Michaels, who wrestled Undertaker at Wrestlemania 25 and 26, will be the special guest referee for this match.
Last Monday, after Shawn Michaels and Undertaker exchanged words, Triple H came out and had his own message for the Undertaker—a crotch chop.
It looks like Triple H has the advantage going into this match.
However, looks are deceiving and it could all play out to Shawn Michaels screwing over Triple H, keeping the Undertaker's streak alive.
If this is to happen though, how will it be done? Here are five possible ideas.
Begin Slideshow

»
It's a simple yet classic angle.
HBK, in the end, tries to connect with Sweet Chin Music, but he ducks and hits Triple H instead.
It shows all along that they were truly working together. They could make this a feud where DX and their friendship break down as a result of the loss.
HBK returns to wrestle on a semi-regular basis and feuds for the next couple of PPVs.
Sure, HBK vs. HHH has been done before, but this feud would have a different spin on it. Plus, having HHH return as a heel is always nice because his overall character is so much better when he's a bad guy.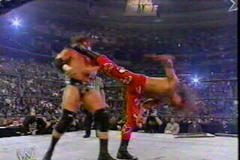 Again, another simple angle the creative team can go with.
Undertaker looks like he's about to lose, and as Triple H goes for the cover, HBK hits Triple H with Sweet Chin Music.
This, again, sets up a HBK/HHH feud; only this time, Michaels would play the heel and Triple H as the face.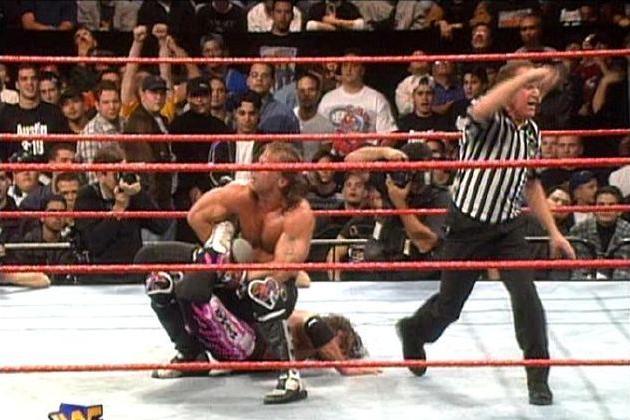 Remember the Montreal Screwjob?
Well, this one would be the Miami Screwjob.
Undertaker locks Triple H in the Hell's Gate. Triple H tries to gets out of the submission hold and appears that he will be able to. However, before he can, HBK calls for the bell, declaring Undertaker the winner by submission.
This is not exactly the way fans would want to see it end, especially on "The Grandest Stage of Them All," but it's certainly plausible.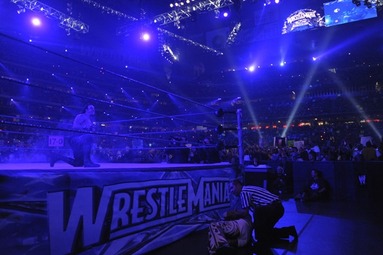 Think similarly to when William Regal was general manager of RAW a few years back and would occasionally turn off the lights during the live show.
Now think about this: Undertaker and Triple H brawling on top of the cell, while HBK looks from down below.
In an odd twist, he leaves the ring and goes over to where lighting is and turns off the lights at the stadium. As a result, Undertaker capitalizes in the darkness. A sound of a body crashing is heard. The lights come back on, and Triple H is laid out in the middle of the ring and unable to continue competing. Undertaker wins by knockout.
Now this might be stretching it, but hey, stranger things have happened...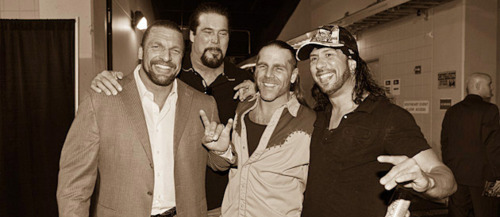 When you think about it, it's not as far-fetched as you think.
Kevin Nash is signed to a legends contract and was Triple H's last feud just a couple of months ago. Sean Waltman, also known as X-Pac, scouts and evaluates talent for Florida Championship Wrestling, WWE's developmental territory. The only one missing is Scott Hall, but it's unknown if he has truly battled his inner demons with alcoholism and can actually manage to show up and compete.
Regardless, imagine having the Kliq reunite at Wrestlemania. The four (or five, if Hall can actually manage), with the odds in their favor, return—Undertaker will have nowhere to run nor hide!
But wait! Michaels, Nash and Waltman (and Hall?) attack Triple H instead.
A storyline could be created where the Kliq don't believe HHH was a true member of the group. Now that he's COO he is more of a businessman than a wrestler.
Imagine the twists and turns that could happen in this storyline.
And all of them can still perform. Kevin Nash, while 52, had a Sledgehammer on a Ladder Match against Triple H at TLC in December and could perform on a semi-regular basis.
Shawn Michaels is 46 but had two fantastic matches against Undertaker in 2009 and 2010; plus, the rest after years of competing helps.
Sean Waltman has been wrestling everywhere in recent years, including TNA, Pro Wrestling Syndicate and Chikara. He's also just 39 years old.