Fernando Torres: Chelsea Striker's FA Cup Brace Could Start Scoring Spree
March 19, 2012

Richard Heathcote/Getty Images
Chelsea's much-maligned £50 million striker Fernando Torres could start a goalscoring spree and become worth his fee within the next season, following his brace against Leicester City in the FA Cup quarterfinal at Stamford Bridge, which the Blues won 5-2.
The 27-year-old World Cup-winning Spain international has infamously gone 23 matches without a goal for the Blues, in a time spanning 25 hours and 41 minutes worth of football on the pitch, plus over an hour's worth of stoppage time.
However, his goals against Leicester may make such a drought a thing of the past for the player who scored 65 Premier League goals in 102 games for Liverpool before his blockbuster, January transfer deadline day move down south.
Of course, critics will say Torres' goals were against a lesser opponent from the Championship (England's second-tier), and that better marking should have been applied for both efforts.
Whilst it's true the opposition wasn't the toughest Chelsea have or will ever face, the match was nonetheless an FA Cup quarterfinal.
Leicester were clearly fired up for this game, and themselves have a quality team which could cope in the Premier League.
The effort and work rate they put in at Chelsea is something the Blues would have faced in any important match, regardless of the opponent.
The West London club would've faced easier opposition than Leicester in Premier League matches, put it that way.
So the team, along with manager Roberto di Matteo, does deserve credit, as does Torres for his double—a brace in a cup quarterfinal is definitely a lot tougher to achieve than one in the league against Wigan Athletic or Wolverhampton Wanderers, for example.
As for the goals themselves, Torres' first was indeed fortuitous, with his scuffed shot inside the penalty area very saveable.
But his second was a classic Torres goal from his successful Liverpool and Atletico Madrid days.
The striker attacked the ball at the near post, running forward in-front of his two markers to meet Raul Meireles' corner, before pinpointing a header into the net past the near corner of the goal.
It was a textbook goal all young striker hopefuls trying to make it in the game have to do to impress coaches.
His movement, positioning, technique, power and accuracy were all perfect, as he netted a goal only true forwards can score.
And for a player like Torres, who has proven in the past he has the capability to be one of the world's best, to score such a perfect striker's goal having stuck to the textbook will boost his self-confidence tenfold.
When a striker is low on confidence, it's obvious the goals don't come flooding in.
But as soon as he gets that break and scores, the confidence returns, the striker's instincts turn back on and the bloodthirsty hunt for goals intensifies.
The most notable difference between on-form Torres and off-form Torres is the qualities listed above for his second goal against Leicester.
After he scored against Manchester United back in September, the Spaniard scored in the next match against Swansea City, before getting a brace (and man of the match award) against KRC Genk in the UEFA Champions League a few weeks later.
When his confidence arrived after scoring at Old Trafford, in the next few matches, Torres was attacking crosses, striving to get in front of man-markers and hitting shots with power and pinpoint accuracy.
It allowed him to score more goals. But as soon as the goals dried up, those qualities become absent for large parts of his scoring drought.
Off-form Torres waited on the edge of the penalty area for the perfect chance, instead of attacking the ball and/or trying to evade markers inside the box.
Of course, the perfect chance rarely came, and most times Torres did get a sniff on goal, the nervousness and intense thought crept in, as the Spaniard viewed chances more as an opportunity to get everyone off his back rather than a chance to score a goal.
But now he has that burden off his back, on-form Torres will no doubt return again—because after all, it happens with every player at every level of the game. As soon as one ends a bad patch of form, the self-efficacy returns.
And this time, it could start a big goalscoring spree.
Back in September, Torres ruined his form by getting sent off after scoring against Swansea City, which halted his form as he sat out the next three games.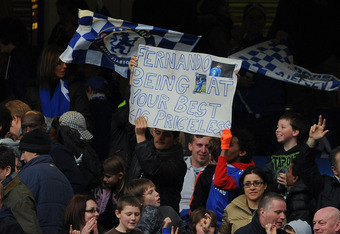 Michael Regan/Getty Images
The Spaniard will undoubtedly do better this time round if he doesn't get sent off anytime soon.
Chelsea's next few games are against Manchester City, Tottenham Hotspur, SL Benfica and Aston Villa.
Instead of being a goalscoring dead-end, such high level opposition gives Fernando Torres exactly the type of platform he needs to build on his recent goals and prove his worth once again.
If he comes through those games with a good run of form, the sky will be the limit for the Spaniard.
And don't rule it out, because it must be remembered that this is a player who didn't cost £50 million for nothing—he proved for eight seasons before his Chelsea transfer that he is a world-class striker.
As the cliché saying goes, form is temporary, class is permanent.
Given that this is a player with undoubted class, who now has the form to match, El Niño—entering the athletic peak of his career—has the potential to recreate his former glory days, and in time start a scoring spree worthy of that £50 million fee.