Brian Vickers Saves His Sprint Cup Career at Bristol
March 19, 2012
Rainier Ehrhardt/Getty Images
The 2011 season seemed to be the perfect storm to end Brian Vickers' competitive NASCAR career.
Coming back to full-time racing after blood clots removed him from his ride for the majority of 2010, Vickers returned to a Team Red Bull squad whose long-term future was in doubt. Red Bull wanted to get out of team ownership, while Vickers had been replaced as lead driver by Kasey Kahne, who was on a one-year layover before joining Hendrick Motorsports.
The results were predictably mediocre. Vickers could only manage seven top-10 finishes all season, to plummet from a Chase for the Sprint Cup driver in 2009 to 25th in points in 2011. Kahne, meanwhile, managed 15 top-10s, stole a win in the season's penultimate race at Phoenix and finished a respectable 14th place in points.
Meanwhile, Vickers' public image took a series of hits. At the start of the season, a controversial (and later dismissed by Vickers as fabricated enough to merit a lawsuit) Maxim article portrayed him as a wild man and a playboy off the track.
On the track, he had a series of run-ins with Matt Kenseth, Jamie McMurray and Tony Stewart over the course of the season.
So when Red Bull folded at the end of the year, it wasn't a shocker that Sprint Cup teams cast Vickers adrift.
The 2003 Busch Series champion wasn't going to take a lower-tier ride for the sake of having one, but it seemed that his name was never in connection with any rides worth anything all offseason. High-profile rides at Penske Racing, Phoenix Racing and Richard Petty Motorsports all came and went without even a whisper of Vickers taking over.
It got so bad that even BK Racing, the new outfit born of Red Bull's ashes, passed him up for a combination of Landon Cassill, Travis Kvapil and David Reutimann.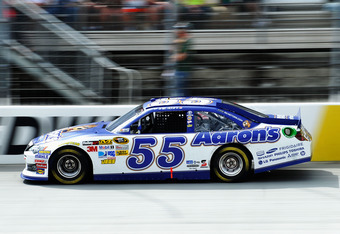 Rainier Ehrhardt/Getty Images
In fact, Vickers didn't have much by way of luck until last week, when he got a call from Michael Waltrip Racing about a six-race slate in its No. 55 car. Last year's Nationwide Series runner-up, Elliott Sadler, had turned down the ride, primarily driven by Mark Martin and Waltrip, at the request of Richard Childress, his Nationwide owner.
In need of another capable driver, Waltrip put in the call to Vickers, hiring him to run both races at Bristol, Martinsville and New Hampshire. Waltrip would later point out the similarities between him calling Vickers this year and Dale Earnhardt calling Waltrip himself in 2001, noting that in both cases the public doubted the driver, but the owner didn't.
Vickers would make Waltrip look like a genius, much as Waltrip did with Earnhardt. He could only manage a 25th place start, but come Sunday, he showed a skillful maturity in his driving that surprised almost everybody at the track.
Working with crew chief Rodney Childers, who actually helped Vickers build his first go-kart, he quickly maneuvered to the front and led three times for 125 laps, including a 99-lap stretch early in the race, on the way to a wildly impressive fifth place finish. It was part of an incredible day for MWR, whose three drivers all posted top fives.
Breaking down the statistics only serves to make Vickers' run more impressive. He spent over 95 percent of the race in the top 15 and scored a 120.4 driver rating in NASCAR's loop data, second only to eventual winner Brad Keselowski's 142.8. After Martin put the No. 55 a respectful 10th in owners' points through the first three races, Vickers actually improved the car to a tie for sixth.
If last year's results weren't enough to get people talking about hiring Vickers, Sunday's masterful performance sure was.
Vickers' next race will be on April 1 at Martinsville, before a three-month layover until the first New Hampshire event of the season. In that time, there's a good chance that something decent will become available, whether Waltrip can find sponsorship to put Vickers in a fourth MWR car or another team fires a driver.
He would certainly be an upgrade for some teams at larger tracks or "cookie-cutter" ovals, which are usually his forte; his seven best average finishes by track come at ovals of 1.5 miles or longer. At Michigan and Fontana, he has a combined 13 top-10s and five poles in 28 starts, with his last win coming at Michigan from the pole in August 2009.
After a trying 2011, Vickers' career prospects appeared to be dead in the water. But sometimes, one race is enough to bring back a driver after being lost at sea. Waltrip threw Vickers a life raft, and he took advantage; given the chance, Vickers will now attempt to work his way back into the Sprint Cup current.