Tampa Bay Rays 2012: Covert Arms Stockpile
March 19, 2012

J. Meric/Getty Images
The Tampa Bay Rays haven't flown under anyone's radar since the improbable run to the World Series in 2008. And with a Wild Card berth last year you would think they'd still be considered a force to be reckoned with.
But with a media circus following Bobby Valentine's every move and the Yankees being… well… the Yankees, it's easy to miss just how good the Tampa Bay Ray's look heading into 2012. And that's just the way they like it.
Lineup
The reason the Rays were able to snag the wild card in 2011 was a result of just about anything other than their line-up (707 runs scored). The anemic offense only produced a .244 team batting average, which was worse than any team in the majors, save for the Seattle Mariners.
The consistency and power this line-up does have is generally channeled through Evan Longoria, but with Longoria posting a dismal average of .244 in 2011, the lineup struggled to keep any consistency through the season. Longoria will have to establish himself as the .300 hitting, 30+ home run belting hitting machine that the fans, front office, and coaches all know he can be.
If Longoria can put it together for 2012 he's still going to need some help, and he may find it in the electric Desmond Jennings. Jennings came on strong in August of last year (.333, 7 HR, 9 SB), and could be looked to for a much needed spark at the top of this line-up.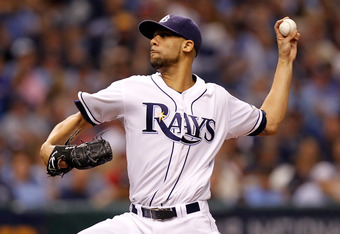 J. Meric/Getty Images
Rotation
The true strength of this team in 2012 is going to be the depth and poise of this young pitching staff, and it starts with ace lefty David Price. With two 200+ inning seasons under his belt David Price will look to cement himself as one of the most reliable lefties, if not overall pitchers, in the majors in 2012.
Behind him will be a cast of veterans and youth that should supply innings, quality starts, and depth to a rotation that may very well be one of the best in the league in 2012.
"Big Game" James Shields locks down the number two spot in the rotation, and with his filthy change-up, provides a solid one-two punch with Price. Beyond that is last year's Rookie of the Year Jeremy Hellickson, and many writer's favorite for Rookie of the Year in 2012, Matt Moore.
With Jeff Niemann (11-7, 4.06 ERA in 2011) and Wade Davis (11-10, 4.45 ERA in 2011) rounding out the cast of possible fifth-starters this has the potential to be one of the best starting rotations in 2012.
They will certainly need the depth in the rotation, as this bullpen looks prone to streaks and getting overworked.
Bullpen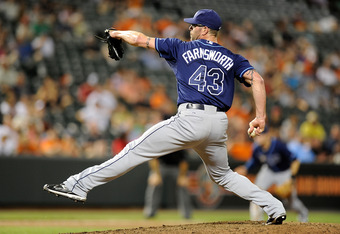 Greg Fiume/Getty Images
Kyle Farnsworth has always had closer velocity, and with career bests in ERA (2.18) and saves (25) in 2011 it would seem he's finally combined that velocity with some consistency. However the history books are littered with flame-out flame-throwers failing to repeat results as a closer from year to year.
Setting up Farnsworth will be Fernando Rodney, but with the emergence of Joel Peralta last season (2.93 ERA, 0.92 WHIP, 8.1 SO/9) don't be surprised to see Peralta get a chance at setting up Farnsworth the moment Rodney (1.69 WHIP in 2011) begins to get himself into trouble.
Another instrumental part of this bullpen will be it's middle relief, and no pitcher's rebound is more important for the Rays than J.P. Howell whom had a rough season in 2011 after returning to action for the first time since 2009. When Howell is on, he has demonstrated the ability to be one of the toughest bullpen lefties in the league (9.9 SO/9, 2.48 ERA, 1.16 WHIP between the '08-'09 seasons).
But in 2011, Howell failed to even show a glimpse of that kind of arm, posting an atrocious 6.16 ERA and an even more unsettling 1.57 WHIP.
Prediction
With Hellickson and Moore slated to get a lot of innings in 2012 it's anyone's guess as to whether their young arms will be able to carry the workload and help this team pitch its way into another playoff berth. In 2008 the Rays had four starters go wire-to-wire with no injuries. I don't see that happening with this 2012 squad.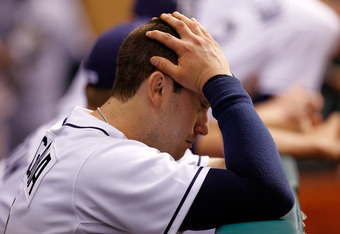 J. Meric/Getty Images
Price and Shields should provide quality starts more often than not, but Hellickson and Moore could be asked to carry too much of the slack beyond the top two spots in the rotation and could expose this already suspect bullpen that can ill afford to be getting into games earlier than the seventh inning.
On top of all of that, residing in a division with two of the most patient lineups in baseball in the Yankees and Red Sox certainly won't help that cause.
Final: 89 – 73 (3rd Place)