North Carolina Basketball: Why They Can't Win It All Without Kendall Marshall
March 19, 2012

Streeter Lecka/Getty Images
Yesterday's romp against eighth-seeded Creighton put North Carolina in the Sweet 16, but it may turn out to be one of the costliest victories in Tar Heel history.
A seemingly mundane collision between Kendall Marshall and Blue Jays forward Ethan Wragge led to an awkward fall for Marshall, and post-game X-rays determined that he'd fractured a bone in his right wrist.
Marshall finished the game with the injury—the break is in his non-shooting wrist—so there is a chance he'll be back on the court before the tournament is done. If he can't come back, though, the Tar Heels' title hopes will be gone along with their floor leader.
North Carolina has already suffered through one season-ending injury in the backcourt, losing defensive stopper Dexter Strickland to a torn ACL in January. The Tar Heels are deep, but winning a national championship with the second-unit backcourt is beyond even their capabilities.
More critically, Strickland's absence has made UNC more dependent than ever on its scintillating offense to win games. John Henson (himself recovering from a wrist sprain, though he hardly looked it against Creighton) is a magnificent defender, but by himself he isn't good enough to make North Carolina a championship-caliber defense.
That means UNC must be able to execute at a high level on the offensive end, and until last night that was never a question for this team.
Losing Marshall and his 9.7 assists per game (the second-best figure in the nation) will make everyone else work harder for scoring opportunities. Over the course of 40 minutes against another top-tier team (say, potential Elite Eight foe Kansas), that extra degree of difficulty will translate into a few lost points on the scoreboard that could turn a narrow win into a heartbreaking loss.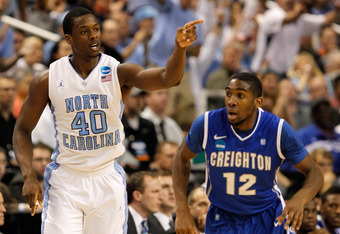 Streeter Lecka/Getty Images
Most damningly, should North Carolina reach the national title game, it's prohibitively likely that their opponent will be the Kentucky Wildcats. Those two teams played one of the season's best games, with Henson's bid for a game-winning shot blocked by UK's Anthony Davis in the final seconds.
The putative rematch would be in neutral New Orleans, not Lexington, and at full strength the Tar Heels would have every chance to avenge their 72-71 defeat. Without Marshall, though, they would be without one of their best weapons while trying to attack the nation's best defense (.370 field-goal percentage allowed).
Harrison Barnes and Tyler Zeller are exceptional offensive players, but even with Marshall setting them up, they had to work to put points on the board against the Wildcats. Without Marshall, the Tar Heels would lose enough of their offensive edge to torpedo any chance of taking down Kentucky.