Ryan Braun Case Is Signal That Issue of PEDs Are Never Going Away
March 19, 2012

Norm Hall/Getty Images
Performance-enhancing drugs have been a problem in sports for years now, and though progress has been made in terms of the testing and prevention of use of PEDs, the issue of doping is one that will never go away.
Over the course of this offseason, Milwaukee Brewers outfielder Ryan Braun has shown us that.
He won the NL MVP award last season, but rather than celebrating, he was in the midst of a huge controversy.
Back in October, he was tested during the postseason and was found to have elevated levels of testosterone, which were caused by performance-enhancing drugs, and MLB suspended him for the first 50 games of the 2012 season. However, a second test showed that his testosterone levels were completely normal.
Last month, Braun challenged MLB and appealed to overturn the suspension. With a 2-to-1 vote by the arbitration panel, Braun became the first to overturn a suspension.
There were questions as to his sample, including that the tester did not send the sample to a laboratory immediately after testing (in accordance with MLB's testing policy) and whether or not the sample in question was properly refrigerated.
As some people call it, he beat the "system." But, in reality, the so-called "system" is flawed. Through a technicality and good lawyering by Braun's attorneys, he was able to win, and now the sport will probably find a way to write a rule preventing this from happening again.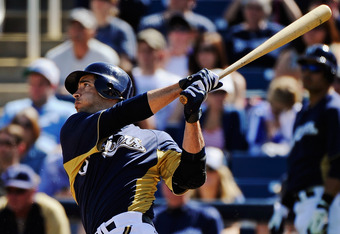 Kevork Djansezian/Getty Images
However, this is merely a patch, and doesn't help in the bigger issue at hand.
Because of this whole controversy, Ryan Braun, clean or not, will be asked throughout the rest of his career whether he was clean or not. Perhaps he has been clean up to this point in his career, perhaps he hasn't. The only person who truly knows is Ryan Braun.
He's the reigning MVP of the National League, the first Brewers to do so since Robin Yount in 1989. He helped the Brewers reach the postseason for the first time in 26 years, and the team's first division pennant since 1982. He's been a key part of this Brewers organizations since reaching the major league level in 2007, and was one of the most-liked players in all of baseball.
Now, from April until October, 162 times a year, fans, even those in Milwaukee, will question whether or not his abilities on the field are a product of PEDs. Every time he steps up to the batter's box or makes his way over to left field on defense, he will have to own up to a tester's mistake, and that just isn't fair to him.
The issue of PEDs is never going to simply go away, and this whole controversy hurts, for both Ryan Braun, and for baseball as a whole.