Los Angeles Lakers: Why Sunday's Loss Should Increase Kobe Bryant's MVP Chances
March 19, 2012

Stephen Dunn/Getty Images
As I was watching the Miami-Philadelphia game this past Friday night, ESPN NBA analyst Doris Burke expressed her simple opinion regarding the league's Most Valuable Player race. When referring to the season that Heat forward LeBron James is having, Burke asked play-by-play commentator Mike Tirico if the MVP vote is "even close."
She was clearly implying, to which Tirico wholeheartedly agreed with, that LeBron was definitely the clear-cut choice for the NBA's MVP.
Now, there is no doubting the spectacular campaign James is currently putting up thus far. The self-proclaimed King is averaging 27.4 points, 8.5 rebounds and 6.6 assists. That is certainly quite a line in today's NBA.
However, if you actually dissect the meaning of "Most Valuable Player," it should not represent the player who has the best stats. 
According to the incomparable Dictionary.com, the word "valuable" is reserved for objects, or in this case individuals, that are "of considerable importance."
Sure, LeBron James is incredibly valuable and considerably important to his team. Is James, however, more important to the Heat than Kobe Bryant is to the Lakers?
And if Bryant is indeed more important to his team this season, doesn't that mean he's more valuable?
Before I go any further, I believe it would not be fair if I didn't tell you where my allegiance lies. If you look at my fancy Bleacher Report profile you will see that the Los Angeles Lakers are in the "Favorite Teams" tab and Kobe Bryant is the first name under my "Favorite Athletes" tab.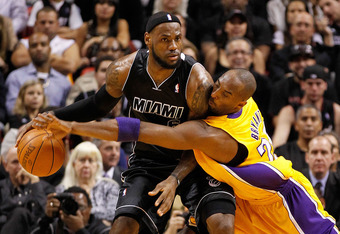 Mike Ehrmann/Getty Images
Now please, do not stop press the back button on your computer because of this. For any article I have written for this site as well as any other publication I was previously featured in, I am always objective. 
So if you are not a Lakers fan, please allow me to get a completely non-biased view out there.
As I was saying, if you want to argue the value of one player over another, there is no doubt Kobe trumps LeBron in that category. 
Look at it this way: What if you took Bryant off the Lakers and James off the Heat? Without their respective stars, would either team be worthy of a postseason spot?
For Miami, I say absolutely. The Heat certainly wouldn't be as good without LeBron. They would, however, make the playoffs if he were not on the squad. Not only is the Eastern Conference relatively thin in terms of top-tier teams, but Miami does have a very solid squad made of the Dwyane Wade-Chris Bosh duo and a number of very good supporting role players in Shane Battier, Mario Chalmers, Udonis Haslem and Mike Miller.
Now if you take Kobe off the Lakers roster, are they a playoff-caliber team? Absolutely not. With the exception of their big-man duo in Andrew Bynum and Pau Gasol, this year's Lakers squad is incredibly shaky.
Would you trust your playoff hopes in the hands of Metta World Peace, Matt Barnes, Steve Blake and Ramon Sessions? 
As great of a combo that Bynum and Gasol is, it's really tough to believe they could carry this roster into the postseason without Bryant.
But enough of this speculation stuff. Speculating, although very intriguing, isn't exactly the most efficient way of analyzing sports.
Instead, here are some cold hard facts and figures to further my point.
Just as the title of my article suggests, the Lakers' loss to Utah on Sunday should increase Kobe's chances of winning the MVP award. It may be a bit unorthodox to build an MVP resume around a loss, but you have to look into it. 
In the loss to the now 23-22 Jazz, Bryant went an ice-cold 3-of-20 from the field. Yikes, right? He finished with a lousy 15 points, 14 off his league-leading average of 29.0 PPG. 
What this loss to a mediocre team proved was that without a good performance from Kobe, the Lakers are as good as doomed.
Los Angeles received two very efficient performances from both Gasol (18 points, 8-of-12 shooting) and Bynum (25 points, 12-of-14). So as good as Bynum and Gasol were, the Lakers still lost due to the lack of productivity of Bryant.
And this is not the first time that this has happened. Allow me to take you back to the Lakers' relatively recent losses to Detroit and Washington.
Here are Bryant's scoring totals and the results of both games:
March 6 vs. Detroit: 22 points on 8-of-26 shooting (Detroit wins 88-85)
March 7 vs. Washington: 30 points on 9-of-31 shooting (Washington wins 106-101)
By no means are his 22- and 30-point performances terrible, but shooting a combined 29.8% from the field is. If Kobe isn't "on," this team cannot thrive.
As for LeBron, the Heat have proved they can come out victorious without his best efforts. Here a some examples of this:
March 18 vs. Orlando: 14 points (4-14), 12 rebounds and seven assists (Miami wins 91-81)
Jan. 24 vs. Cleveland: 18 points (8-21), five rebounds and five assists (Miami wins 92-85)
Jan. 5 vs. Atlanta: DNP (Miami wins 116-109)
I'm not saying this is the be-all, end-all of evidence, but the Heat are certainly not duds when LeBron doesn't play his best. The Lakers with Kobe, on the other hand, pretty much are.
Reciprocally, the Lakers have certainly benefited from Bryant's top performances when playing the league's elite:
Feb. 9 vs. Boston: 27 points (11-24), five rebounds and four assists (Lakers win 88-87)
March 4 vs, Miami: 33 points (14-23), three rebounds and one assist (Lakers win 93-83)
March 11 vs. Boston: 26 points (9-20), three rebounds and seven assists (Lakers win 97-94)
Here, Kobe is scoring and shooting in a very manner efficient and effective manner. When he's on his game with the usual input from Bynum and Gasol, the Lakers look like the best team in basketball.
By writing this article, I am not suggesting Kobe Bryant should definitely be the league's MVP. I am not depriving LeBron of his phenomenal year and I am not making an angry fan rant. Instead, I'm just trying to throw in another point of view. I am trying to confirm that this year's MVP race should be much closer than most believe it to be.
There's no doubt LeBron has probably played the best basketball in the NBA this season. To put it simply, the man is playing out of his mind. Unfortunately for him, that does not automatically justify him as the league's Most Valuable Player.
The honor is not reserved for who has the sexiest stats. It reserved for which player is most important to his respective team.
So I ask you again: If Kobe is indeed more important to the Lakers than LeBron is to the Heat, shouldn't he be the choice for this season's Most Valuable Player?