Oklahoma Sooners Football: Mike Stoops' Defense Is Taking Shape in Spring
March 19, 2012

After three well-publicized thrashings at the hands of Texas Tech, Baylor and Oklahoma State, the Sooners defense finished the season amid piles of criticism.
Fingers were pointed, heads rolled, the savior was introduced and, to the delight of Sooner Nation, things seem to be turning around.
For new defensive coordinator Mike Stoops, it all starts with personnel. Unlike most teams, though, it  isn't so much who is playing as it is where they are playing. Having to move one player to a new position to cover up a poor run of play creates a domino effect, rippling all through the defense and shuffling players here and there.
This domino effect starts at cornerback for the Sooners this spring. Jamell Flemming is off to the NFL and the race is on to replace him. JUCO transfer Kass Everette was expected to start in his stead, but converted wide receiver Joe Powell has been earning the lion's share of the reps. "He's gotten better," Stoops said referring to Everette. "He gets better everyday he's out there. It's just a different level of competition."
If both of those two prove unworthy, however, safety Aaron Colvin would be forced to fill the void, something he did against Texas Tech last season after Flemming got hurt and Gabe Lynn got torched. Colvin started every game at strong safety last year and played exceptionally well, but is currently  recovering from shoulder surgery so his role in the lineup remains to be seen this Spring.
If Colvin plays corner, Javon Harris would be the guy at strong safety. Most Sooners fans will cringe hearing his name while images of wide-open Baylor receivers flash through their minds. But that was with Harris at free safety, where he was more responsible for the deep section of the field. The move to strong safety suits his aggressive style of play, so don't expect the same ole' Harris next season if he gets the start.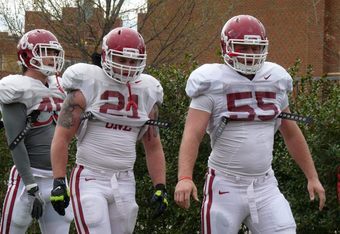 No matter what happens at strong safety or cornerback, it appears Tony Jefferson, the most talented all-around defender on the team, has been moved from his hybrid nickelback position to free safety. Jefferson seems to enjoy the new assignment so far, saying, "It's fun coming down and hitting people on the runs and stuff, and also being back to play the pass. It's just a lot more instinctive, being back there at safety."
Jefferson's move means senior Joe Ibiloye gets the nod at nickelback. Ibiloye has five inches and 20 pounds on Jefferson and is better suited for the position, physically. Sophomore Julian Wilson has also been getting reps at the position.
To end on an optimistic note, Mike Stoops has a lot on his plate, but at least he has the players to right the ship. There are worse problems to have than "where do I play potential all-conference players to best exploit their talents?" I predict a much-improved, focused group next season that will go along quite nicely with what could be the most dangerous offense in football.