NCAA Tournament 2012: 10 Reasons Why It Is the Worst Ever
March 19, 2012

Christian Petersen/Getty Images
This is going to be a bit of a challenge, especially since the headline insinuates that this year's tournament is worse than 2000. The 2000 NCAA Tournament is the Plan 9 From Outer Space of NCAA Tournaments.
The last good game in that tournament was in the Sweet 16, and there weren't tons of great ones leading up to that game. However, even the stinker of 2000 had elements that the tournament of 2012 does not have.
Four days in (I'm not counting the four on TruTV), the 2012 NCAA Tournament has been a pretty big fail on numerous fronts. It may be tough to top 2000, but I will do my best to describe 10 reasons why this has been the most disappointing four days of tournament action ever.
1. Forty-eight games, zero overtimes: This hasn't happened in the last 20 years, and that 1992 tournament had a national champion remaining (Duke), an incredibly fascinating young team becoming stars (Michigan) and an all- time memorable game-winning shot in the second round (Georgia Tech vs. USC).
Overtimes aren't always great, but they do add suspense. And so far, no added suspense has come our way.
2 No Gus Johnson: We wondered what the tournament would be like without Gus, and frankly, it's not the same. I can just imagine him saying "UNC-Asheville is chasing history, ha ha" and get really into it. This year, it's just not there.
I'm not saying Brian Anderson was bad as a replacement, but it's like replacing Sinatra with Harry Connick. The mechanics may be better, but the passion and style is missing. Gus can make me believe any comeback is going to happen. Especially this year, where most of them didn't. Maybe they would have with him.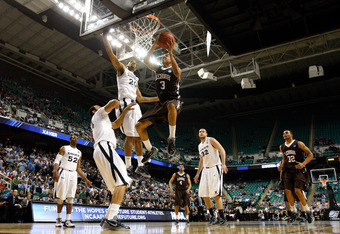 Streeter Lecka/Getty Images
3. Chalk stinks:  Thursday and Saturday were great example of how chalk works, where the seeds expected to win do win. Thursday and Saturday were also great examples of how the tournament does stink when chalk prevails.
There were a few interesting moments those two days (notably Indiana's win). But for the most part, the days felt like teases, where a great moment was ready to happen and then didn't. Some experts clamor for chalk (most notably an ESPN horrible radio blowhard), so let me provide recent examples of how great chalk is in the Sweet 16 and beyond.
Remember all of these great games (there were a few, not many).
2011
No. 4 Kentucky 62, No. 1 Ohio State 60
No. 3 UConn 74, No. 2 San Diego State 67
No. 2 Florida 83, No. 3 BYU 74, OT
2010
No. 2 West Virginia 73, No. 1 Kentucky 66
No. 1 Duke 70, No. 4 Purdue 57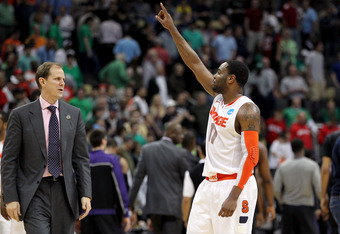 Gregory Shamus/Getty Images
2009 (Proof that the 2009 tournament was one of the worst in recent history)
No. 2 Michigan State 67, No. 3 Kansas 62
No. 2 Michigan State 64, No. 1 Louisville 52
No. 3 Missouri 102, No. 2 Memphis 91
No. 1 Pittsburgh 60, No. 4 Xavier 55
No. 3 Villanova 77, No. 2 Duke 54
No. 1 North Carolina 98, No. 4 Gonzaga 77
No. 2 Oklahoma 84, No. 3 Syracuse 71
No. 1 North Carolina 72, No. 2 Oklahoma 60
2008
No. 2 Texas 82, No. 3 Stanford 62
No. 1 Memphis 85, No. 2 Texas 66
No. 1 North Carolina 68, No. 4 Washington State 47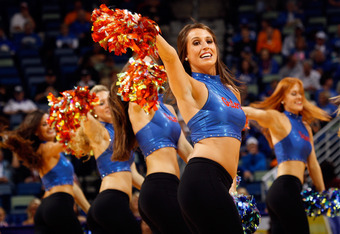 Chris Graythen/Getty Images
No. 3 Louisville 79, No. 2 Tennessee 60
No. 1 Kansas 84, No. 1 North Carolina 66
No. 1 Memphis 78, No. 1 UCLA 63
No. 1 Kansas 75, No. 1 Memphis 68, OT
2007
No. 2 Memphis 65, No. 3 Texas A&M 64
No. 1 Ohio State 92, No. 2 Memphis 76
No. 2 Georgetown 96, No. 1 North Carolina 84, OT
No. 1 Kansas 61, No. 4 Southern Illinois 58
No. 2 UCLA 64, No. 3 Pittsburgh 55
No. 2 UCLA 68, No. 1 Kansas 55
No. 1 Florida 84, No. Ohio St 75
(Out of 27 games listed, a maximum of eight were good games. That's far from a good percentage, and far from chalk making the tournament better. It rarely does.)
4. The officiating: Basketball is not an easy sport to officiate, however, that does not excuse repeated bad calls, which is what has happened over this opening weekend. Several games have been swayed by the officials. The Syracuse-UNC Asheville game was the most-hyped travesty, with a strange lane-violation call and a blatant miss of an out-of-bounds call.
Yet there have been plenty of others. People complained about the officiating in the New Mexico-Louisville game. Florida State got away with a baseline violation while up by two versus St. Bonaventure. Wisconsin mauled a Vanderbilt player to get a rebound while up by two that should have been a foul with shots to potentially tie the game.
This doesn't even account for fouls to put people into the penalty early or on the bench and swing the momentum of the game. Nor does this account for the end of the Xavier-Notre Dame game, which it looked like Vince McMahon was overseeing.
The most amazing fact about the spotty officiating is that it has always taken away value from the fan. There have been no sketchy calls to extend a game, instead calls have been made to end it more quickly. Very strange.
5. Forty eight games, zero buzzer beaters: One Shining Moment should be exciting this year, if a shining moment actually takes place in the next 15 games. Keep in mind: In the 2011 tournament, in the first five games, there were four buzzer-beaters. In 48 games this year, there have been none.
Buzzer-beaters define this tournament, even during the Plan 9 2000 tournament, Seton Hall and Florida had game-winning shots in overtime (that's where the game goes an extra five minutes, I'm just reminding people watching this year's tourney who have never seen overtime).
Teams have had a few shots, most noticeably Alabama, which decided their One Shining Moment would be a timeout instead of a pretty open shot for the win. I can't even recall the last time the tournament has been this deep with no buzzer-beaters. It really is a depressing fact for a college basketball fan.
6. The No. 5 seed teases: The highlight of the tournament so far was probably the Norfolk State and Lehigh wins over Missouri and Duke. They were unique moments that stand out over everything else that has taken place.
The problem is that the No. 15 seeds led us to a world where Florida and Xavier advanced to the Sweet 16. Norfolk State was still hungover, Lehigh put up a decent fight, but in the end the Sweet 16 has two programs very familiar to the Sweet 16 while the upsets are just a flash in the pan. They were excellent moments, leading to Xavier vs. Baylor in Atlanta, ugh.
7. Tournament locations: I know the NCAA tries to spread out the tournament every year and provide fans as many different basketball-friendly cities as possible the opportunity to be part of March Madness. And that is fine, as long as the committee places teams of interest near that city.
Albuquerque and the Pit are a fantastic basketball venue. But the place was a ghost town on Thursday afternoon because Harvard, Wisconsin, Montana and Vanderbilt were playing there. Nashville was a tournament host this year and in 2000, so we know which city to blame for awful tournaments.
Greensboro is a fall back for the committee, but is easily the worst venue the NCAA tournament sees. The fans stink, and only care about North Carolina and Duke (not enough to sell out the venue. I noticed all of the empty seats).
Why would true basketball fans stick around to see a No. 15 seed potentially make the Sweet 16? Greensboro Coliseum is old, it's far from intimate, the fans are terrible, and it's an unfair home-court advantage for North Carolina and Duke (well, maybe not always for Duke). Pittsburgh and Portland are great fanbases. North Carolina is not.
8. The domination of the Big Ten: Through the year, the Big Ten was the nation's best conference. It was deep and its teams played challenging non-conference schedules. Year after year, other conferences are rated higher while it seems the Big Ten isn't given its due.
This year the Big Ten earned four spots in the Sweet 16. Why is this bad? Because Big Ten basketball is mostly a bore. I respect what they do as a conference. But let's face it, the style of play is far from fun. I just fear the Big Ten will get three teams in the Elite Eight like they did in 2000.
Wisconsin and Syracuse as a Sweet 16 game? People may slip into comas watching that. The Big Ten teams deserve their due since this has been the best conference all year. And if there had been overtimes games or buzzer-beaters, I wouldn't even bring up the style issue. But there hasn't been, and the Big Ten has the style stigma which for the most part is true.
(After a night to sleep on it, I would like to take some of #8 back. Michigan State was boring because they played the Snoozer specialists. Ohio State-Gonzaga was incredible compared to most of the other games of the weekend and Indiana had the closest thing to a buzzer beater we have had. The Big 10 Final was also a really interesting game between the Spartans and Buckeyes. Another conference that has four teams remaining can't say the same thing.
The fact that the Big East, after that nightmare of a championship game, have both of those teams remaining, and two others, spotlights the awfulness of this tournament. Louisville scored 59 to win, Marquette and Cincinnati scored 62. The Big 10 wasn't much better, but they were better. At least we can finally settle which conference is better with three games between the two conferences on Thursday. I hope the scoreboard operators can keep up.)
9. Ohio's Domination: Ohio has some very nice aspects, don't get me wrong. This is nothing against a hard- working group of people. This is more a sign that if Ohio is dominating anything in sports, there's a problem.
A quarter of the 16 teams remaining are from the Buckeye state. For a state that has the Cavaliers, Indians, Browns and Bengals to be the sports mecca of the NCAA Tournament is troubling, yet at the same time, good for them.
It's not like the tournament is better when UCLA dominates. It's not like the 2007 NCAA Tournament was fantastic because Florida beat Ohio State. So what if two time zones couldn't care anymore while most parts of Ohio bleeding into Kentucky are all in.
I'm sort of playing both sides on this because I know how this is going to end, with four Ohio teams losing in the next two weeks (one of them has to lose in the next round). Ohio has had enough sports heartbreak, and this year's tournament has been nothing but heartbreak and disappointment.
10. Sports karma is dying: Normally. a team in which one of its former assistants is going through a creepy sexual allegation, former players are accused of drug use and the program is in deep trouble because of not meeting academic standards, is not rewarded with a Sweet 16 appearance.
Normally, two schools that stain the NCAA with a childish beat-down of each other to try to prove who's manly enough and who is the best in the city, are not rewarded with Sweet 16 appearances.
Then again, sports karma and the NCAA tournament most likely parted ways with UConn winning the title last year. That Syracuse, Xavier and Cincinnati are in the Sweet 16 shows that the sports gods are asleep and that the NCAA could care less about justice until after the fact, if at all.
The brawl between Cincinnati and Xavier, the low point of the season, has been rewarded with both teams making the Sweet 16. I hope Cincy and Xavier players learned their lesson.
Syracuse has a shot at a national title, which may be stripped because of ineligible players. VCU and Butler were feel-good stories last year. We actually have feel-bad stories this year. Thank you, 2012 NCAA Tournament.
There are 15 games remaining to help define this tournament's place in history. Maybe an overtime game will take place, maybe even a buzzer-beater.
One thing I am sure of, this tournament will never be in the discussion for best tournament ever. We do have 15 games to see if it does become the worst.