Dee Gordon: Why Los Angeles Dodgers Shortstop Will Have Breakout Year
March 19, 2012

Rob Tringali/Getty Images
The Los Angeles Dodgers will be keeping a close watch on shortstop Dee Gordon in his first full season as a major leaguer, and fans can expect a breakout year from the 23-year-old in 2012.
Gordon won't wow anyone with his power at the plate or with his arm from shortstop, but his speed alone will be the reason for his success next season. Once Gordon reaches base, it's almost impossible to stop him from scoring. That's some good news for the Dodgers, considering they ranked near the bottom in runs last season with 644.
When longtime Dodger Rafael Furcal was traded to the St. Louis Cardinals last season, it was apparent Gordon would get his long-awaited opportunity to fill the void at shortstop, but who knew he'd play well enough to win a starting job the very next season.
After Furcal's departure from LA, Gordon played in 56 games for the Dodgers and managed a .304 batting average with 11 RBIs. What was more impressive was Gordon's ability to get on base and make it count. Gordon's 24 stolen bases were tied for the most among rookies last season, and his 34 runs ranked seventh among the team—a strong showing for a player with little experience and only 56 games.
Leading up to his call-up, Gordon was a decorated minor league prospect with a plethora of awards and honors, including the team's minor league player of the year award in 2009. His performance in the minors really solidified him as a future star in the making. In his best season, Gordon stole 73 bases and hit for a .301 average, 35 RBIs and three home runs.
It's obvious Gordon flourished in the minors, but playing at the major league level will be a whole different challenge. Here's what you should know about him going into 2012.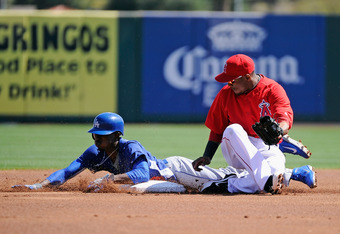 Kevork Djansezian/Getty Images
First, Gordon will be taking over a position on defense that Furcal was truly one of the best at, and batters will test his arm strength and accuracy often. Gordon has the speed to get to the ball quickly but, like any young shortstop, making that throw to first is something that gets better with experience. At best, all we can hope for is that Gordon makes the play in the infield and knows when to attempt the throw and when to hold off.
Second, don't expect Gordon to be a front-runner for a batting title anytime soon. He'll get a good chunk of RBIs here and there, but home runs will be a rare occurrence. What will really be important is that he gets on base, especially if the Dodgers use him as a leadoff hitter.
Finally, Gordon will do most of his damage on the basepaths. Speed is the name of the game for Gordon, and utilizing that speed will be the strong point in his game at the major league level. Whether he's bunting, stealing bases or scoring runs, Gordon's contributions will be a valued part of the Dodgers' offense.
So far this spring, Gordon is hitting .250 and has five stolen bases. This isn't his first rodeo in spring training either. Gordon has been invited to spring training twice already, and his numbers have improved since his first invite in 2010, which means he's starting to feel more and more comfortable in the majors.
The Dodgers are going to need all the help they can get in 2012. Matt Kemp can't be the only source of offense for this team, and Gordon could blossom in a lineup with little star power. Overall hitting and fielding are skills where Gordon can improve in the majors with time. If he can pair that with his base running, he could develop into another complete package player like Kemp. I won't go so far as to say Gordon will be the next Ricky Henderson, but he certainly plays in that same fashion.
2012 will be somewhat of a rebuilding year for the Dodgers as they recover from ownership and bankruptcy issues, but this roster does have it's bright spots and Gordon is among them. Assuming Gordon gets a full season of playing time with the Dodgers, I think it's safe to say he'll have career numbers and that should translate into a breakout year.