Are New Jersey Nets Still Ultimate Destination for Dwight Howard?
March 19, 2012
Sam Greenwood/Getty Images
The speculation of Dwight Howard coming to the New Jersey/Brooklyn Nets is not over. When Howard decided to opt into his final year of his contract to stay with the Orlando Magic next season, all he did was delay an ultimate decision.
At the press conference, when asked about his future in Orlando, Howard replied, ''This is where I am today.''
While it doesn't make financial sense to sign an extension right now, since he would only get an extra two years worth of salary that would pay him $63 million through the 2014-15 season, Howard can agree to a long-term extension in July, that will make him $86.9 million to the 2015-16 season.
If Howard agrees to a long-term extension in July, speculation will end. If he does not, the NBA world, the Brooklyn Nets, the Orlando Magic and all other potential suitors could be going through the same thing that just took place before this season's trade deadline again.
If Howard does not sign in July, the Brooklyn, not the New Jersey, Nets will be the ones courting him this time. He would not have to deal with playing in New Jersey in a half-empty arena halfheartedly cheering on a team that had one foot out the door.
Howard would also not have to go to a team with hardly any shot at making the playoffs, heading to the lottery.
He would rather instead be joining a team with, hopefully, Deron Williams, having a record of 0-0. Howard would also be a part of something special, as he would be the face of Brooklyn's first professional sports team since the Dodgers left in 1957.
By Howard not firing his agent Dan Fegan, who was supposed to be a major influence on getting him to Brooklyn, the door still remains open.
After this season's Orlando's playoff run, Howard will not be around his team every day, he would not have to look at their faces every day. He will also not have reporters asking him questions about his future with the Magic. He would not be feeling all of the guilt.
Instead, he will have Fegan in his ear talking up Brooklyn and all of the financial advantages it can bring. He may also have Williams recruiting him.
By staying in Orlando and opting in for another season with the Magic, Howard did two things.
He did not walk away from a team with a winning record and a chance to compete for a championship, and he also extended the trade deadline for Orlando.
Now, if Orlando's playoff run ends early without a Finals appearance, Howard has given the Magic a chance to get something back for him rather than him just leaving in free agency this summer, should he change his mind yet again.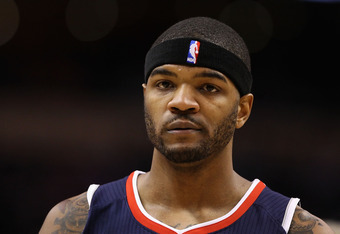 Christian Petersen/Getty Images
By trading for Gerald Wallace, the Nets have sweetened the deal. Not only could Wallace be a part of a deal to acquire Howard, but so would a healthy Brook Lopez and a more experienced MarShon Brooks.
Wallace was reportedly part of the deal that would have sent Howard to the Nets that Magic general manager Otis Smith agreed to before the start of the season.
One asset the Nets lost in the Wallace trade is a top first-round pick, that is unless they are blessed by the lottery gods and it winds up in the top three.
The Nets also gained an asset in last year's second-round pick Bojan Bogdanovic who has been playing overseas in the Turkish league with Fenerbahce. He has been averaging 20.2 points per game since January and averaging 23.3 points per game this month.  
The Nets will have to go hard after Howard in a draft day trade or in any type of trade before next season's deadline. This is because, after next season the Orlando Magic will have $15 million to spend on free agents.
As it so happens, Josh Smith will be part of the free-agent market in 2013. Smith and Howard played together before on the Atlanta Celtics AAU team. Signing Smith could provide Howard with the other star that would convince him to stay in Orlando long-term.