NCAA Tournament 2012: 4 Things Duke Must Address After Early Exit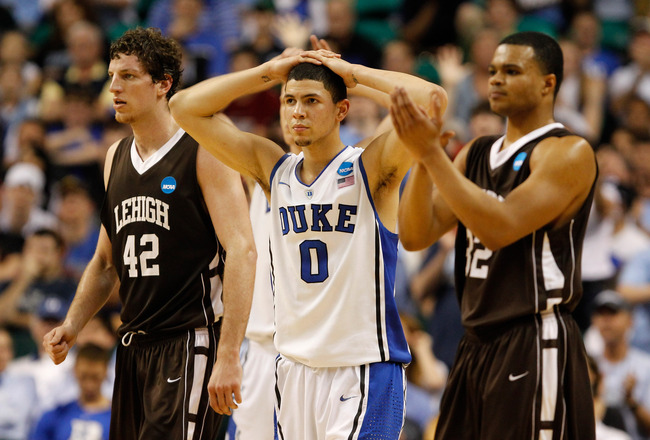 Streeter Lecka/Getty Images
Duke had the talent and the coach but in the end Lehigh got the 75-70 win.
Losing in the second round of the NCAA Tournament is bad enough, but it's even worse when you lose to a team from the Patriot League.
The Mountain Hawks were a good team this year, don't get me wrong. They compiled a 27-8 record and were led by C.J. McCollum, who averaged 22 points per game this season. They played the right game to beat Duke. They controlled the pace and had few wasted possessions. They knocked off arguably one of the best programs in the nation and do deserve all the recognition and praise that they are getting.
Duke, on the other hand, now has seven months to figure out how to improve upon this last season. It will have to deal with players leaving and new players coming in.
Coach Mike Krzyzewski and company have a few thing they must address following their early exit from the NCAA Tournament.
Players Leaving
Is this the last time Austin Rivers will don a Blue Devil uniform?
Streeter Lecka/Getty Images
Miles Plumlee is the only senior for the Blue Devils this year. However, Austin Rivers and Mason Plumlee are good enough to enter the draft in the coming months.
Coming out of high school, Rivers was touted as a one-and-done this season. He has the ability to make it big in the NBA. This season, however, he has shown he can be inconsistent and still has to work on a few things like his left hand.
Mason Plumlee is a junior this season and has been the Blue Devils' best big man the entire year. One NBA draft website has Mason going in the first round. He is tall and athletic enough to develop into a producing big man in the next level.
If Rivers and Mason Plumlee are going to leave Duke along with Miles Plumlee, Coach K must account for 34 points of scoring and 17 rebounds per night and the experience that these player brought.
Point Guard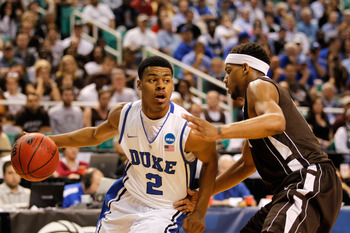 Mike Ehrmann/Getty Images
Duke never had a true point guard this season.
What Coach K did was use combo guards. He had shooters on the floor in Rivers, Seth Curry, Andre Dawkins and Tyler Thornton, who are primarily shooting guards but also rotated the point guard position, similar to what Coach K asked of Nolan Smith.
Coach K is going to have to use this offseason to not only coach Team USA in the Olympics but also decide if Quinn Cook or another player is going to run his offense full time next season.
Perimeter Defense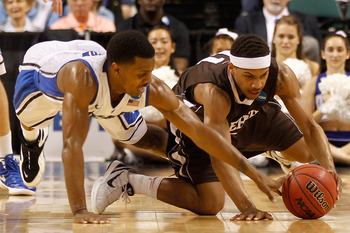 Mike Ehrmann/Getty Images
Duke is known for it high scores and three-point shooters. However, it was not their lack of offense that cost this year's Duke team its chance for a title—it was their shaky defense.
As evident against Lehigh and North Carolina, the Duke guards could not contain the speed and quickness of opposing guards like McCollum and Harrison Barnes. Thornton is normally called upon to be the perimeter guard against the opposite team's best guard but was embarrassed for 30 points and six assists by McCollum.
Duke needs to figure out its perimeter defense or find someone with enough quickness to prevent the long drives from the three-point line.
A True Leader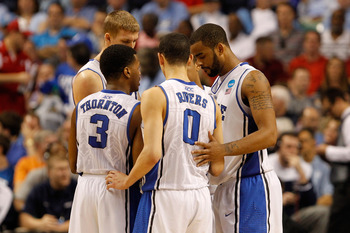 Streeter Lecka/Getty Images
Throughout the season, Duke never had a true leader on the court.
Rivers was expected to become this person, but he was only a freshman and lacked experience. He did have his moments when he took over games, but he was never consistent about it.
Mason Plumlee was another person who had opportunities to lead the team but never really stepped up. Same goes for his brother Miles.
Seth Curry, like Rivers, had his chances but never capitalized on them.
Duke needs to have that one person who can be relied upon to get that important basket or defensive stop. If he stays, Rivers could be that person next year, but until he decides, Duke is leaderless.
Keep Reading

Duke Basketball: Like this team?