2012 NFL Mock Draft: Pros and Cons of Every First-Round Pick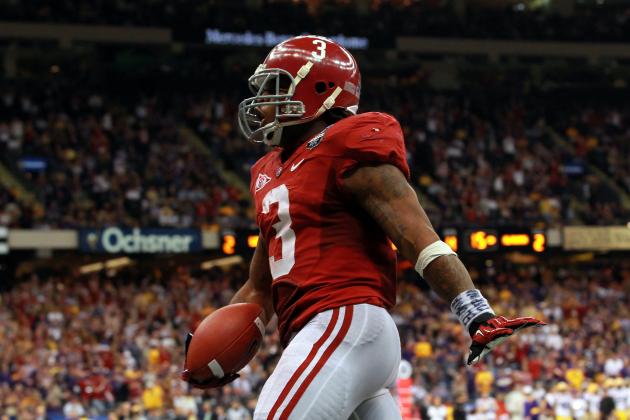 Ronald Martinez/Getty Images

The heavy hitting of free agency is over, and the 2012 NFL draft picture is beginning to become more clear.
We finally have an accurate idea of team needs, and mock drafts just got a whole lot easier. Sure, there is still a lot of room for error, but with every day, mocks become more accurate.
So who will your team draft? There's only one way to find out.
No, it's not by waiting 'til April 26.
Begin Slideshow

»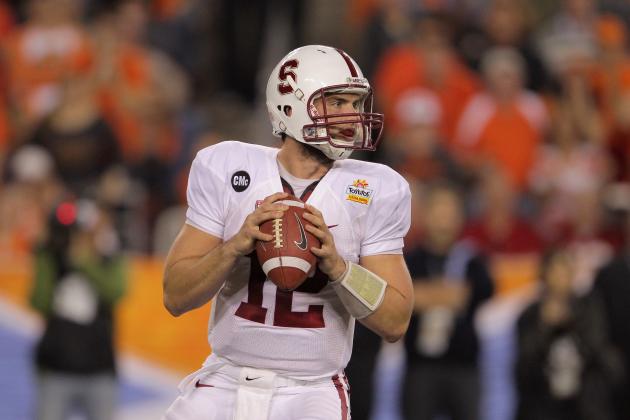 Doug Pensinger/Getty Images

Peyton Manning is officially gone, and the Colts have no choice but to take Andrew Luck. Absolute no-brainer of a pick.
Pros
Luck is incredibly intelligent with great size and athleticism. His accuracy isn't elite, but it is excellent nonetheless.
Cons
Luck doesn't step into his throws well enough, and his deep ball isn't great. When he steps into his throws, Luck's arm is good, but he needs to do so more often.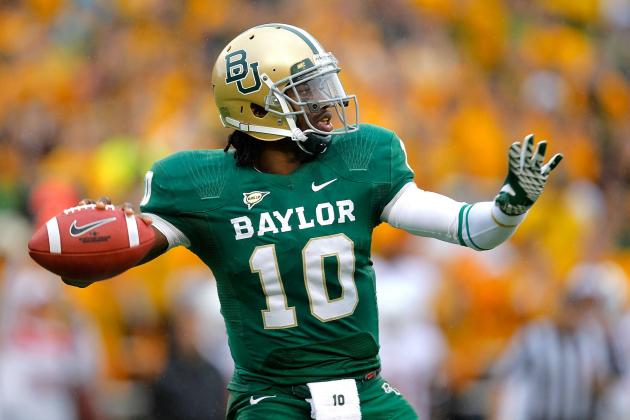 Sarah Glenn/Getty Images

After trading up to No. 2, the Redskins are all set to take Robert Griffin. Rex Grossman and John Beck didn't get the job done, so Washington finally adds its franchise quarterback.
Pros
Above all else, Griffin is a terrific athlete. He can run as well as any quarterback, and he throws a terrific deep ball as well. Griffin's accuracy is nothing to scoff at, either.
Cons
Though he is a pass-first quarterback, Griffin's pocket presence is shaky. He is uncomfortable under pressure. The Baylor quarterback has also had some injury problems.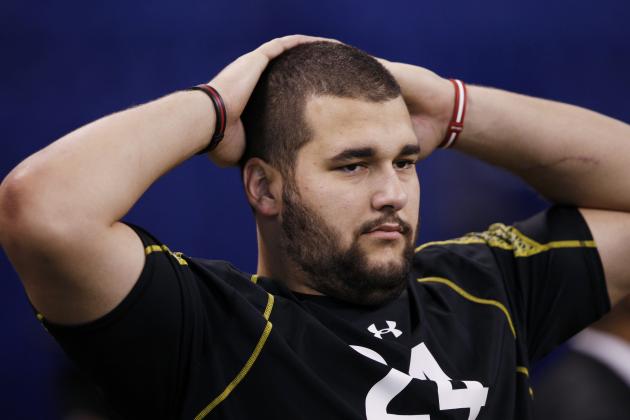 Joe Robbins/Getty Images

Minnesota actually downgraded at left tackle, going from Bryant McKinnie to Charlie Johnson. The team has needed offensive-line help for years, and it hasn't changed.
Pros
Kalil is 6'7" with terrific length and athleticism. Few offensive linemen are more adept in pass protection, and Kalil can hang with the most explosive of pass rushers.
Cons
Kalil isn't overly powerful, and he can be bull-rushed. The USC product doesn't exactly dominate at the point of attack, either, and he isn't a great run blocker by any means.
Ronald Martinez/Getty Images

The Browns needed running-back help before losing Peyton Hillis, and the position has gotten weaker since free agency started. Cleveland desperately needs an offensive playmaker, and Trent Richardson is exactly that.
Pros
Richardson is as powerful of a runner as there is in football, and he has breakaway speed as well. The Alabama star can catch out of the backfield, and unlike most college backs, he can block, too.
Cons
Richardson had knee surgery earlier this year.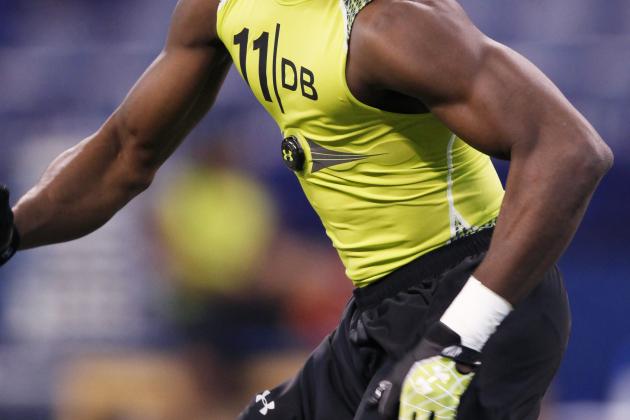 Joe Robbins/Getty Images

Ronde Barber is nearing the end of his career, and Eric Wright is not enough to fix Tampa Bay's cornerback situation. Fortunately, Morris Claiborne is a cornerback worthy of a top-five selection.
Pros
Claiborne is a terrific athlete with elite ball skills. Few cornerbacks are better in man coverage, and Claiborne can hang with the fastest and quickest of wide receivers.
Cons
Claiborne's press coverage is inconsistent, and he needs to improve as a tackler.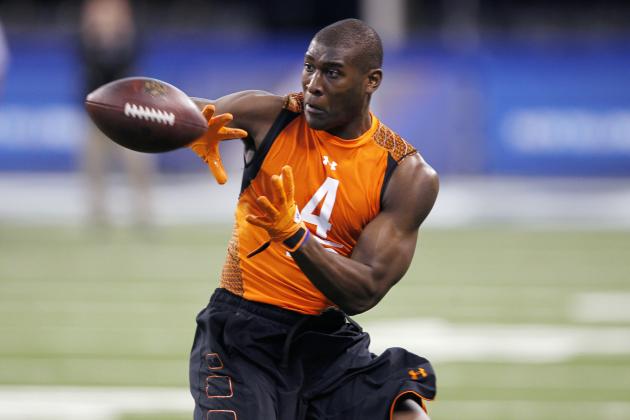 Joe Robbins/Getty Images

The Rams failed to sign a notable wide receiver in free agency, and they will look to address the position early in the draft. Justin Blackmon may not be A.J. Green, but he is probably the best option available.
Pros
Blackmon is a physical player with elite yards-after-catch ability. Few receivers are better with the ball in their hands, and Blackmon is a perfect fit in a West Coast offense.
Cons
Blackmon weighs in at just 6'1", and he isn't an explosive athlete. Because of this, Blackmon isn't much of a deep threat, and he is somewhat limited.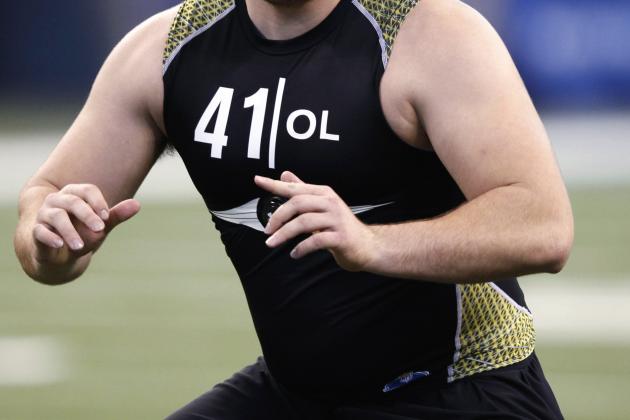 Joe Robbins/Getty Images

It's almost impossible to tell what the Jaguars will do on draft day, but their offensive-tackle situation is far from perfect. Riley Reiff is a safe pick in the top 10, and he should help Jacksonville from day one.
Pros
A former tight end, Reiff is a solid athlete with good footwork. He is capable of playing in space, and at 6'6", 313 pounds, he has good size, too.
Cons
Reiff isn't a great run blocker, and he is often overpowered. The Iowa tackle needs to improve his technique and add strength in order to improve. His short arms are also a concern.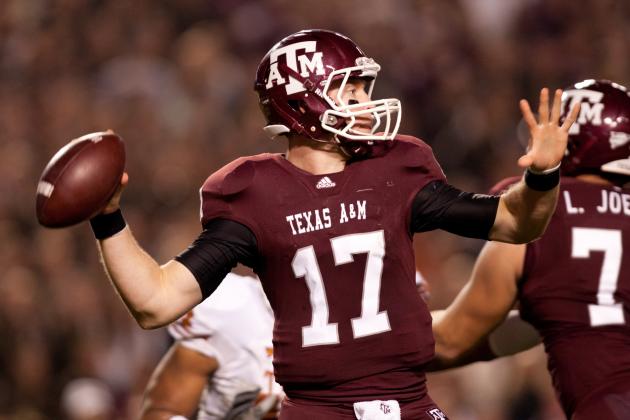 Darren Carroll/Getty Images

The Dolphins missed out on Peyton Manning and Matt Flynn, so now they need to add a quarterback through the draft. Ryan Tannehill is going to be drafted in this general range, even if some don't agree with the placement.
Pros
A former wide receiver, Tannehill is an outstanding athlete. He also possesses an excellent arm, and his accuracy is above-average.
Cons
Tannehill's decision-making needs to improve, and he needs to get faster in getting rid of the ball. Tannehill's lack of experience is a concern, and he needs to sit on the bench before starting.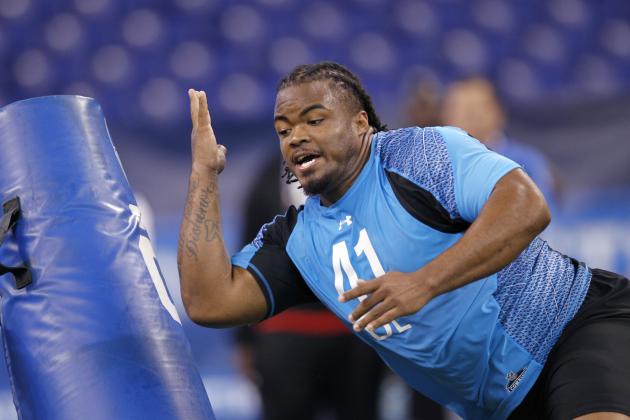 Joe Robbins/Getty Images

Carolina has two solid defensive ends, but the team's tackles are simply awful. They desperately need to add an interior presence, and Dontari Poe can be elite.
Pros
Men with Poe's size—6'4", 346 pounds—shouldn't move like he does. The big man dominated the Scouting Combine, and he has the potential to take the NFL by force.
Cons
Poe really didn't play up to his ability at Memphis. He didn't make as many plays as he should have, and he was occasionally a complete non-factor.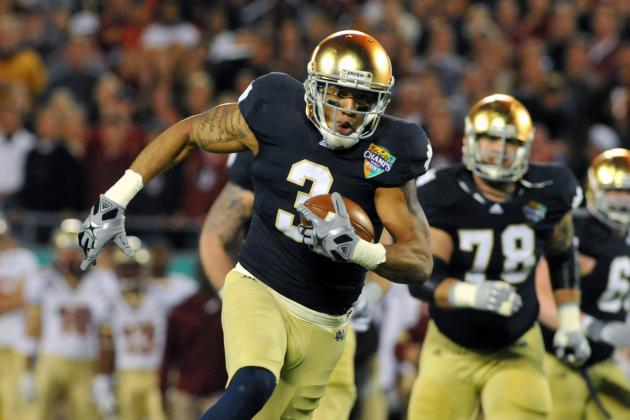 Al Messerschmidt/Getty Images

Buffalo isn't looking for a defensive end after signing Mario Williams, and the team needs to add a wide receiver opposite Stevie Johnson.
Pros
At 6'3", 220 pounds, Michael Floyd is a big presence with incredible body control and catching ability. There is virtually nothing Floyd can't do at least adequately on the football field.
Cons
Floyd has had some off-the-field problems, and injuries have also hindered him. Despite his 4.41 40-yard-dash time, Floyd isn't an elite deep threat, and he is better at working on intermediate routes.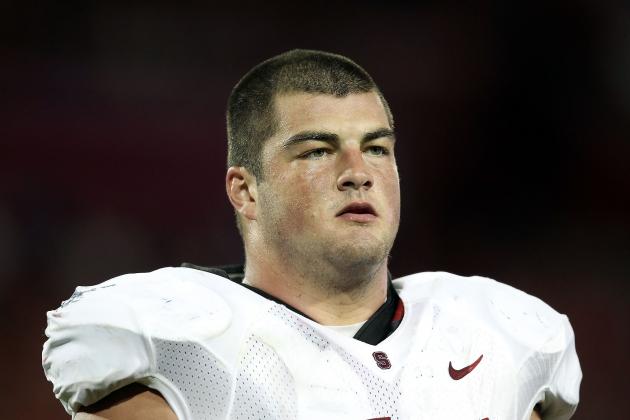 Christian Petersen/Getty Images

Kansas City solidified the right tackle position by adding Eric Winston, but left guard remains a concern. David DeCastro is worth the pick here, though, and he is the best interior line prospect to come along in a long time.
Pros
DeCastro weighs in at 6'5", 316 pounds and is an incredible athlete. Few guards are better in the open field, and DeCastro is as good of a pulling guard as there is in football.
Cons
Though he is big, DeCastro isn't overpowering at the point of attack. He isn't bad by any means, but he isn't elite, either.
Steve Dykes/Getty Images

The Seahawks settled the quarterback position by signing Matt Flynn, and they also added Jason Jones along the defensive line. The team does still need a pass rusher, though, and Nick Perry is a potential star.
Pros
The 6'3", 271-pound Perry has terrific size, and few defensive ends are better athletes. Perry ran a 4.50 40-yard dash while also putting up 35 reps of 225 pounds.
Cons
Perry isn't overly fluid off the edge, and he doesn't always look like a natural pass rusher. The USC defensive end needs to prove that he can get after the quarterback and isn't just a physical specimen.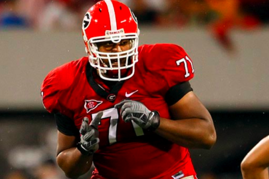 The Cardinals have had one of the NFL's worst offensive lines for years, and it's time the team devoted some draft picks to the unit. Cordy Glenn isn't ideal, but he is the best option available.
Pros
Glenn is a massive run-blocker with some athleticism. The 6'6", 345-pounder is incredibly powerful, and he can play in space, too.
Cons
Glenn isn't overly quick-footed, and he is, at best, limited to right tackle. The Georgia product will never be a great pass blocker, and only his run-blocking ability will make him a valuable player.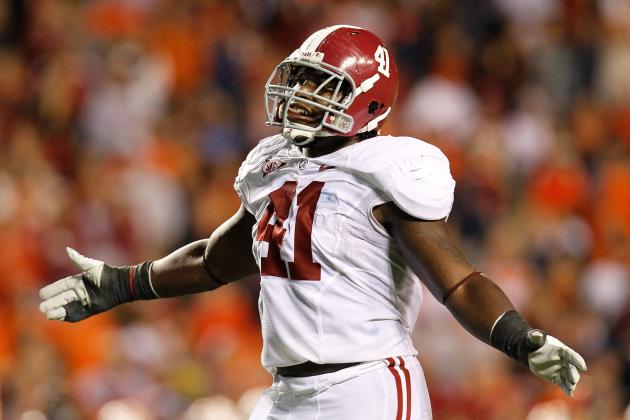 Kevin C. Cox/Getty Images

Dallas still has DeMarcus Ware, but Anthony Spencer is on a one-year contract, and a deal does not appear to be imminent. The Cowboys addressed cornerback by adding Brandon Carr, so they will probably focus on a pass rusher here.
Pros
Courtney Upshaw is a powerful player who excels against the run. He has experience dropping back in coverage at Alabama, and he won't have to transition like most 3-4 outside linebackers.
Cons
Upshaw isn't a dynamic pass-rusher by any means, largely because he lacks elite explosiveness. The Alabama linebacker will probably never be a focal point of any defense, and at best, projects as a solid player.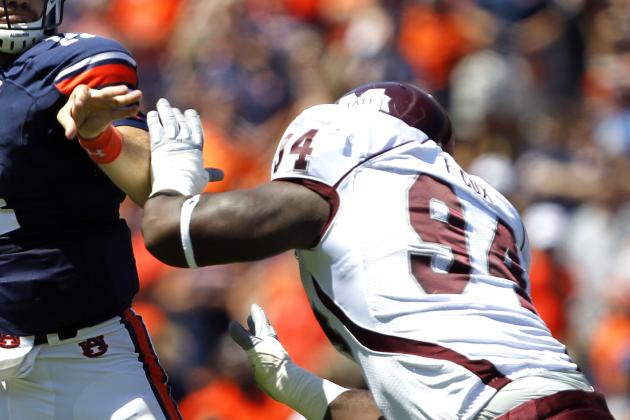 Butch Dill/Getty Images

The Eagles need to dramatically improve their front seven, and though they could use a linebacker, that doesn't seem likely. Cullen Jenkins is a star, but the other defensive tackle position is up for grabs.
Pros
Fletcher Cox is an incredibly explosive defensive tackle with elite penetration ability. Few defensive tackles make as many plays in the backfield.
Cons
Cox needs to refine his technique instead of just relying on his athleticism and power. The Mississippi State star can also be too aggressive at times, penetrating instead of maintaining gap integrity.
Streeter Lecka/Getty Images

New York has a terrific defense, but it's pass rush is holding the unit back. Melvin Ingram is an outstanding fit in Rex Ryan's 3-4 scheme, and he could make an immediate impact.
Pros
Ingram has played defensive end, defensive tackle and outside linebacker, proving his versatility. The South Carolina product is a powerful player capable of rushing the passer from a number of spots.
Cons
Ingram isn't exactly a great threat off the edge, and he will have to provide value in other ways. His ability to drop back in coverage is somewhat questionable, too, and he will never be great there.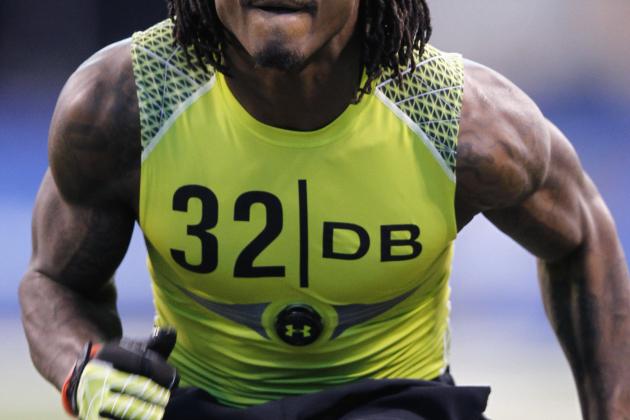 Joe Robbins/Getty Images

Cincinnati lost Jonathan Joseph in free agency a year ago, and Leon Hall is coming off a torn Achilles tendon. The team's other cornerback position is weak, and Dre Kirkpatrick would contribute immediately.
Pros
Kirkpatrick is a terrific athlete with experience in press coverage. Few cornerbacks provide more upside, and Kirkpatrick is probably a top-10 talent.
Cons
A few minor character issues have surfaced, and Kirkpatrick has dropped a bit as a result. Kirkpatrick also has little experience in zone coverage, and he will need to refine his technique there.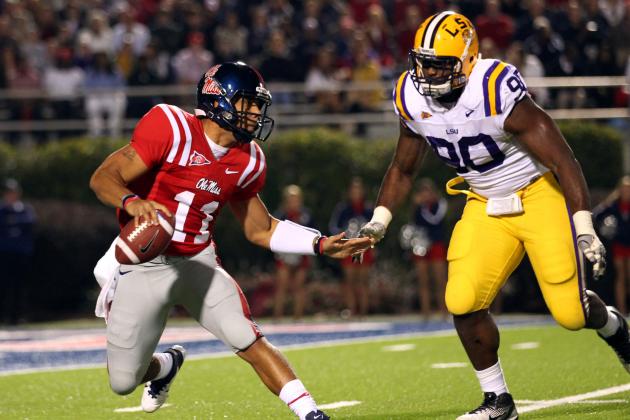 Joe Murphy/Getty Images

San Diego cut Luis Castillo after several disappointing seasons, and the team's defense is in the midst of a makeover. Michael Brockers is not only a terrific value here but also a perfect fit for the Chargers.
Pros
The 6'5", 322-pounder has 35" arms and is a great athlete. Brockers is a perfect fit as a 5-tech in a 3-4 scheme, and he could be an elite player in just a few years.
Cons
Brockers has only one season of high-level play to fall back on, and he is a risky prospect. Though he is a good athlete, Brockers doesn't possess elite explosiveness, and he isn't much of a penetrator.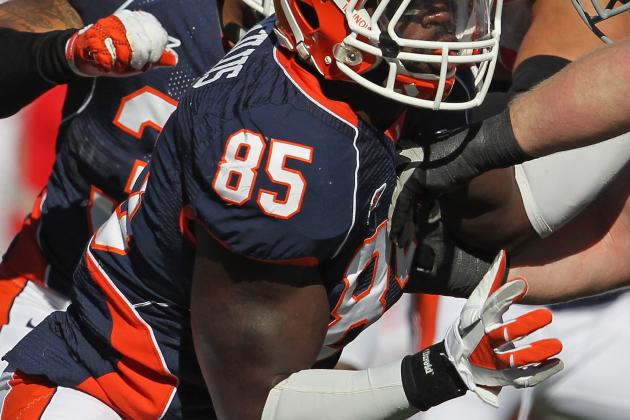 Jonathan Daniel/Getty Images

Even after re-signing Israel Idonije, the Bears are looking to add a defensive end. Julius Peppers obviously has one side locked down, but the team is trying to find Idonije's future replacement.
Pros
At Illinois, Whitney Mercilus was incredibly productive, racking up 16 sacks in 2011. Mercilus has a great motor, and he is fairly explosive as well.
Cons
Despite his great production, Mercilus never showed much in the way of pass-rush moves. He also struggled some against the run, and he needs to add strength.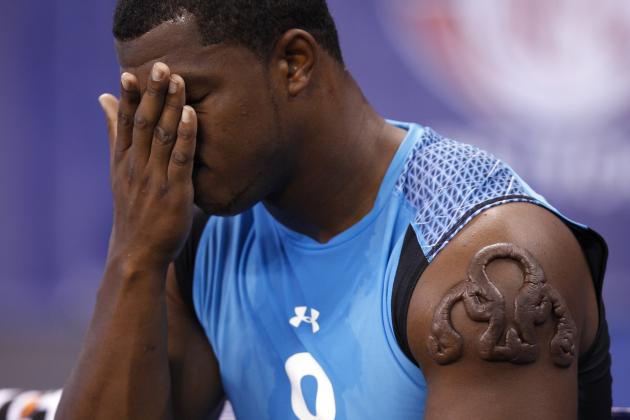 Joe Robbins/Getty Images

Tennessee had one of the NFL's worst pass rushes in 2011, and the team's biggest need is at defensive end, especially after losing Jason Jones. The Titans could still use interior-line help, but that isn't much of an option here.
Pros
Quinton Coples has terrific size at 6'6", 284 pounds, and he is also a great athlete. Coples is already solid against the run, and he has the potential to improve as a pass rusher.
Cons
Coples didn't play up to his ability in 2011, and he struggled some as a pass rusher. The North Carolina defensive end really isn't that explosive, and he may be restricted to playing left end.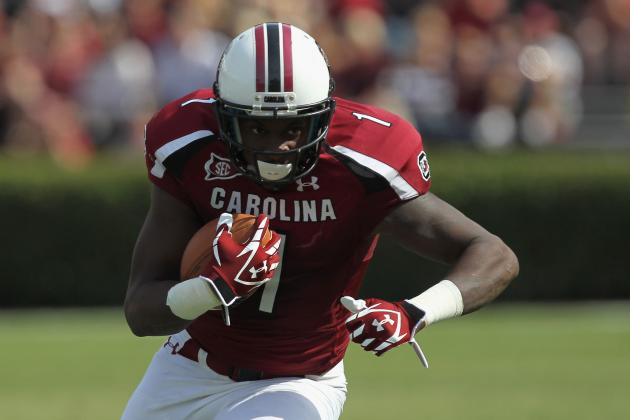 Streeter Lecka/Getty Images

The Bengals already added a defensive back, and now they look to improve their developing offense. Jerome Simpson's future is up in the air, and Cincinnati could use another weapon for Andy Dalton.
Pros
Alshon Jeffery is perhaps the draft's most talented wideout, and he has incredible catching ability. No wide receiver in the draft is smoother, and Jeffery could become an elite target.
Cons
Jeffery was overweight in 2011, and he struggled to separate from defensive backs. His work ethic is a concern, and Jeffery is one of the more bust-likely players in the 2012 draft.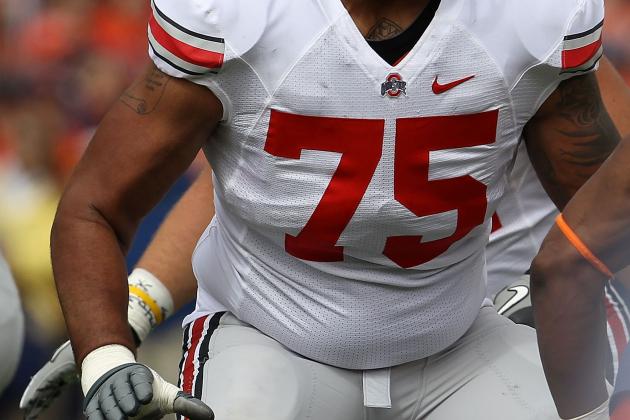 Jonathan Daniel/Getty Images

Before the Browns cut Tony Pashos, right tackle was a position of need. Now it is more so, and Cleveland can't afford to ignore the position. With the addition of a solid right tackle, Cleveland's offensive line could be elite.
Pros
The 6'7", 323-pound Mike Adams is as athletic of an offensive tackle as there is in the draft. Adams is capable of playing left tackle, but he is also powerful enough to play on the right side. Only one offensive tackle in the draft has more upside.
Cons
Adams underachieved at Ohio State, and he often looked lazy. Though he is a great athlete, Adams sometimes struggles with quick defensive ends, and he needs to improve his footwork.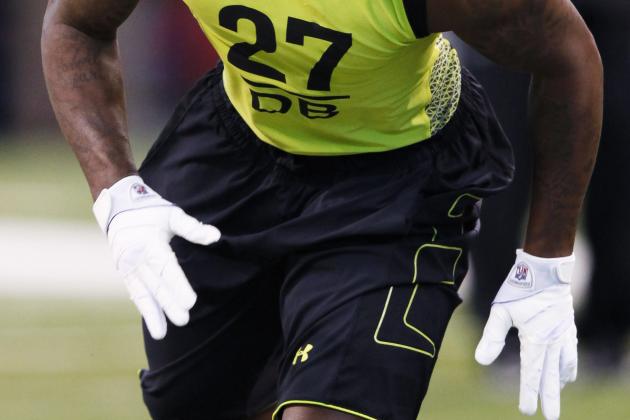 Joe Robbins/Getty Images

Detroit lost Eric Wright in free agency, and cornerback was already a position of great need. Janoris Jenkins is talented enough to be drafted much earlier than this, and the Lions need to add a cornerback earlier rather than later.
Pros
Jenkins is a terrific athlete capable of playing in any type of coverage. The former Gator possesses excellent ball skills, and he is well-known for jumping routes.
Cons
Jenkins was kicked off Florida's team after multiple off-the-field issues, and he is a major character risk in the first round. The North Alabama star is sometimes too aggressive, and, as a result, he can be toasted in coverage.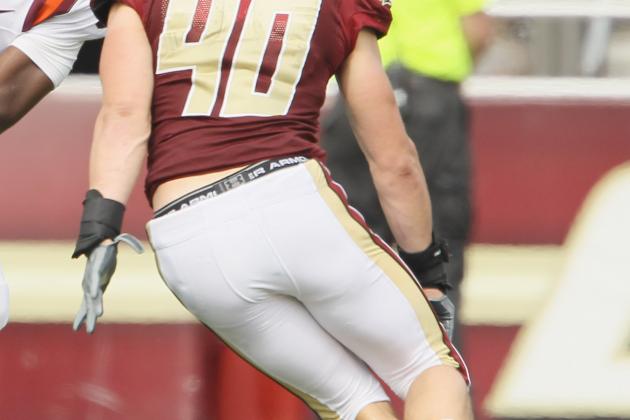 Elsa/Getty Images

Pittsburgh already released longtime Steeler James Farrior, and they are in the process of adding youth to their defense. The Steelers have already added defensive linemen in recent drafts, but now they need a linebacker.
Pros
Luke Kuechly is the most instinctive linebacker to enter the draft in years. He racked up insane tackle numbers at Boston College, and Kuechly was the leader of the team's defense.
Cons
Kuechly lacks a killer instinct and will probably never be an elite player. He isn't great at shredding blocks either, so he could use a big defensive line in front of him.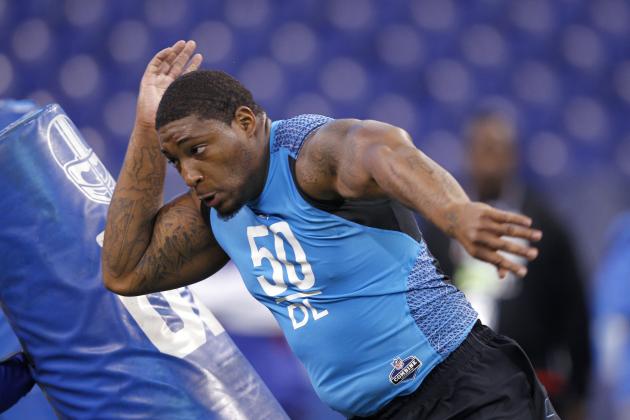 Joe Robbins/Getty Images

Denver is in danger of losing Brodrick Bunkley, and if they don't, they should still draft a defensive tackle in the first couple rounds. Devon Still is capable of playing in any scheme, and he could become a great player in the middle of a young Bronco offense.
Pros
Still is a powerful player who is at his best when making plays in the backfield. The Penn State star weighs in at 6'5", 305 pounds and has the frame to either gain or lose weight.
Cons
A highly-prized recruit, Still underachieved prior to his senior season. He was still inconsistent in 2011, though, and he needs to improve his motor and technique in order to reach his full potential.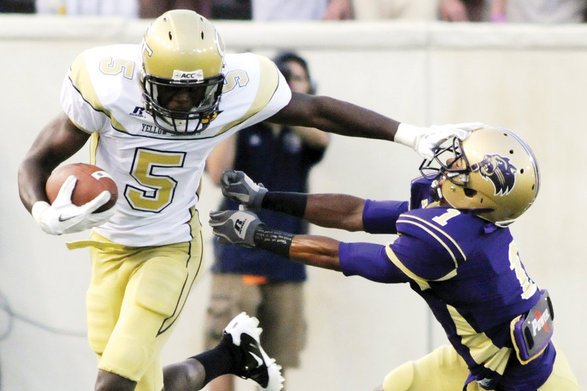 Outside of Andre Johnson, Matt Schaub doesn't have many great receiving threats. Johnson is frequently hurt, though, and Houston need a No. 1 weapon for when he is on the sideline.
Pros
Stephen Hill is a freak of nature. The 6'4", 215-pounder ran a 4.30 40-yard dash, and he is as good of an athlete as there is in the NFL. Hill also possesses a terrific catching radius, and he can make some great plays.
Cons
Hill ran few routes in Georgia Tech's offense, and he will need time to develop. Hill suffered from drops at times, and he needs to catch the ball with his hands more frequently.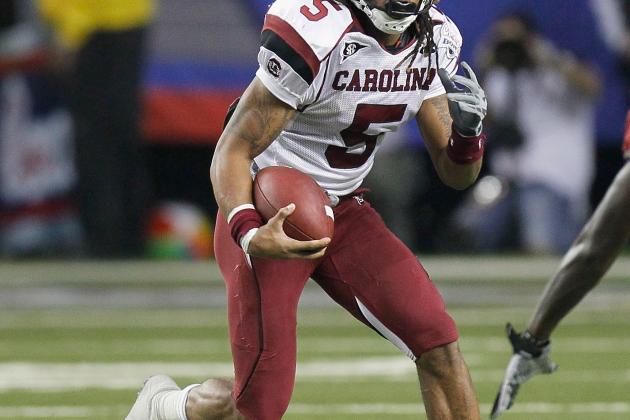 Kevin C. Cox/Getty Images

New England's cornerbacks were so bad in 2011 that they spent much of the year playing a wide receiver—Julian Edelman—at the position. After not targeting a high-priced free agent, New England will likely draft a cornerback early
Pros
A good athlete, Stephon Gilmore possesses the ability to develop into an excellent player. Gilmore is capable of playing in zone or man coverage, and he does a nice job in run support as well.
Cons
Gilmore's technique is sloppy, and he is inconsistent on the field. Gilmore's ball skills are still improving too, and he has a lot to work on before becoming a solid starter.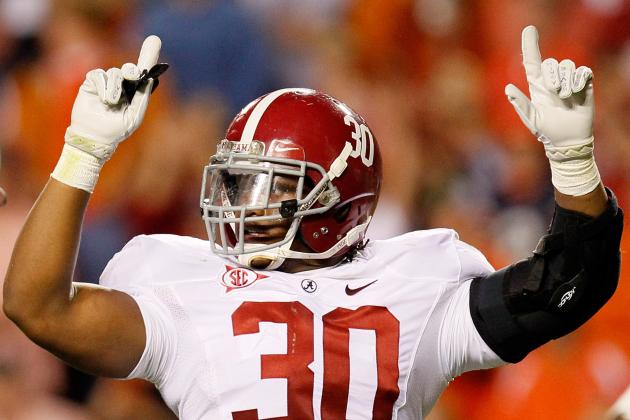 Kevin C. Cox/Getty Images

Clay Matthews' sack numbers dropped in 2011, partially because there was little talent at the position opposite him. Green Bay's defense held the team back, and they really need to upgrade at linebacker.
Pros
At 6'2", 265 pounds, Dont'a Hightower is a versatile player capable of playing inside or outside in a 3-4 scheme. Hightower is a powerful player with some pass-rushing ability to go along with his excellent run support.
Cons
Because of his size, Hightower's range is limited. He isn't great in coverage by any means, and he possesses only average explosiveness off the edge.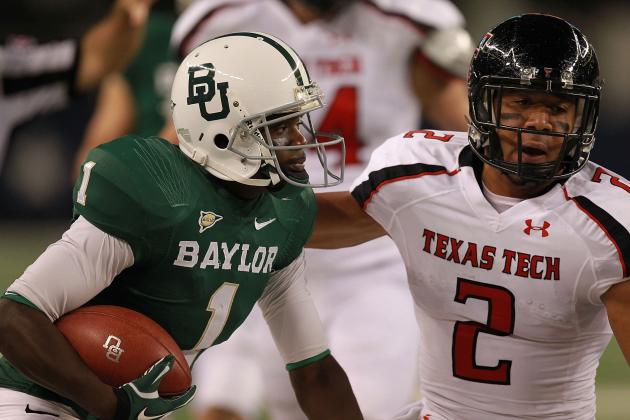 Ronald Martinez/Getty Images

Baltimore has Anquan Boldin and Torrey Smith at wide receiver, but the team could use another weapon. The Ravens have the luxury of picking the best player available, and that is almost certainly Kendall Wright.
Pros
Despite what his 40-time may suggest, Wright is a speedster with excellent deep-threat ability. He can work the underneath as well, and he is a complete player, capable of doing anything on the field.
Cons
Wright is undersized, weighing in at just 5'10", 196 pounds. Wright's route-running needs to improve, and he isn't yet great at beating press coverage.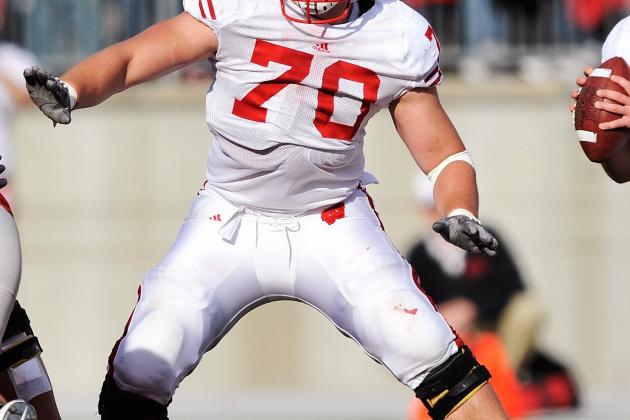 Jamie Sabau/Getty Images

The 49ers are looking to replace now-Cardinal Adam Snyder at guard, and the team is close to having a great offensive line. Kevin Zeitler isn't David DeCastro, but he isn't a bad pick at the end of the first round.
Pros
Zeitler is a powerful run-blocker who finishes blocks with nastiness. The 6'4", 314-pounder is athletic enough to play in space, but his run-blocking ability makes him a first-round pick.
Cons
The Wisconsin guard occasionally gets sloppy with his technique, and he needs to become more consistent. Also, Zeitler isn't overly quick, and he isn't exactly elite at pulling and blocking on the perimeter.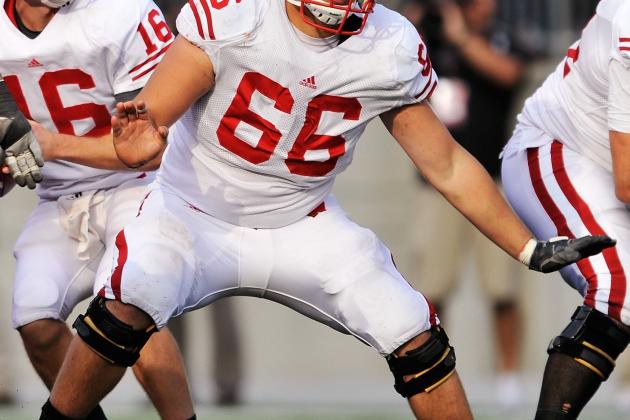 Jamie Sabau/Getty Images

Dan Koppen appears to be an ex-Patriot, and Dan Connolly doesn't inspire a ton of confidence. The Patriots have a history of drafting offensive linemen early, and if they want to upgrade at center, they will have to once again.
Pros
At 6'5", 314 pounds, Peter Konz has great size for the center position. Konz is a powerful center with excellent intelligence and leadership. He is also versatile enough to kick out to guard if needed.
Cons
Konz isn't great in space, and he could stand to improve in pass protection. The Wisconsin center has also had several ankle issues, and with his ability in open space already questionable, this could be a problem moving forward.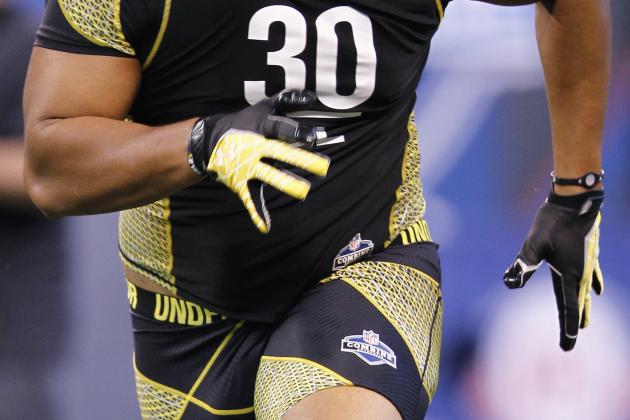 Joe Robbins/Getty Images

Kareem McKenzie is no longer a Giant, and the team needed to upgrade over him anyway. William Beatty probably isn't going to be great at left or right tackle, and David Diehl has never been a world-beater.
Pros
At 6'5", 312 pounds, Jonathan Martin has great size for the left tackle position. Martin utilizes pretty good footwork, and on the whole, he is a solid athlete.
Cons
Despite being solid athletically, Martin isn't overly quick and explosive pass rushers will beat him. Martin's biggest flaw, though, is his lack of power, and he can easily be overpowered by even average-sized defensive ends.