NFL Draft 2012: Predicting the Locations of All the First-Round Cornerbacks
March 19, 2012

Joe Robbins/Getty Images
Having an All-Pro cornerback to anchor your pass defense on the outside can be crucial to becoming a serious Super Bowl contender, or just another pretender.
The 2012 draft class is loaded with talent at the cornerback position, and when it's all said and done we could see as many as five cornerbacks chosen in the first 32 selections.
Knowing full well there are more than a handful of teams who could desperately use an upgrade in their secondary, let's take a look and predict where the first-round cornerback prospects will land.
Morris Claiborne, LSU, No. 4 Overall
Morris Claiborne is the first cornerback taken off the board, and he'll likely get selected anywhere from third to fifth overall. I'd be truly surprised to see him fall out of the top five.
At this point in the offseason, I think it makes more and more sense for the Cleveland Browns to select Claiborne with the No. 4 overall pick.
He would plug in nicely in the Browns' secondary opposite Joe Haden and, with that, provide Cleveland with one of the most talented bunch of corners in the league.
Claiborne would fit equally as well with Tampa Bay, who selects one spot after Cleveland at five, but I don't see him falling to them, forcing the Bucs to look elsewhere.
When it's all said and done, I think we'll see Claiborne pan out as a better NFL football player than his former LSU teammate Patrick Peterson—who was drafted in the top five of the 2011 draft.
Dre Kirkpatrick, Alabama, No. 17 Overall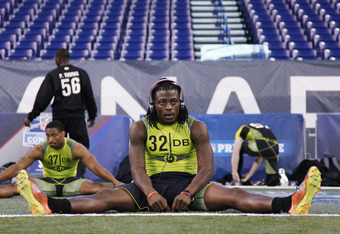 Joe Robbins/Getty Images
Prior to the Brandon Carr signing in Dallas I would have had Kirkpatrick going to the Cowboys just a few spots ahead of this. Due to America's team splashing out on the former Chief however, the Cincinnati Bengals are the next team who desperately could use cornerback help.
Nate Clements is getting older, and has just been inconsistent in recent years. Opposite him is Leon Hall, who may not even be ready for the 2012 season after rupturing his Achilles tendon.
Dre Kirkpatrick has a ton of talent and can play effectively in a zone-press scheme as well as in man coverage.
The Bengals also need a running back, but with two first-round picks they can afford to spend their first on Kirkpatrick, who will get them more value than a running back with the No. 17 overall pick.
Janoris Jenkins, North Alabama, No. 23 Overall
Janoris Jenkins is a supremely-talented athlete and football player, but he has a laundry list of off-the-field issues that are going to turn some teams away come draft day.
If he can convince teams that he can be trusted and that all that stuff is behind him, we could see him possibly drafted higher than 23rd.
The Detroit Lions are big on drafting the best player available, and in this case they will be drafting Jenkins based on that philosophy.
The Lions need an upgrade in the secondary, which Jenkins will provide, as he's a fast and athletic prospect with exceptional ball skills.
Stephon Gilmore, South Carolina, No. 27 Overall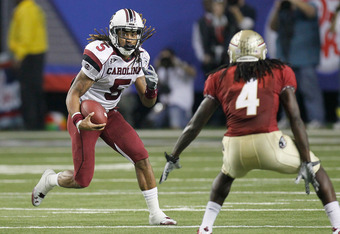 Kevin C. Cox/Getty Images
The New England Patriots have more needs that need to be addressed than any normal team who just played in a Super Bowl. One of those needs is to do anything humanly possible to improve upon a pass defense that ranked last in the NFL in 2011.
Stephon Gilmore is a fantastic prospect, and a relatively unknown one at that, so the Patriots are going to get a guy at No. 27 overall with top-20 value.
Gilmore is an NFL-ready corner in both man and zone coverage schemes, and will come in and provide instant help to a middling New England secondary.
Plus, if the Patriots were to draft a corner, it could give them the flexibility to move Devon McCourty to safety, where he played well at in the back end of the 2011 season.
The Patriots get a steal here at No. 27 overall.