March Madness 2012: Power Ranking Each Sweet 16 Team's Best Player Thus Far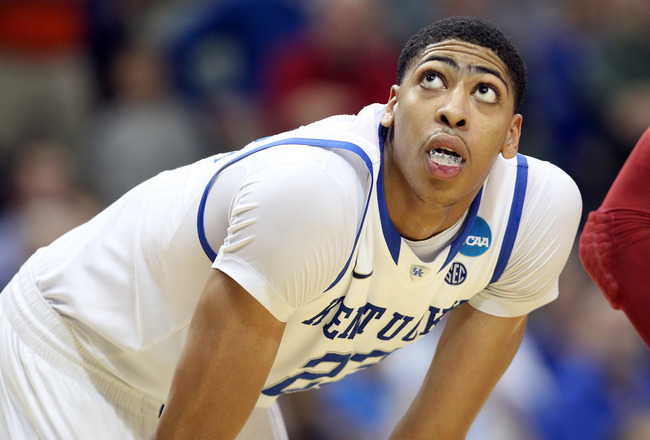 Andy Lyons/Getty Images
We are down to the last 16 teams standing in the NCAA tournament.
Many of the nation's best players have been sent packing, but there is still a wealth of talent remaining. The top players in the tournament may not be exactly who you think, and some of them are players many have never heard of before this weekend.
Each of the 16 teams will be represented in the top 16 spots. The first four players referenced are honorable mentions that didn't make the cut.
With the field about to be cut in half once again, here are each team's best player thus far in the NCAA tournament.
Honorable Mention: Tyshawn Taylor, Kansas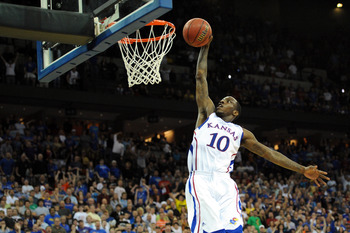 Taylor has a great chance to lead Kansas to a Final Four.
Eric Francis/Getty Images
Tyshawn Taylor hasn't exactly set the tournament on fire to this point, but there is no doubt he is one of the best players in the tournament.
In Kansas' opening game against Detroit, he scored 10 points in 23 minutes, shooting 5-of-8 from the field. He added three rebounds and two steals.
Against Purdue, he didn't make as much of an impact. He scored 10 points again but shot just 4-of-11 from the field. His dunk at the end of the game represented the final points, but he should have run out the clock instead.
Taylor has yet to hit a three in the tournament, but with the way he was playing before the tournament, it is only a matter of time.
Honorable Mention: Aaron Craft, Ohio State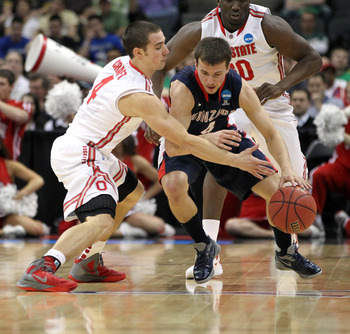 Craft is one of the best perimeter defenders left standing.
Gregory Shamus/Getty Images
Overshadowed by Jared Sullinger, Deshaun Thomas and William Buford, Aaron Craft is known mostly for his defense.
In the tournament so far, Craft has proven to have more tools that just that. In two games he is averaging 12.5 points, 6.0 assists, 4.0 rebounds and 3.0 steals per game. He is also shooting 72.7 percent from the field.
In Saturday's game against Gonzaga, Craft carried the Buckeyes for stretches, going for 17 points and 10 assists for his first double-double.
Craft won't get the headlines, but his stellar defense and unappreciated offense will help the Buckeyes continue their run.
Honorable Mention: Darius Johnson-Odom, Marquette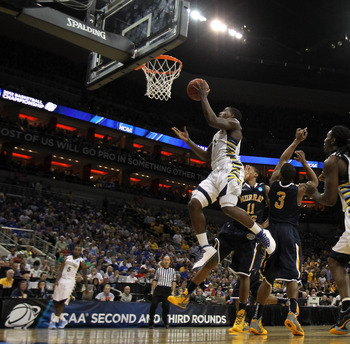 Johnson-Odom's scoring is invaluable to the Golden Eagles.
Jonathan Daniel/Getty Images
Johnson-Odom is a tough player and a reliable scorer. He has dropped 37 points in Marquette's two tournament victories.
In Marquette's win over Murray State, he scored 17 of the Golden Eagles' 62 points, including a fast-break layup to close the first half that set the tone for the rest of the game.
Johnson-Odom's strength and toughness will be crucial against Florida's backcourt in his team's upcoming matchup.
Honorable Mention: Harrison Barnes, North Carolina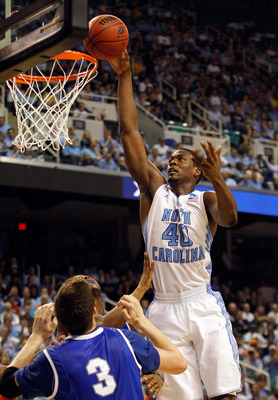 North Carolina will need Barnes' scoring more than ever.
Streeter Lecka/Getty Images
Harrison Barnes has played within a team concept this season. That has allowed some of his teammates to get a little more publicity while his reputation has taken a bit of a hit.
There is still no shooter that should be more feared than Barnes. His impact hasn't been as crucial to North Carolina's first two victories as they haven't been pushed yet, but he is playing well.
His scoring is down, with just 31 total points in the two contests, but he is rebounding and defending, which any championship team needs.
With Kendall Marshall's injury, there may be more pressure on Barnes to take over. His stroke is ready, as he's hit four of his nine attempts from deep in the tournament. If the Tar Heels are going to reach the Final Four, Barnes will need to increase his scoring.
16. Sean Kilpatrick, Cincinnati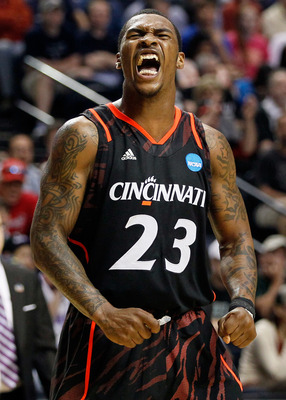 Kilpatrick led the Bearcats over Florida State.
Kevin C. Cox/Getty Images
Cincinnati switched to a four-guard lineup that helps space the floor and makes the Bearcats tough to match up with. Sean Kilpatrick is the leading scorer and best perimeter shooter of the group.
He didn't get out of the gates hot against Texas, scoring just eight points. But he did chip in with six assists and two steals to help earn the win.
Against Florida State in the Round of 32, he decided to make his presence felt.
Kilpatrick scored 18 points, grabbed six rebounds, collected two steals and shot 4-of-6 on threes. He also closed the game out for his team, scoring 10 of Cincinnati's final 19 points.
15. Gorgui Dieng, Louisville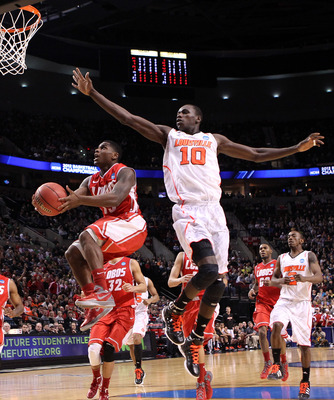 Dieng is key to Louisville's defense.
Jed Jacobsohn/Getty Images
Gorgui Dieng isn't Louisville's biggest name. Both Peyton Siva and Chane Behanen are more well-known on a national level. However, Dieng is the team's most important player.
Louisville doesn't score a lot and makes its mark on defense, where Gorgui Dieng is the anchor.
His averages are modest so far, at 7.5 points, 8.5 rebounds and 2.5 blocks per game.
But in a down-to-the-wire game against New Mexico, Dieng was huge, grabbing 10 rebounds, blocking three shots and adding two steals and two assists.
In order to get past Michigan State, Dieng will need to lock down the inside.
14. Bradley Beal, Florida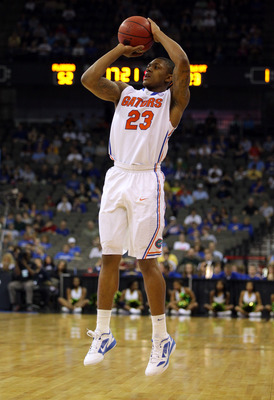 Beal has been Florida's top performer.
Doug Pensinger/Getty Images
Florida has not needed any heroics thus far, winning its two games by 26 and 34 points, respectively.
Lack of drama aside, Bradley Beal has been playing great basketball. He's averaging 14.0 points and 10.0 rebounds per game, and shooting 56.3 percent from the field.
Beal doesn't have the experience of Erving Walker or Kenny Boynton, but he is Florida's most talented player and should be a game-changer against Marquette.
13. Tu Holloway, Xavier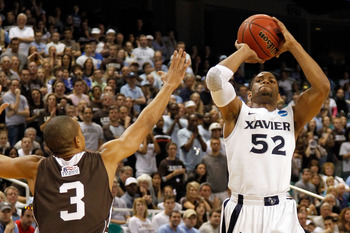 Holloway led Xavier back against Lehigh.
Mike Ehrmann/Getty Images
There was a time when Tu Holloway was being touted as a First Team All-American and Player of the Year candidate. The story has changed, but Holloway still has time to reach those lofty expectations.
In Xavier's opening game against Notre Dame, Holloway put his team on his back, scoring 25 points in a 67-63 win. The Musketeers fell behind by as many as 10 points in the second half, but Holloway wouldn't let his team lose.
On Sunday, Xavier was buried by Lehigh in the first half, trailing by as much as 15. Holloway picked up his play, scoring 15 of his 21 points in the second half and bottling up C.J. McCollum.
Holloway could be higher on this list, but Xavier has only played a No. 15 seed and an overrated Notre Dame team.
12. Lorenzo Brown, North Carolina State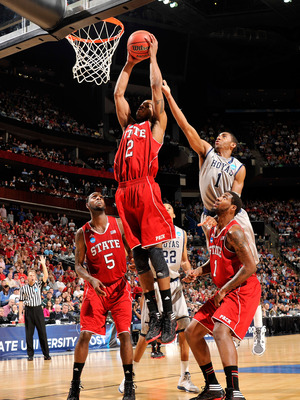 Brown has already led the Wolfpack to two upsets.
Jamie Sabau/Getty Images
NC State was on display on Selection Sunday, celebrating when they were the last team called. Now, the Wolfpack are celebrating two upsets and a surprise Sweet 16 appearance.
Possibly the biggest reason for that is point guard Lorenzo Brown.
Going up against a very talented San Diego State team, Brown was all over the place. He scored 17 points with nine rebounds, eight assists and two steals.
Then came the real test.
Against Georgetown's suffocating defense, Brown had a tougher time, but he still scored 12 points with seven assists and six rebounds. He scored nine of his 12 points in the second half, including seven in the last two minutes to seal the win.
11. Cody Zeller, Indiana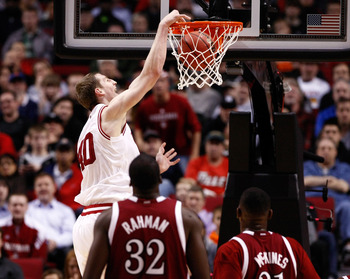 The younger Zeller has made a huge impact so far.
Jonathan Ferrey/Getty Images
Indiana has handled business for two rounds and is set for a date with Kentucky. That may be the end of the road, but not if Cody Zeller can reach another level.
Zeller has been dominant in his first two NCAA tournament games. In the opener against New Mexico State, he scored 14 points, grabbed six rebounds, dished out four assists and had six steals.
He followed that up with a hard-fought game against VCU, which was possibly the hardest team to eliminate from the tournament. Zeller had 16 points and 13 rebounds in a dominant performance.
10. Dion Waiters, Syracuse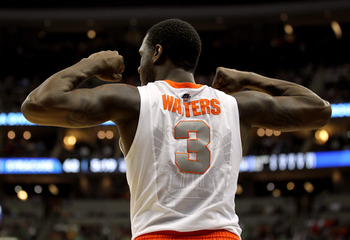 Waiters flexed his muscles against Kansas State.
Gregory Shamus/Getty Images
Dion Waiters was a big part of the near-loss to UNC-Asheville in the Round of 64. He started hot with 12 points in the first half, but his scoring ended there. He missed all three shots in the second half, but the Orange survived.
Against Kansas State, Waiters became more aggressive, scoring 18 points on 5-of-9 shooting. He also got to the line and made all seven of his free throws.
9. D.J. Cooper, Ohio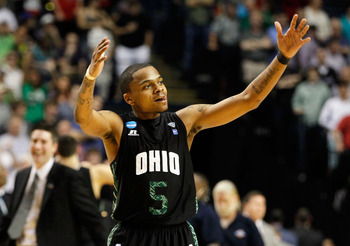 Cooper has electrified the Midwest region.
Kevin C. Cox/Getty Images
D.J. Cooper is the least known name on this list. He shouldn't be, but he is.
Playing in the MAC doesn't get you much press, but Cooper is a big-time player. In 2010, he sent Georgetown home with an early upset and did the same thing to Michigan this year.
Against the Wolverines, Cooper was tremendous, scoring 21 points and dishing out five assists. He hit 7-of-11 from the field and 3-of-6 from deep.
Then on Sunday, against a South Florida team that sucks the life out of the game more than any other team, Cooper was perhaps even more magnificent.
In a 62-56 win, Cooper scored 19 points with seven assists, six rebounds and two steals. Down the stretch, he took over. Of Ohio's last 23 points over the final nine minutes, Cooper scored or assisted on 18.
He scored seven points and dished four assists in that span, including a spectacular spinning, one-handed runner that ultimately sealed the game. Cooper may finally get the notoriety he deserves.
8. Jordan Taylor, Wisconsin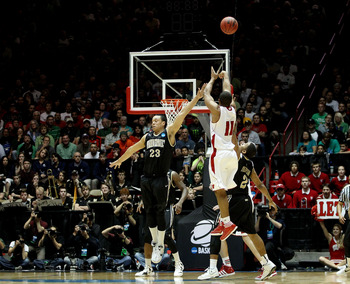 Taylor hit one of the biggest shots of the tournament.
Christian Petersen/Getty Images
Jordan Taylor, like Tu Holloway, has had a disappointing season based on the expectations heaped upon him. But, he has truly been great down the stretch.
In the opener against Montana, Taylor faced a formidable point guard in Will Cherry. He harassed Cherry into a devastating 3-of-14 shooting performance and held him without an assist. Taylor managed to score 17 with eight rebounds and six assists.
In a brutal showdown with Vanderbilt, Taylor shot just 5-of-15, but made one of the biggest shots of the tournament so far.
After Vandy took a one-point lead, Taylor launched a deep, deep three—with a hand in his face—that found the bottom of the net. Those turned out to be all the points the Badgers would need, representing points No. 57, 58 and 59 in a 60-57 win.
7. Tyler Zeller, North Carolina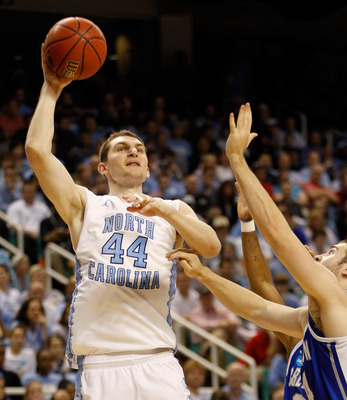 Zeller has been the most efficient Tar Heel.
Streeter Lecka/Getty Images
North Carolina hasn't faced a test yet and may remain untested against Ohio in the Sweet 16. But with Kendall Marshall ailing, the Tar Heel offense won't be the same.
Tyler Zeller has been Carolina's most efficient offensive player, and the team will need his offense on the block now more than ever.
So far, Zeller has totaled 28 points, 21 rebounds and five blocks in two games. He is shooting 50 percent from the field and has buried 12 of his 13 free-throw attempts.
Zeller has been in a position where his team is cruising, but his offense will be vital to Carolina's title hopes.
6. Pierre Jackson, Baylor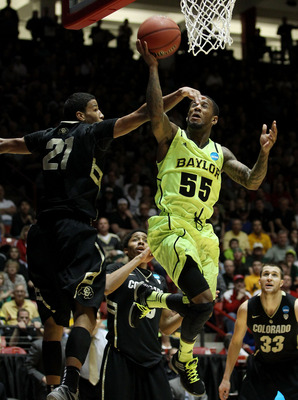 Jackson makes the Baylor offense go.
Christian Petersen/Getty Images
Perry Jones III is the biggest name. Brady Heslip has scored the most points. Pierre Jackson has been the best and most dangerous player.
Baylor would not be in the Sweet 16 without Jackson. He is the engine that makes everything else go.
In the opener against South Dakota State, Jackson was the one player the Jackrabbits had no answer for. He scored 18 points, swiped two steals and made multiple big shots to seal the win.
In a crazy game against Colorado, the Bears went back and forth with the Buffaloes as Heslip drained threes. Jackson was 1-for-6 for two points in the first half, but he exploded in the second. He scored 13 in the second half as Baylor ran away from Colorado.
In addition to his 15 points, Jackson added 10 assists and five steals. Baylor would be in trouble without him.
5. Jae Crowder, Marquette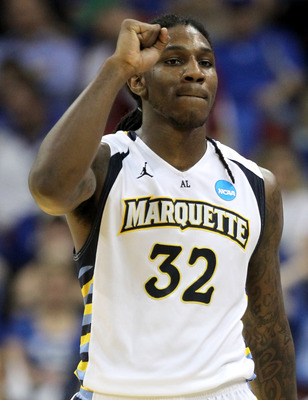 Crowder should be known for a lot more than his hair.
Jonathan Daniel/Getty Images
Jae Crowder wasn't a household name to start the season, and he still may not be. But, he is the Big East Player of the Year. He is also one of the most dominant players in the tournament.
In two wins over BYU and Murray State, Crowder has racked up averages of 21.0 points, 14.5 rebounds, 3.0 assists, 3.0 steals and 1.0 block per game. He is also hitting 36.3 percent from beyond the arc.
Crowder isn't tall, but he is a massive small forward who can score and defend in the post and on the perimeter. His versatility is huge for Marquette.
Going up against a smaller, quicker team in Florida, Crowder will punish the Gators. He can muscle guards and eliminate big men. He makes plays on both ends of the floor, and there aren't many players giving more effort than he is.
4. Jared Sullinger, Ohio State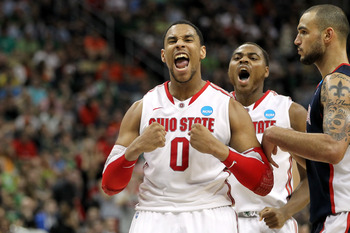 The Buckeyes are ready to ride Sullinger to the Final Four.
Gregory Shamus/Getty Images
Jared Sullinger isn't putting up astronomical numbers in the tournament, but his performances have been beyond the numbers.
He is only playing 29 minutes per game due to early foul trouble, but he is still managing to produce.
In the opener against Loyola, he posted a double-double with five blocks. He was just 4-of-14 from the field, but it was enough to get an easy win.
Against a tougher Gonzaga team with significant size and skill, Sullinger picked it up. He scored 18 points on 5-of-9 shooting, including 2-of-2 from deep and 6-of-7 from the line.
With the game tied at 61, Sullinger went to work, scoring six of the game's next seven points, ultimately securing the win. Sullinger is a beast and will be tough to eliminate.
3. Thomas Robinson, Kansas
Robinson will bounce back from a rough game.
Eric Francis/Getty Images
Thomas Robinson has been one of the three best players in the nation all season. Now is no different.
Some people may not be impressed with his double-double against Purdue, based on his 2-of-12 shooting, but that isn't the way to look at it.
Robinson is making 53 percent of his shots this season, but Sunday night, while not being able to score, he found other ways to contribute to a gutsy comeback over the Boilermakers. He grabbed 13 rebounds, dished three assists and came up with two steals and a block.
Robinson had 16 points and 13 boards against Detroit in the opener. He will bounce back from a tough night, and NC State will probably have to pay the price.
2. Anthony Davis, Kentucky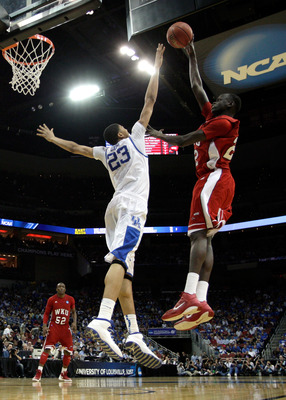 There is no way to account for Davis' length.
Andy Lyons/Getty Images
Anthony Davis is the most unique and dynamic player in college basketball. He is probably the National Player of the Year as well.
Davis is just impossible to deal with on both ends of the floor. He is an unselfish team player who can dominate every facet of the game.
In his first two tournament games, he is averaging 15.5 points, 10.5 rebounds, 4.5 blocks and 4.0 assists. For a big man, he is shooting an incredibly impressive 13-of-17 from the line.
Davis will give fits to any team he lines up against, and he may well lead his team to a national title. But, there is one player that deserves to be ranked higher.
1. Draymond Green, Michigan State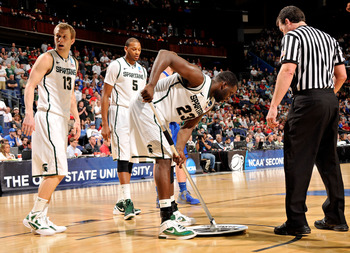 Green scores, rebounds, distributes, defends and even mops the floor.
Jamie Sabau/Getty Images
Draymond Green is a great player, a great leader and a great teammate. Those are the qualities that make him the best player in the Sweet 16.
Green opened the tournament with a triple-double, going for 24 points, 12 rebounds and 10 assists. It was his second triple-double in the tournament, putting him in company with Oscar Robertson and Magic Johnson.
He followed that with 16 points, 13 rebounds and six assists in a hard-fought win over Saint Louis. Green scored 11 points in the second half with five rebounds and four assists, and seemed to be in on every big play down the stretch.
Green is not as explosive or dynamic as other players and may not be as highly touted a pro prospect, but there is no player that wants it more and no player I'd rather have at this point in the tournament.
Keep Reading