Pittsburgh Steelers: Why They Won't Sign Any Free Agent Offensive Linemen
March 23, 2012
Christian Petersen/Getty Images
Will this finally be the year that the Pittsburgh Steelers dip into free agency to upgrade their offensive line?
Probably not, and that should not concern you.
Pittsburgh's offensive line is not as bad as what it is made out to be, yet they do have room for improvement.
Marcus Gilbert will move from right tackle to left tackle this year as Willie Colon returns to the lineup, and Maurkice Pouncey will be back at center.
Pittsburgh is satisfied with all three players, as Pouncey is a Pro Bowl center and they have regarded Colon as one of the best right tackles in football. The Steelers also had it in their plans for Gilbert to be the long-term answer at left tackle.
The same cannot be said about the guard position, where the Steelers have two serviceable, but not great options.
Ramon Foster and Doug Legursky will be slated as the starters at right and left guard, respectively. It is certainly an area of concern and an area that Pittsburgh could upgrade.
While it is tempting to bring in a free agent to upgrade at guard, particularly for Legursky, who is best suited as a backup, the Steelers simply do not have the luxury of spending on any high-priced free agents outside of the organization.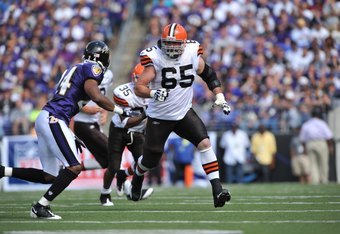 Larry French/Getty Images
A long-term deal with Mike Wallace would figure to eat up most of the cap space that the Steelers currently have available, and he will make a bigger impact than any free-agent guard on the open market.
There are no significantly better guards in free agency that are in the Steelers' price range, and those who could potentially be good options have struggled with injuries.
Eric Steinbach and Robert Gallery have played well in the past, but have had injury issues recently, which has downgraded their value.
Pittsburgh does not want to bring any injury-plagued linemen in considering the issues they have had putting the same unit on the field week in and out.
Last season, the Steelers used 11 different starting line combinations, and they expect to lose several members from those units.
Max Starks has an ACL injury and is unlikely to return. Chris Kemoeatu was released because of his mental lapses which resulted in penalties and missed assignments, and Trai Essex is a free agent.
However, if the current group can stay healthy, there is potential for a solid starting lineup, according to Colon (via Pittsburgh Tribune-Review).
That's really the ultimate question: If we can keep at least five solid guys consistently out there, how good can this line get? We all know the talent we have in that room. It's about us staying healthy, no doubt, and secondly, it's about having enough time together where we can work together (as one) without thought.
That's not saying the Steelers won't upgrade along the line. Pittsburgh general manager Kevin Colbert likes the depth in the draft (via Pittsburgh Post-Gazette).
"It's deeper than it has been. Over the past few years tackles have been bigger. This year, there happens to be more guards. Every year is a little bit different."
The depth in this year's draft at guard is ideal for the Steelers, as they could upgrade at left guard. But that does not necessarily means they will do it in the first round with David DeCastro or Cordy Glenn, the top two guard prospects in the draft.
"Look, you're not going to have five first-rounders. We're very fortunate for having one first-rounder (Pouncey). Max (Starks) was a third-rounder, Marcus Gilbert is a second-rounder, Willie Colon's a fourth-rounder."
Pittsburgh is fortunate with those players, but those are also the top players on the line. It is also evident that the lack of investment at guard has resulted in that position being the weak-link on offense.
Foster is developing into a solid right guard and allowed only three sacks last season, and Legursky is a serviceable starter, but is better suited as a backup.
What is clear is that Colbert and the Steelers do not think offensive line is the biggest offseason priority (I haven't even mentioned Art Rooney II wanting Ben Roethlisberger to tweak his game), though if a quality offensive lineman drops to them, they will have a hard time passing them up.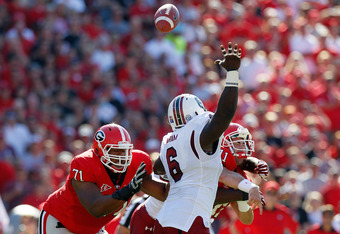 Kevin C. Cox/Getty Images
The more likely scenario is that Pittsburgh will address the nose tackle or inside linebacker position early and then take advantage of the depth at guard in the second or third-round with a player who could challenge for a starting position this year.
While the Steelers may once again pass up signing a lineman in free agency, it does not mean the position will be ignored.
Expect the Steelers to draft a guard in the first three rounds, and expect him to compete for a starting job right away.
Follow me on Twitter @ChrisG_FC