LSU Football: 2013 Recruiting Targets Still Available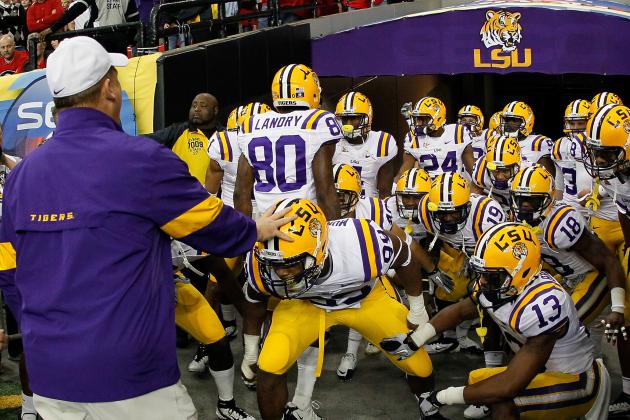 Kevin C. Cox/Getty Images

"If you build it, they will come."
That phrase has held true with this LSU football program, which has built itself into one of the top teams in all of college football under head coach Les Miles. And of course, if you're team enjoys success, the top players in the country will want to be part of that success.
While this year's 2012 recruiting class was a bit of a disappointment for LSU standards, we have to keep in mind that not one of these kids have ever played a college game up to this point. A lot can change once these kids get accustomed to college football.
With that said, now that LSU has wrapped up its 2012 class, the focus is now on the 2013 group, and it will be interesting to see what top-notch players the Tigers' reel in for next year.
Let's take a look at some big-time 2013 recruiting targets who Les Miles and the LSU Tigers have their eyes on.
Begin Slideshow

»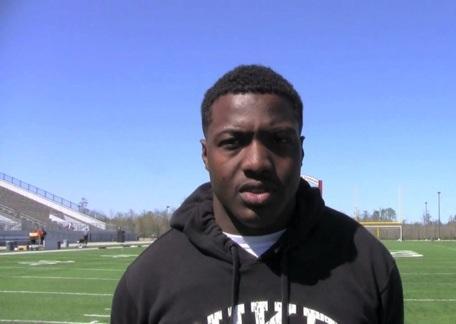 Kendell Beckwith is one of the top athletes in the country for this 2013 class, and make no mistake about it, the Tigers' are hot on the recruiting trail with this guy.
Beckwith is someone who can play on both sides of the ball, so if LSU does land him, it will be interesting to see where he plays.
Beckwith is ranked as an ESPNU Top 150 player and is also listed as a 4-star prospect by rivals.com 2013 rankings.
This highly touted prospect currently holds offers from LSU, Alabama, Nebraska and Ole Miss.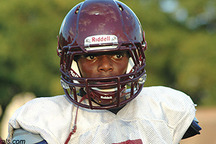 Don't let the fact that Antwuan Davis looks like he's 14 years old distract you. This kid can flat-out play.
Davis is one of the top cornerback prospects in the nation, hailing from Bastrop, TX. Fortunately for the Tigers, they have been active in recruiting the Lone Star State as of late.
Davis is an ESPNU Top 150 Player and rivals.com ranks him as a 4-star prospect.
As we know, LSU's strength has been in their secondary over the past couple of seasons. After missing out on both Landon Collins and Tracy Howard this past year, landing a guy with Davis' talent would be a huge "get" for Les Miles and the LSU Tigers.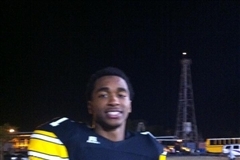 Not only is Tim Williams one of the most highly touted defensive ends in the 2013 recruiting class, but he also plays his high school football in LSU's backyard at University Laboratory High School. Because of that, Les Miles and his staff need to do whatever is needed to make sure Williams' stays at home and plays his college football in Baton Rouge.

Williams is a 4-star prospect according to rivals.com and is a member of ESPNU's Top 150 Prospects List.

The deal with Williams is that while it appears like LSU is the early favorite to get him, Alabama, USC and Ole Miss are also in the mix as of now.

As I said, this is one of those "must-haves" for Les Miles.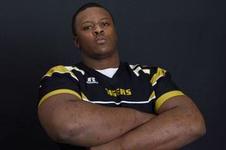 Rod Crayton is a large individual, one that LSU would love to lock up for their 2013 recruiting class.
Crayton stands at 6'1", 290 pounds and is ranked in ESPNU's Top 150 for the class of 2013. He is also given four stars by rivals.com early-season rankings.
LSU lost Michael Brockers to the NFL this year and defensive tackle very well could be a position of need for the Tigers down the line.
The Tigers have made an offer to Crayton. However, he appears to be far away from his commitment as he still has a ton of schools in the running, including the likes of Arkansas, Michigan, Ole Miss and Mississippi State.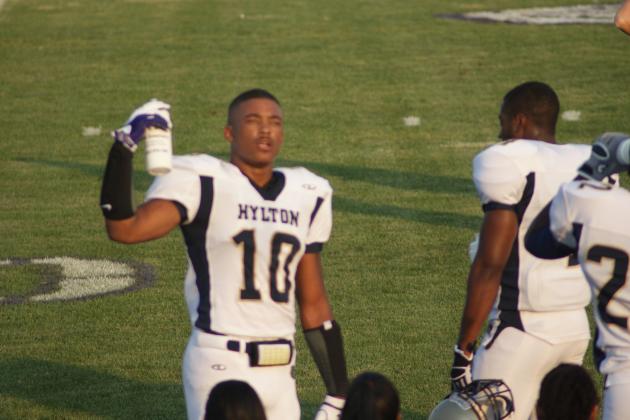 E.J. Levenberry is one of, if not the biggest prospect on this list who Les Miles and his staff will be after in 2013.
Levenberry Jr. is an inside linebacker from Woodbridge, VA. He has a ton of highly touted teams chasing after him right now. That list includes the likes of LSU, Florida, Florida State, Auburn, Oklahoma, USC and Alabama.
In other words, every great football program in the country is essentially after this kid.
Of course, LSU had a great linebacker class this past year, so it isn't a huge immediate need, but either way, it would be nice to land this highly touted prospect next year.
You may think it is a little unusual to see a center on this list, but Bryce King isn't your normal center. He is considered by many to be the top center in the nation in 2013, and LSU is at the top of his list for potential landing spots.
Joining LSU on that offers' list is Clemson and South Carolina.
King is an ESPNU Top 150 Player from Dillon High School in South Carolina.
The Gamecocks might have a slight edge here since he is from South Carolina, but you best believe that LSU is very much in the running here for King's services.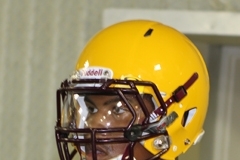 Kenneth Santa Marina's name is almost as big as his body.
This 6'6", 320-pound offensive tackle is an absolute force on the O-line and would be a huge addition to whatever program he chooses to join next year.
Santa Marina is an ESPNU Top 150 prospect, and he received a 4-star ranking from rivals.com.
This huge offensive tackle prospect has an impressive list of offers already, which includes LSU, Alabama, Ole Miss, Mississippi State and Nebraska. But the fact that Santa Marina plays his high school football in New Orleans makes many believe that LSU is at the top of his favorites' list.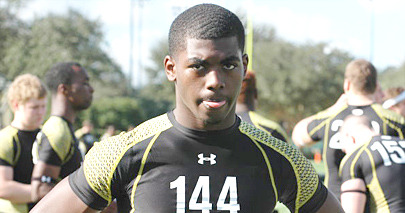 LSU did not grab a highly coveted quarterback in this class, as many expect Jeremy Liggins to play another position at the college level. Because of that, one has to believe that Les Miles and his staff will go after a big-time quarterback in this 2013 class.
That quarterback very well could be J.T. Barrett of Wichita Falls, TX.
Barrett is an ESPNU Top 150 Player and received four stars in rivals.com's early 2013 rankings.
Right now, Barrett already has offers from the likes of LSU, Baylor, Nebraska and Ohio State.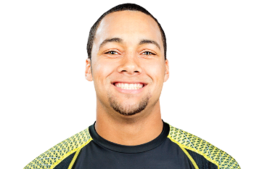 Yes, he is a tight end, which isn't exactly the most coveted position in football. But make no mistake about it, DeSean Smith could be the gem of this class, he is that good.
Smith is the highest ranked in-state product in Louisiana according to rivals.com's Top 100 List for 2013.
This huge tight end stands at 6'4", 225 pounds and has impressive offers across the board from pretty much every major program in college football.
After what happened with Landon Collins this past year, Les Miles and his staff better make sure that the best player in the state of Louisiana doesn't get away from them.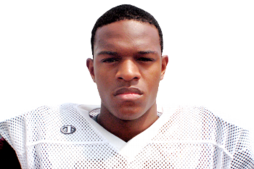 Rickey Jefferson is one of the top wide receivers in the nation, and from the way it looks right now, it's going to come down to LSU, USC and Alabama for his services.
Jefferson has good size in 6'0", 185 pounds, and he has exceptional speed as well, which is why so many teams are hot on his recruiting trail.
Jefferson is a member of ESPNU's Top 150 for 2013, and he's a 4-star prospect according to rivals.com.
What gives LSU the slight advantage right now is the fact that Jefferson is from Destrehan, LA, which is less than an hour-and-a-half from Baton Rouge.
Landing Jefferson would be a huge score for the Tigers.