NFL Draft 2012: Chicago Bears Must Draft with Jay Cutler's Safety in Mind
March 19, 2012

Scott Boehm/Getty Images
The Chicago Bears have quite a few holes to fill on their team, but none is more important than addressing the offensive line in order to protect their quarterback, Jay Cutler.
A year ago, the Bears offensive line surrendered 49 quarterback sacks, which was good for the fifth-worst in the league. They'll need to improve that greatly if they want to be a contender in the NFC North.
Now, there's no question that Chicago could use a receiver with the ability to get open and make plays, and with an aging defense they could use a pass rusher that can get consistent pressure on the quarterback.
However, none of those are as important as keeping Jay Cutler upright.
With the No. 19 overall pick, the Bears could find themselves in a bit of a rocky situation. Most of, if not all of the elite offensive line prospects will have been taken off the board so the Bears will have to figure out what really is best for them.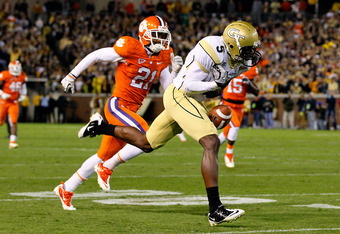 Kevin C. Cox/Getty Images
There will be receivers such as Kendall Wright and the rising star that is Stephen Hill, and both could have the ability to play a solid second fiddle to Brandon Marshall but once again, these guys can't catch the ball unless Cutler has the time to throw it.
And lately he just hasn't had adequate time to throw the football.
Players who are projected to be available at that time are Ohio State's Mike Adams, Stanford's Jonathan Martin and maybe even Georgia's Cordy Glenn. All three guys have received high praise at one point and would likely come at a nice value for Chicago at 19.
The Chicago Bears are a completely different team when Jay Cutler is playing well. It opens up more room for Matt Forte in the run game and makes defenses play honest because of his ability to throw the ball vertically. That all starts by keeping him healthy and on his feet.