Chicago Bears: Analyzing the 2012 Schedule
March 19, 2012

Jonathan Daniel/Getty Images
The 2012-13 schedule for the NFL has been released, and while the official week-by-week listing won't be available until the end of the month, home and away matchups are known and ready for analysis and discussion.
Because the season is so far away, it's impossible and almost naive to attempt to guess the outcome of every match; there are simply too many unknown factors to try to predict.
What we can do though, is look at whether the 2012-13 schedule is easier than it was last year for certain teams, and what that will do for their overall chances.
You'll find a complete breakdown of their schedule compared to last year, as well as the three most exciting matches to look forward to in 2012.
Ready? Let's roll.
Chicago Bears in 2011
Last year was not the greatest year for the Chicago Bears, who finished third in the NFC North behind the Green Bay Packers and the Detroit Lions.
In their defense, they did lose quarterback Jay Cutler and star running back Matt Forte for significant parts of the season, which didn't help their cause at all.
Defense led the way for the Bears in 2011, ranking top 10 against the pass and top five against the run.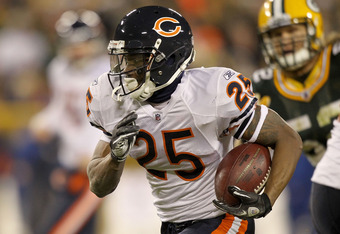 Matthew Stockman/Getty Images
Still, it wasn't enough to secure a wildcard berth for Chicago, who finished the season with a record of 8-8.
2011-12 Schedule
The six divisional matches against the other NFC North sides saw the Bears finish 3-3 after taking down the Vikings twice and crushing Detroit at home. They were not completely blown away by the Lions at Ford Field and the Packers both times, but you'd have to say they were still a long way off victories in all of those losses.
Against the NFC South—New Orleans Saints, Atlanta Falcons, Carolina Panthers, Tampa Bay Buccaneers—the Bears went 3-1, with their only loss away to New Orleans in one of the toughest road trips in the game.
Chicago also played the entire AFC West, and only managed to chalk up a win over the San Diego Chargers in this division, though they were perhaps unlucky in matches against Kansas City and Denver.
Their other two matches came against sides from the NFC East and NFC West in the Philadelphia Eagles and Seattle Seahawks—two teams that love the running game which Chicago defends so well.
They managed to sneak a win on the road to Philly, but were comprehensively dispatched by the Seattle Seahawks in Chicago by 24 points.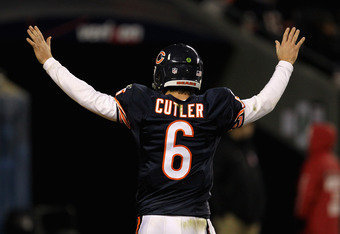 Jonathan Daniel/Getty Images
It was a fairly tough schedule for the Bears in 2011, who despite injuries and one win from their last five matches, still finished with an even record for the season.
Out of their 16 matches for the year, seven of those were against sides that made the playoffs.
2012-13 Schedule
Getting the obvious out of the way again, Chicago will play their six matches against Green Bay, Detroit and Minnesota—all teams that are on the way up in 2012.
Green Bay will be eager to avenge its shock exit from the playoffs; Minnesota will benefit from a stronger offensive line and Calvin Johnson will continue to chalk up mega yards under the improving arm of Matthew Stafford.
They will also play the NFC West, which also will improve as a whole. San Francisco will be one of the toughest sides in the entire NFC, and Seattle will also steadily under Matt Flynn. Throw in to that mix, Arizona's toughness at home and the Chicago defense will get a workout in these games.
The other division that the Bears will play is the AFC South, the home of No. 1 draft pick Andrew Luck. And whilst his success in Indy won't be known, the division is by no means an easy beat, with a strong Houston side behind Arian Foster, as well as some tricky defenses in Tennessee and Jacksonville.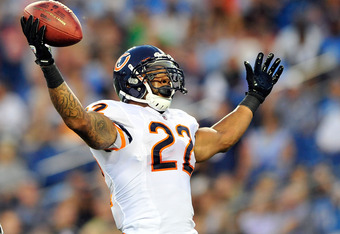 Grant Halverson/Getty Images
Chicago will complete its schedule with matches against a team from the NFC South and the NFC East—it will play Carolina at home and Dallas on the road.
Cam Newton will have another incredible year I'm sure, but the Chicago defense will definitely give him some real troubles. The Bears won this meeting last year and they will look forward to doing so again—especially with their new offensive strengths.
Dallas struggled toward the back end of last year, and appear a tricky side to read under Tony Romo who continues to be as inconsistent and temperamental as Mark Sanchez. If the real Dallas shows up, this one will be tough. If not, Chicago could have a field day on the road.
Comparing the strength of schedule
Divisional matches will no doubt be tougher this year, with all sides set to improve. If playing the Packers and the Lions twice wasn't enough, Minnesota will also be a stronger side in 2012—especially if the offensive line actually gives Christian Ponder time to throw the football. Oh, and Adrian Peterson.
Tougher year? 2012.
The NFC West matches are a little up in the air considering they may or may not contain Peyton Manning, but we do know they contain sides on the way up. Once considered the laughing stock of the league, the NFC West is getting stronger every year and sides like Arizona, Seattle and of course San Francisco will be tough challenges this year. Tougher than the NFC South though? Not yet.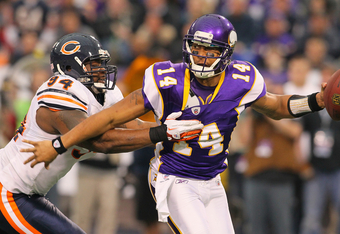 Adam Bettcher/Getty Images
Tougher year? 2011.
The AFC South will be an easier time for Chicago than other sides in the NFC North because of its strong defensive presence. Throw in to that mix the addition of Brandon Marshall as well as a healthy Jay Cutler and Matt Forte, and the Bears are a real chance of winning some of these matches. Their defenses are no tougher than those they faced in the AFC West last year, but their offense is, and that will be the real test.
Tougher year? 2012.
Their other games against Carolina and Dallas are roughly the same as Philadelphia and Seattle, with perhaps just a little more difficulty involved. Both sides last year had incredible running games, which suited the Chicago defense more than their aerial bombardment they're likely to receive from Carolina and Dallas.
Tougher year? 2012.
Three games to watch:
No. 1 — Green Bay Packers at Chicago Bears
These two sides hate each other and whenever the Packers come to town, it's game on. Brandon Marshall could have a big game against Green Bay's secondary in a match that will certainly be tougher than it was last year for the Pack.
No. 2 — Chicago Bears at Arizona Cardinals
If the Bears are serious about making the playoffs, then these are the games they have to win. It's a tough road trip, no doubt, but they should win this one. The Arizona defense will cause Cutler and company some concern, but if their defense steps up, they should walk away with the points.
No. 3 — Detroit Lions at Chicago Bears
Again, it's divisional rivalry at stake, but more importantly, it's got some revenge feel in there as well. Chicago embarrassed Detroit in this match last year, and the Lions will be out to rectify that in 2012. Similar to Arizona though, if the Bears are serious about the playoffs, they need to win home matches like these.
Overall
As far as scheduling goes, 2012 is a tougher year for the Chicago Bears, but not by as much as some other sides in the NFC North who have similar schedules.
Chicago's defense will keep them in a lot of matches, even when they probably should be, and the offense is now good enough to challenge teams both in the air and on the ground.
If the key players in this Bears football team can stay in 2012, Chicago may well be a genuine contender not only in the NFC North, but in the entire National Football League again.
Read more articles by Dan here or follow him on Twitter: @dantalintyre