Grading the New England Patriots' Offseason Moves So Far
March 23, 2012

Rob Carr/Getty Images
When I looked at the New England Patriots free-agency moves last week, it wasn't because I thought they were done.
But never would I have guessed they'd make this many more moves.
And here we are, just seven days removed from my previous grades, and there are a wealth of new moves to review. So how did the Patriots grade out in this second round of the free-agency frenzy?
Signings
FB/LB/ST Spencer Larsen: A
This may be a very under-the-radar signing, but the Patriots love their three-way players, and they landed another great one with Larsen. He may be a bit small to play linebacker in the Patriots 3-4 system, but he'll have opportunities to contribute in all three phases of the game.
What's more, he has earned rave reviews from those in the Denver media.
Two-way spencer will be missed. one of the good guys

— Mike Klis (@MikeKlis) March 22, 2012
Looks like New England landed a true Patriot here.
WR Brandon Lloyd: A
This one came as no surprise. The Patriots addressed a very specific position of need—the outside-the-numbers "X" receiver—with a player that has proven to be a fit in Josh McDaniels' offense. 
For the past two or three years, the talk has been that too much of the offense centers around short to intermediate passing over the middle of the field. Lloyd gives them a sure-handed target capable of picking up big chunks of yardage outside the numbers. Any time you have the option to add that type of presence to the offense at an economic value, it's a smart move to make.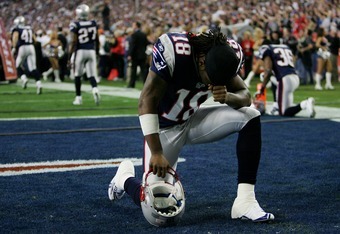 Streeter Lecka/Getty Images
Donte Stallworth: A-
It's easy to forget the impact Stallworth had on the historic 2007 Patriots offense, but as Cinderella once said, "You don't know what you've got 'til it's gone." I doubt Bill Belichick picked up the phone and sang this to Stallworth, but the idea is the same.
And this was pointed out beautifully by Jeremy Lundblad of ESPN's Stats & Information.
In 2007, Stallworth was a key weapon in New England's historic passing attack. His 46 receptions ranked fourth on the team, and third among wide receivers. Since Stallworth left, the Patriots haven't found a consistent third receiver. ... [In 2011], Chad Ochocinco (15), Julian Edelman (four), Tiquan Underwood (three) and Matthew Slater (one) combined for exactly half of Stallworh's total in 2007.
There's been a long history of failed No. 3 receivers, and the trail of failures actually began in '07 and has only gotten progressively worse since then.
Stallworth knows the offense, and has the potential to step right in and make an impact. With a one-year deal, the damage will be minimal if the reward isn't what the Patriots expected.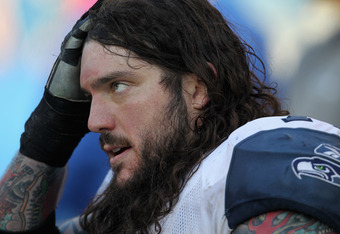 Jonathan Daniel/Getty Images
Robert Gallery: B+
It looked like this signing was simply for insurance and depth. Then, the news broke that Logan Mankins tore his ACL in the Super Bowl and suddenly, it became so clear.
Gallery hasn't played extremely well, grading out rather poorly by the assessment of Pro Football Focus, but Bill Belichick has heaped the praise on Gallery in the past, and even said he'd hypothetically take him first overall in 2004.
"There are some guys like Gallery who obviously can play for anybody," Belichick said in 2004, via the Boston Herald. "I don't think that is a problem."
Gallery has played all over the line at both left and right tackle, but also at guard. He will likely be used on the interior of the offensive line as Mankins is eased back from his ACL injury.
DE/OLB Trevor Scott: B+
ESPN AFC West blogger Bill Williamson shares his thoughts on Scott via ESPN Boston's Mike Reiss.
I wouldn't be surprised, 2-3 years down the road, if people are asking 'Where did they get that guy from?' He has great potential and was terrific his first two years, then he got hurt and it took him a while to get going again. I could see him being a real good rotational rusher. ...I think he could be perfect for Bill Belichick's defense as a rotational guy. He's not an every-down guy, but he has some real natural pass-rushing burst. He could be a potential steal.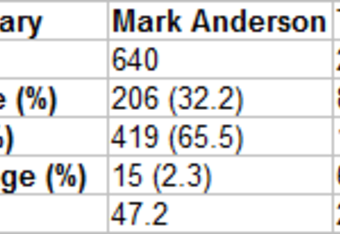 Scott was brought in on a one-year deal, and with the departure of Mark Anderson, it looks like he'll quickly fill that role.
In fact, his role will likely be exactly the same. Their numbers are eerily similar side-by-side in terms of their snap percentages from last season, according to numbers from Pro Football Focus.
TE Daniel Fells: B-/C+
Aaron Hernandez and Rob Gronkowski are great tight ends to be sure, but the Patriots lack true depth at the position behind them. They had Will Yeatman and Lee Smith in camp last year, but both were sniped out from under their noses by division rivals off waivers.
Either of those would have filled the role of a complementary blocking tight end, so Fells is a good signing to fill the void left by those two, as pointed out by Lundblad, who writes:
His 128 pass-blocking snaps [in 2011] were the third most of any tight end. In fact, he was a pass blocker more than all Patriots tight ends combined last season. As a team, the Patriots had tight ends stay in to pass block on just 120 snaps in 2012. Of those, Aaron Hernandez had only 11 snaps as a pass blocker, while Rob Gronkowski accounted for 73.
CB Will Allen: C+
Veteran depth. That's what Will Allen brings to the table. He's not going to improve the defense in man coverage, he's not going to suddenly provide the Patriots a shutdown presence at cornerback. 
But what he can do is help coach up a position that was a revolving door of young players with a lot of potential that just struggled to maintain discipline.
Devin McCourty, Kyle Arrington and Ras-I Dowling have the look of the top trio for the Patriots in 2012, and they now have a steady-handed veteran presence to back them up.
Anthony Gonzalez: C+
Usually, when a team signs a former first-round draft pick as a free agent, the signing is received with a bit more fanfare. Of course, most first-round picks see the field a bit more than Gonzalez has in the past three years, during which time Gonzalez has recorded just five receptions while suffering multiple knee injuries.
He has shown potential in the past, and developed quick chemistry with Peyton Manning when both were with the Colts in 2007 and 2008. If Gonzalez can stay healthy, he has the potential to be a high-reward signing for the Patriots.
Re-Signings
DT Kyle Love: A+
There was absolutely no reason not to get this done. I gave my thoughts on this move when it happened, and my opinion hasn't changed.
He hasn't played an awful lot, but when he has, he's been incredibly effective. He played just 169 snaps in 2010, but became a much more important part of the defense with 697 snaps (51.4 percent, according to Pro Football Focus) in 2011.
He played very well in that complementary role and it will be interesting to see how he does if his work load is increased. He deserves a fair shake at it, but it would make sense for the team to keep him in a rotation to make sure he stays fresh.
QB Brian Hoyer: A
There was never much of a question that the Patriots would find a way to hang onto Hoyer; after all, it's costing them next to nothing (the second-round level is a one-year, $1.927 million deal according to Greg Bedard of the Boston Globe).
There are always teams in the market for talent at quarterback, but the Patriots would gladly take a second-round pick from anyone willing to forfeit it for Hoyer. Or they'd gladly pay him just under $2 million to be Brady's backup for one more year.
WR Deion Branch: A-
If all goes well, Deion Branch won't have to play a wealth of snaps in 2012. The Patriots brought in a lot of depth at wide receiver, and explosive depth, at that.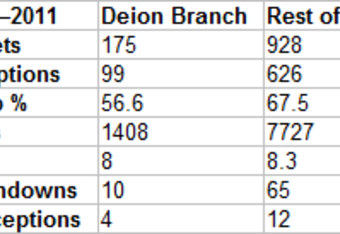 But Branch has one thing that none of them have: Experience with Tom Brady (well, except for Donte Stallworth). 
It's important to keep familiar weapons on the roster, but with Branch reaching the later stages of his career, it's important to find his eventual replacement. By keeping him around for one more year, the Patriots ensure that if they haven't found him in this year's free-agency stockpile, they at least have one more year to do so.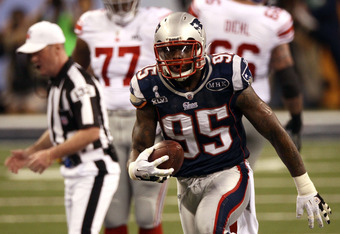 Win McNamee/Getty Images
Let Walk

DE Mark Anderson: B+
The Patriots desperately needed to address their pass rush in the 2011 offseason, and did so brilliantly with the addition of Anderson and Andre Carter. They're not desperate enough, though, to overextend for Anderson as the Bills did. They handed him a contract that averages around $7 million per year; for a player who was in on just 47 percent of team's snaps in 2011, that's quite a lot of money.
Anderson was highly productive in 2011, but ESPN Boston's Mike Reiss points it out well:
[The] Patriots obviously felt Anderson was a part-time player (47 percent of the snaps). The Bills, who rewarded him with a generous four-year, $27.5 million contract with $8 million fully guaranteed, view him as closer to a full-time option. If the Patriots signed Anderson to that contract, it would have been their only pact longer than three years this offseason while also making him the third-highest paid player on defense behind Vince Wilfork and Jerod Mayo. It would be hard to justify that much for a player who didn't project to play every down in their scheme.
Thus, while the Patriots create a need by not retaining Anderson, they make the better business decision by allowing someone else to overpay for his services.
RB BenJarvus Green-Ellis: C+
The Patriots lose a good-not-great back in Green-Ellis, but they have solid depth behind him, having drafted both Shane Vereen and Stevan Ridley in the second and third round, respectively, in 2011. The Patriots often utilize a time share in the backfield, and thus keeping one back simply is never a very high priority, regardless of how productive he's been.
Still, you'd like to have a sure-handed back to turn to in goal-line situations, and Green-Ellis has been one of the best in the NFL at that. He's never fumbled and has rushed for 24 touchdowns in the past two years, tying for second in the NFL in that time.
And he's in some pretty elite company there.