2012 NFL Draft: How Does the Matt Flynn Signing Affect Seattle's Draft Strategy
March 19, 2012

Joe Robbins/Getty Images
Now, while we don't yet know whom the Seattle Seahawks will draft with their first-round pick in the upcoming 2012 NFL draft, one thing we can say with certainty is that they won't be going after a quarterback in the No. 12 overall spot.
After signing Matt Flynn to a three-year, $26 million deal on Sunday, the Seahawks were able to fill a hole that plagued them last season and with that, shot down any more discussion of drafting Ryan Tannehill early in the first round.
So, with Seattle addressing two key offensive needs in free agency where do they go from here in the draft?
Here's a look at three possible players the Seahawks can draft with their first-round pick:
Melvin Ingram, Defensive End, South Carolina
South Carolina's Melvin Ingram established himself as one of the best defensive players in the entire country in 2011, which in turn, boosted his draft stock immensely.
He recorded 10 sacks a season ago and was just as big a player in the run game. 
Ingram is about as versatile as they come in this year's draft because he has the ability to play inside at tackle, outside at defensive end and also as a standing outside linebacker.
As mock drafts continue to come out in the upcoming weeks, I think that this is the pick we'll be seeing more consistently across the board for the Seahawks because he'll likely still be available at No. 12 and he helps fill a pass-rush need on the defensive side of the ball.
Quinton Coples, Defensive End, North Carolina
Quinton Coples has legitimate top-five talent, but sometimes plays with an inconsistent motor and takes plays off. However, when he's on, he's on.
Coples can be seen on mocks anywhere as high as seventh overall to as low as middle of the first round, so when it comes to draft day it's unclear whether or not he'll drop down to 12.
The Seahawks are slowly building a formidable defense and adding a player of Coples' ability and pure talent would provide instant production. Chris Clemons and Raheem Brock are aging quickly so a young addition at the position would take care of that situation as well.
Michael Floyd, Wide Receiver, Notre Dame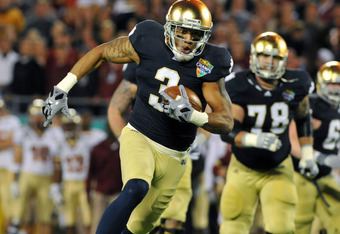 Al Messerschmidt/Getty Images
This is a wild-card pick based upon the fact that Seattle just went out and spent money on a new starting quarterback.
Sidney Rice didn't do much at all last year and I think people are starting to realize that his monstrous 2009 season was a product of having Brett Favre as his quarterback.
Floyd would be the best wide receiver available at this juncture and would bring a rare combination of speed and size for Matt Flynn to throw to.
Wide receiver isn't the biggest need for the Seahawks but it's something that can certainly be addressed. This team already addressed their running back and quarterback situations in free agency; I would be none too surprised if they completed the trifecta through the draft.